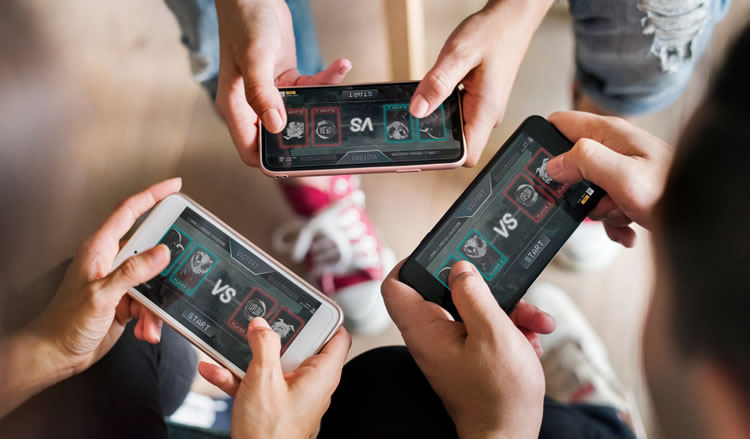 Intel is touting some eye-popping numbers around how 5G could drive up media and entertainment revenues.
Media and entertainment 'experiences' enabled by 5G will generate up to $1.3 trillion (£0.9 trillion) in revenue by 2028, according to a new report commissioned by Intel and carried out by Ovum. This is almost half of the projected $3 trillion (£2.3 trillion) in wireless revenues overall.
The report suggests that 2025 will represent a 'tipping point' for 5G in entertainment and media. By that time, the report forecasts that around 57 per cent of wireless revenue globally will be driven by the capabilities of 5G networks and devices. By 2028, Intel and Ovum expect that number to rise to 80 per cent.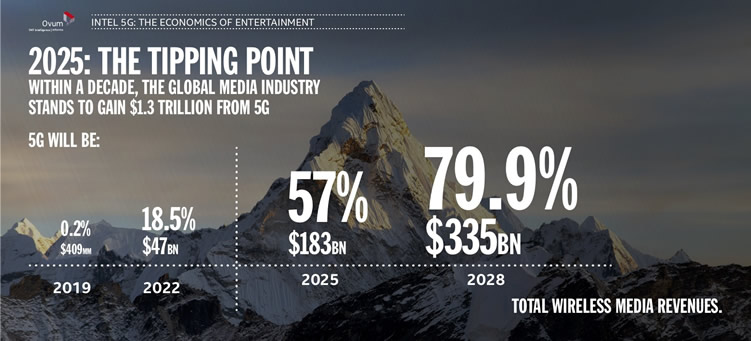 Content consumption
The key reasons for this growth are the assumption that once 5G and 5G devices arrive, people will consume even more content than today because it will be faster and more immersive. This content could include mobile media, advertising, home broadband, TV and more.
The '5G Economics of Entertainment Report' predicts that the monthly traffic per 5G subscriber will rocket from 11.7GB in 2019 to 84.8GB in 2028. By this time, video is expected to account for 90 per cent of all 5G traffic.
Augmented reality (AR) and virtual reality (VR) are expected to create new opportunities for service providers, content creators and consumers. The Intel report predicts that AR and VR will see cumulative revenues of $140 billion (£106 billion) between 2021 and 2028. Vodafone recently showed us how a holographic 5G call can be used for remote coaching and training, so why not gaming too?
Immersive and new media applications which don't even exist today could generate $67 billion (£50.8 billion) a year by 2028 – this is equivalent to the value of the entire global media market in 2017, including games, music and films.
And while these figures are global, even just in the UK some big figures have been thrown around previously. A report from O2 in 2017 for example found that within a decade 5G could add £18.5 billion to the UK economy, which is more than fibre broadband is predicted to.
Are you 5G-ready?
Although media and entertainment companies could win big with 5G, all industries will be impacted and Intel is urging them to prepare now.
Jonathan Wood, general manager of Business Development & Partnerships, 5G Next Generation and Standards at Intel, said: "5G will inevitably shake up the media and entertainment landscape. It will be a major competitive asset if companies adapt. If not, they risk failure or even extinction. This wave of 5G transformation will not be the purview of any singular industry, and now is certainly the time for all business decision-makers to ask: Is your business 5G-ready?"