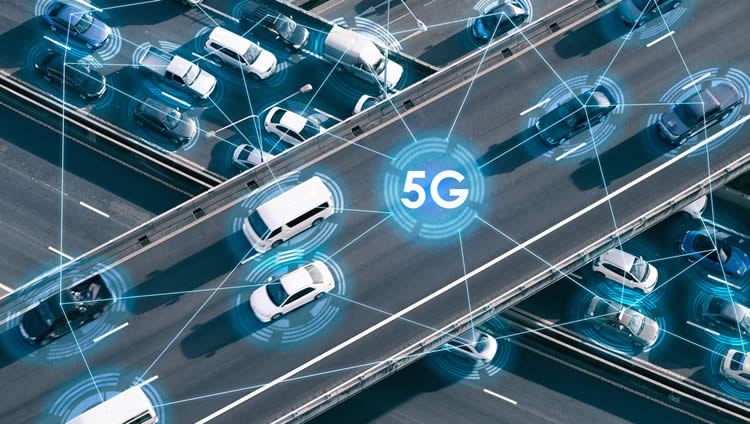 A study by ABI Research, best known for its extensive research into the power of digital transformation, reckons that 5G will have a substantial impact on our vehicles and roads in the coming decades.
The study stems from ABI Research's 5G in Automotive and Smart transportation application analysis report which has determined that a total of 41 million 5G connected cars will be on the roads by 2030 with that number rising to a whopping 83 million 5G connected cars by 2035.
Obviously, that's across the world, but that's a startling number given it's only 10-15 years away, and the same report also states it won't be till 2023 that cars will begin to communicate with each other to increase road safety. Something that other studies have also concluded in the past.
In all, ABI Research believes that 5G connected cars will make up more than 75% of the total C-V2X equipped cars out there. C-V2X being the global system for vehicle-to-vehicle (V2V) and V2X communication which focuses on safety and smart systems. In layman's speak, that means automated cars and drivers.
5G connected cars in 2022
For now, the research firm believes that we'll see the first 5G connected cars on the road in 2022. Ford has announced new car models equipped with C-V2X for 2021 with Audi, BMW, and Volkswagen all teaming up with the likes of Ericsson, Huawei, and Nokia to commence large-scale trial projects in an effort to test out what cellular technology can do when it comes to connected cars.
Besides enhancing traffic efficiency and safety, current proof-of-concept projects believe that 5G will also improve fuel consumption, reducing it by up to one third. After all, those cars will be driving at their most efficiently, without being flustered by human emotions getting in the way.
Leo Gergs, Research Analyst for 5G Markets at ABI Research added to those revelations explaining, "more importantly, however, the sharing of sensor data will make overtaking much safer and will be critical to protecting vulnerable road users (such as pedestrians or cyclists). Therefore, bringing 5G-based cellular connectivity into cars will be critical in making the vision of zero road traffic deaths a reality."
Amongst such potentially life changing statistics, ABI Research also quantified the contribution of 5G to global GDP in its report. The belief is that it will reach $17 trillion by 2035, cementing the importance of such technology to the world.
For now, all this is a big hope but it's an immensely promising one, potentially saving lives and also money for everyone on the road. It's a good time to feel optimistic about what technology can accomplish in the day-to-day running of society.