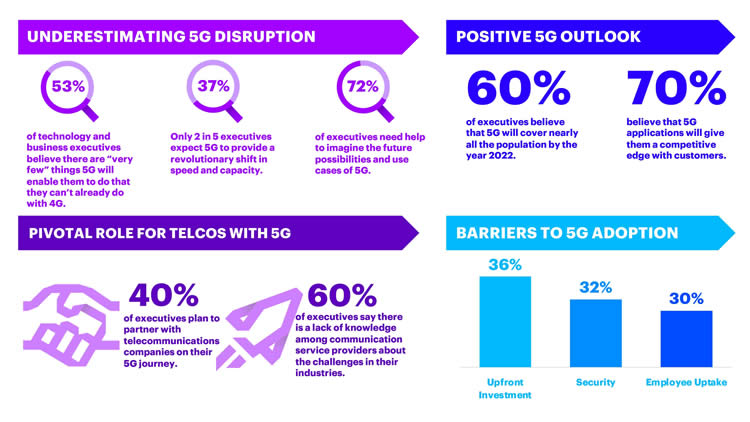 A survey of business and tech executives, conducted by consultancy Accenture, found a rather downbeat opinion about the transformative powers of 5G.
So much so that George Nazi, global lead at Accenture's network practice, thought they were missing the 5G point. "The reality is that 5G will bring a major wave of connectivity that opens new dimensions for innovation and commercial and economic development," he said.
This 'reality', however, seemed lost on the majority of survey respondents. Of the some 1,800 executives canvassed for 5G opinions – representing mid-sized and large businesses across industries in ten countries:
53% thought there were 'very few' things that 5G will enable them to do that they cannot already do with 4G networks.
Fewer than two-in-five execs expected 5G to bring any sort of 'revolutionary' shift in terms of speed and capacity.
The overall results masked some differences in opinion between different industry sectors. More than half of those in the energy sector believed 5G will have a revolutionary impact with its ability to reach new places — like remote and inhospitable areas — compared with just 41% of all executives surveyed.
Nazi nonetheless flew the 5G flag, even if most of the business community look unconvinced – at least for the moment. "Breakthroughs in three-dimensional video, immersive television, autonomous cars and smart-city infrastructure will unleash opportunities that are difficult to imagine today but will soon be transformative," he insisted. "Telecommunications companies will play a pivotal role in bringing these prospects to light."
Brighter future
The survey's findings were not all doom gloom for prospective 5G service providers. Looking ahead, to 2022:
70% of survey respondents reckoned 5G applications will give them a competitive edge with customers. There was also optimism about the extent of 5G coverage.
Three-in-five of those canvassed anticipated 5G will cover nearly all the population – presumably in their own national territories – by 2022.
There was also a bit more belief that 5G will have a 'significant' impact on speed and capacity, but hardly a profound shift in thinking:
Only 46% of survey respondents thought 5G will be making its mark on speed by 2022.
42% thought the same about capacity.
Lack of education
One possible reason why many executives seem unconvinced about 5G is because they don't know much about it, and how it might be relevant to their industry sector. Nearly three-quarters of executives admitted that they needed help in imagining future 5G possibilities and use cases.
Around 60% of survey respondents appeared to pin some of the blame for knowledge shortfalls on communication service providers (CSPs). CSPs, they said, didn't know enough about specific challenges in different industry verticals.
Sizeable minorities of those canvassed also complained about a number of perceived barriers to 5G adoption, including upfront investment, security, and employee buy-in.
"Despite the knowledge gap, there is excitement among business leaders about the value that 5G can bring to enterprises," claimed Anders Lindblad, Accenture's Communications & Media industry lead for Europe. "This value is currently trapped within the perceived risks and uncertainty around 5G, which can be unlocked by organisations that understand customer needs, can overcome barriers to adoption and can drive collaboration among service providers."