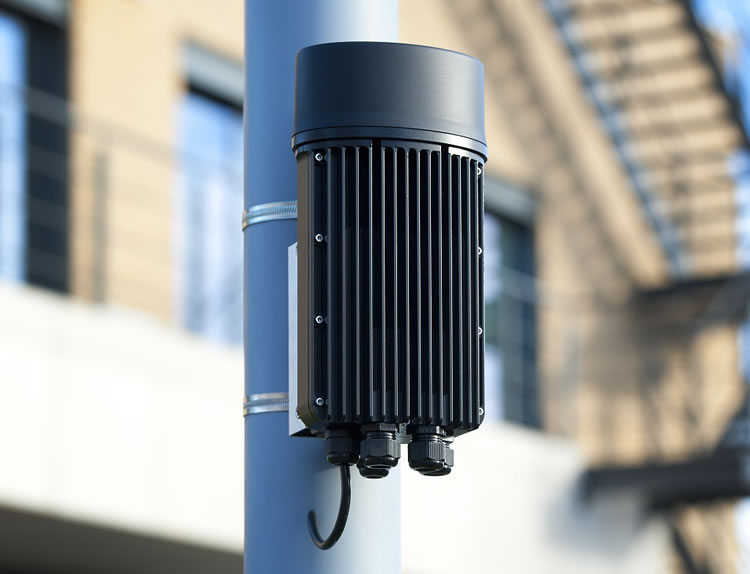 Cambridge Communication Systems (CCS) has joined the race to get commercial millimetre wave (mmWave) solutions to market for 5G. The company has launched the Metnet 12Gbps unlicensed 60GHz mmWave access and backhaul solution (see above).
The ultra-high capacity multipoint system is the first element in CCS's new software-defined Mesh network architecture, with multiple Metnet 60GHz nodes operating as a centrally managed SDN-capable networking switch.
The mmWave spectrum band is essential if 5G is to reach its full potential regarding both capacity and speed. The mmWave band – between 30 and 300GHz – has only recently become available for 5G. The latest 802.11ad Wi-Fi standard operates at 60GHz and mmWave was included in 3GPP's standard for 5G New Radio in December. In February, Verizon claimed the first over-the-air call across mmWave working with Nokia and Qualcomm.
However, mmWave has, as the name suggests, short transmission paths and high propagation losses. These apparent weaknesses lend themselves to the efficient reuse of spectrum, because when longer paths are needed, many very small antennas can be used to concentrate the signals into highly focused beams to overcome propagation losses. The plan is to develop multi-element, dynamic beam-forming antennas that will be small enough to fit into handsets.
CCS says its 'ultra-high' capacity system uses interference management based on self-organising network (SON) technology. Multiple Metnet 60GHz nodes can operate as a centrally managed networking switch through software-defined networking capabilities.
According to the company, the 12Gbps multipoint Metnet system also provides an upgrade path to multi-gigabit capacity. Metnet 3D SON optimises capacity, automates interference management and offers low latency. It uses distributed control of time, frequency, and space switching to co-ordinate and co-exist with other unlicensed 60GHz systems.
When the Metnet 12Gbps nodes are implemented with high-capacity, phased-array, beam-steered transceivers, they provide a 300° field of view. They connect autonomously to form flexible self-organising, self-healing networks that dynamically reconfigure to optimise performance and spectral efficiency as the environment or traffic levels change.
The single unit radios can be installed at street level in minutes, CCS claims, without detailed radio planning or manual alignment, so customers can evolve their networks at will. Dedicated, long-range Metnet customer premises equipment can be incorporated into the mesh to support high capacity and low-cost, fixed wireless connections.
Steve Greaves, CEO, CSS said, "This is…part of our evolutionary roadmap towards 5G next-generation radio…we're leveraging the low cost of commercial, off-the-shelf component technology and combining it with our unique Metnet self-organising mesh architecture."
Image:CCS