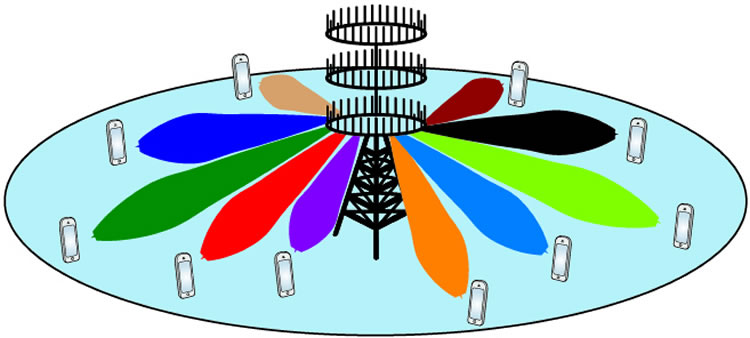 China Mobile Research Institute is using Cobham Wireless's massive MIMO (Multiple-input-Multiple-output) test solution. Cobham says this will enable the operator to take advantage of the increased capacity and improved performance of the technology, and could solve one of the industry's big 5G testing challenges.
Massive MIMO
Massive MIMO technology is based on the principle of a wireless network that allows more than one data signal to be transmitted and received simultaneously over the same radio channel. Standard MIMO networks typically use two to four antennas, compared with massive MIMO systems which can have tens or even hundreds.
Cobham notes that the notion of digital massive MIMO has already been introduced in 4.5G technology, although China Mobile is seemingly using it for 5G testing.
Massive MIMO can improve customer experience by directing signal to the areas with the highest bandwidth requirements and away from low-demand areas.
However, testing the performance of multiple parallel signals has been an ongoing challenge for the telecoms industry. Cobham Wireless is attempting to address this with its multi-beam Massive MIMO performance test solution, developed in co-operation with the China Mobile Research Institute.
The company says it provides a cost-effective and efficient way to validate massive MIMO core technologies and system functions. The solution enables testing in a virtualised environment which simulates real-world conditions, including various beam-based capacity performance situations.
Clearing the way for 5G
This is a step forward because previously, 5G massive MIMO lab testing involved only basic capacity or limited-scale performance use cases. Cobham says the new approach will see 5G NR (New Radio) products getting to field trials and market launches much faster.
The solution is flexible too because it runs on a software-based validation platform, and can therefore be updated and adapted as new standards evolve.
Dr Guangyi Liu, Chief Technology Officer, Wireless Department, China Mobile Research Institute, said the work the companies are doing together and Cobham's solution have the ability to "unlock the bottleneck of the industry."

Dr Liu added: "This experience will be very important to China Mobile as the company moves towards 5G. It is [an] excellent partner to ensure the network complies with the new 3GPP 5G specification, whilst validating performance capabilities for massive MIMO."
Useful guide: What Is Massive MIMO Technology?