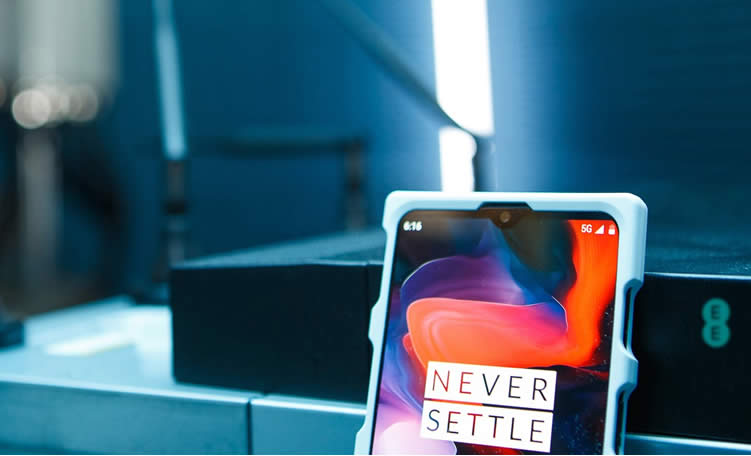 OnePlus made the announcement that EE would be its launch partner for the device at the Qualcomm Summit in Hawaii. The two companies said they are working on an "R&D partnership" to give customers the best possible 5G experience.
As we reported on 5G.co.uk recently, OnePlus has designs on delivering the first 5G-ready smartphone to market (but so do a number of other companies). The phone is likely to be the OnePlus 7. No date was given by EE or OnePlus but it could be available from May or June, based on previous release schedules.
The phone will be powered by Qualcomm's recently announced Snapdragon 855 processor, probably accompanied by its X50 5G modem, although full details haven't been given yet.
At the event, Qualcomm said the Snapdragon 855 is the first chip to "unlock" AI, mixed reality and 5G.
Strategic partnership
On announcing the partnership with EE, Pete Lau, CEO and founder of OnePlus, said that his company, which was only founded five years ago, has been researching 5G since 2016.
Lau said choosing EE as the launch partner had been a strategic choice as EE was a pioneer with 4G and its customers are early adopters. He said EE's customers are likely to research their phone purchase well and have a good knowledge of 5G.
EE recently announced that it will switch on 5G sites in 16 UK cities in 2019. The first cities will be London, Cardiff, Edinburgh, Belfast, Birmingham and Manchester.
EE will also be introducing 5G to the busiest areas of 10 additional UK cities. These will be Glasgow, Newcastle, Liverpool, Leeds, Hull, Sheffield, Nottingham, Leicester, Coventry and Bristol. The operator says it is focusing its 5G roll-out on where it can "make the biggest difference to the most people".
Marc Allera, CEO of BT's Consumer division, said: "EE and OnePlus have a shared vision: to give our customers the best connected experience possible. We're working together on cutting-edge technology to deliver that, and we're leading the world on the journey to 5G.

"We have an ambition to connect our customers to 4G, 5G or Wi-Fi 100% of the time."