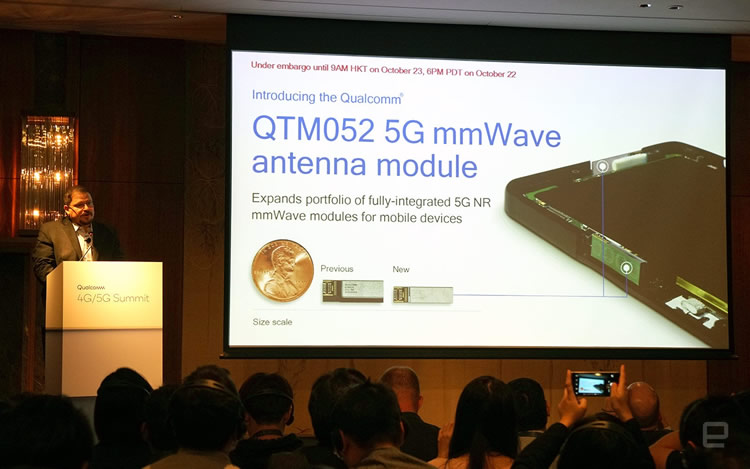 OnePlus has set its sights on supplying the first 5G-ready smartphone to market, most likely in the form of the OnePlus 7.
OnePlus has enjoyed a meteoric rise in recent years through a combination of smart design, aggressively low pricing, and savvy internet marketing. But it could be making headlines for a whole new reason in 2019.
OnePlus co-founder Carl Pei has been talking up his company's 5G ambitions at the Qualcomm 4G/5G Summit, which is currently taking place in Hong Kong. "As OnePlus is at the forefront of technology and innovation, we hope to continue breaking barriers and be the first to release a phone which supports 5G," Pei said.
He also revealed that the company had been working on 5G implementation since 2016, and that it had partnered up with leading chip maker Qualcomm in 2017.
The next OnePlus phone is expected to be the OnePlus 6T, which will be officially unveiled on October 30. But it will likely be the company's next phone that will pack Qualcomm's first 5G modem. If previous OnePlus releases are anything to go by, the OnePlus 7 will hit the market in May or June next year.
Failing that, we would likely have to wait until this time next year for the OnePlus 7T, which wouldn't seem to tally with Pei's comments.
Even then it's worth noting that the OnePlus 7 may not be the first 5G phone to market. Rival Chinese manufacturer Huawei has already promised a 5G-ready device of its own for 2019, and possibly as soon as March.
Elsewhere at the Qualcomm 4G/5G Summit, Qualcomm president Cristiano Amon predicted that there would be "at least two waves of major flagships" sporting 5G radio technology in 2019. This would appear to tally with the established practice of companies such as Samsung, Huawei and OnePlus in releasing a flagship device during the first half of the year and a transitional upgrade towards the end of the year.
If nothing else, these statements would appear to confirm that we won't have to wait a whole year for a bone fide 5G phone. They should be along with the very first wave of 2019 flagship devices.
Whether the 5G infrastructure will be in place for these phones is another matter entirely. But at least they'll be ready for the long-predicted commercial 5G rollout date of 2020.
On a practical level this means that if your next phone upgrade is due in 2019, you shouldn't have to miss out on 5G connectivity when it's finally switched on in your area.