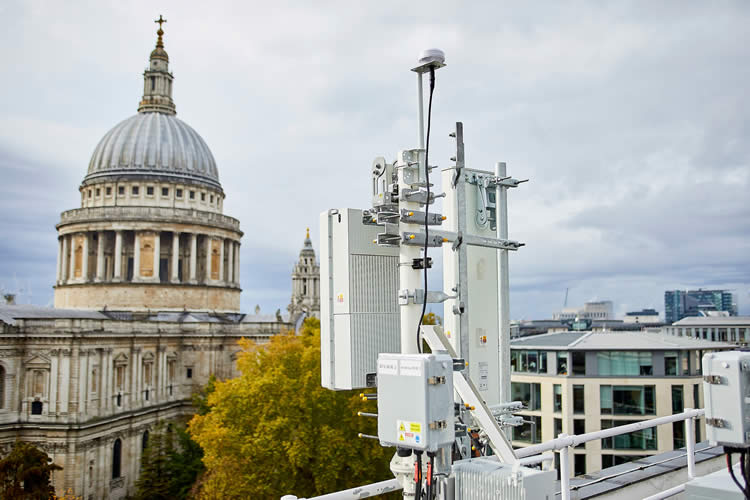 EE has extended its live 5G trials in London, launching nine additional sites in the capital.
EE's first live 5G trial site launched in London last month in Montgomery Square, Canary Wharf. The mobile operator has now made nine other 5G sites live in some of East London's busiest areas, namely: Provost Street, City Road, Central Street, Old Street, Cheapside, St Paul's, Finsbury Circus Garden, Clerkenwell Street and Bartholomew Square.
Businesses and consumers in these areas are being invited to take part in the 5G trial – starting with switching over their fixed broadband.
Customer experience
So far, the trial has focused on the process of building a new 5G network, including gaining planning permission and agreeing access agreements, as well as managing power outputs. The next step is to assess the customer experience elements around 5G.
EE reports that there are already some key takeaways from its 5G trials. For example, it has discovered that rooftop sites often need to be strengthened to support the new antennas needed for 5G – these antennas can weigh as much as 50kg and up to three can be required per site.
Further, this work can slow down planning permission, meaning that repeated site visits – and therefore requests to the landlord – are required. Finding the right location for 5G antennas is also a challenge as they need to stay below regulated power output levels, as per government guidelines.
Howard Watson, BT CTIO, said: "Deploying this brand new layer of our EE mobile network is far from straightforward, and this trial has helped us to understand – and learn how to overcome – the significant challenges that we'll face in the coming years. We're also learning about the coverage we can achieve with 5G New Radio on our new 3.4GHz spectrum, both indoors and in densely cluttered streets."
Landlord challenges
Earlier this year, a Property Week report raised concerns which relate to some of EE's findings so far. The report flagged the risk that some UK landlords may refuse to install 5G antennas, and this could slow 5G's roll-out down.
Some landlords have taken issue with elements of updates to the Electronic Communications Code.
Particularly contentious areas include the introduction of the "no scheme" valuation system, which means that rental charges for the use of land for telecoms infrastructure are based on the value of the property, rather than the value the telecom operator may generate from the infrastructure.
Property-owners have also expressed concern about operators having the right to access the site at any time when equipment is malfunctioning (although telecom companies are urged to make arrangements with the landowner where possible).
In addition, under changes to the Code, landlords must serve18 months' notice to remove a mast, compared to 28 days previously.