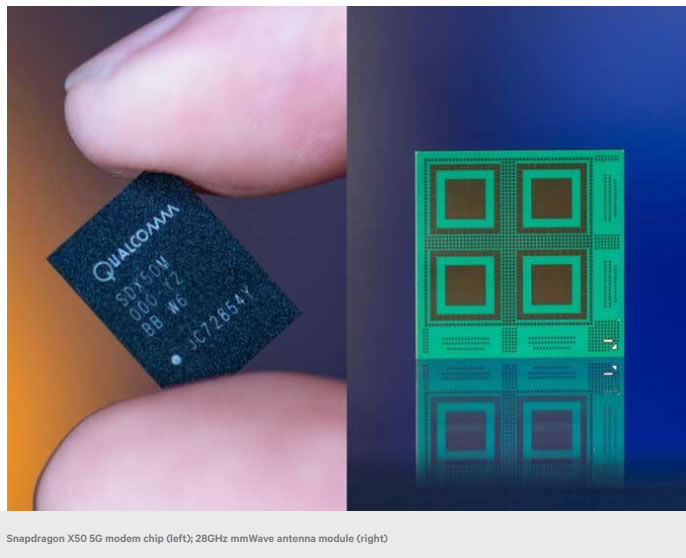 Qualcomm Technologies last week successfully achieved what it called a 5G data connection using a mobile device running its new smartphone chipset.
In the trial, the company's Snapdragon X50 NR modem chipset reached mobile Internet speeds of 1Gbps in the unused 28GHz mmWave radio frequency band. Qualcomm claimed that its chipset will accelerate the delivery of 5G NR-enabled mobile devices, and also previewed its first 5G smartphone reference design.
This is all part of Qualcomm's drive to make 5G phones a commercial reality by 2019. The successful data trial of its 5G modem chipset took place in Qualcomm Technologies' laboratories in San Diego, California, where engineers used several 100 MHz 5G carriers. Other hardware used aside from the Snapdragon X50 5G modem chipset was the SDR051 mmWave RF transceiver integrate circuit (IC) and Keysight Technologies' 5G Protocol R&D Toolset and UXM 5G Wireless Test Platform.
Qualcomm said that it wants its Snapdragon X50 5G chip to support commercial launches of 5G smartphones and networks in the first half of 2019.
"This major milestone and our 5G smartphone reference design showcase how Qualcomm Technologies is driving 5G NR in mobile devices to enhance mobile broadband experiences for consumers around the world," said Cristiano Amon, executive vice president at Qualcomm Technologies. A Qualcomm spokesperson also stated that future iterations of the chipset could be capable of 5Gbps speeds.
In July, Apple was granted an experimental licence to test 5G technology at two facilities in California. It's engineers will focus on the 28GHz and 39GHz mmWave bands, which the FCC approved for commercial 5G use last year.
However, despite Qualcomm's a claims about progress towards building next generation high-speed wireless services, the 5G New Radio (NR) standard technically does not yet exist. The mobile standards organisation 3GPP is now working determine the first set of 5G standards. That's all expected during 2019, making Qualcomm's goal of shipping 5G handsets the same year seem ambitious.
Since the core technologies that will define 5G as an agreed upon industry standard are now being discussed, many companies are pushing technologies that play to their strengths. Though it will use the same radio frequencies 4G LTE networks, 5G networks will also use higher frequencies with shorter wavelengths. Qualcomm is hoping the industry coalesces around the high bandwidth, short-range mmWave (which includes spectrum bands above 24 GHz,) as a core 5G technology because that would play to its own strengths in developing smartphone chipsets.
Image credit: Shutterstock