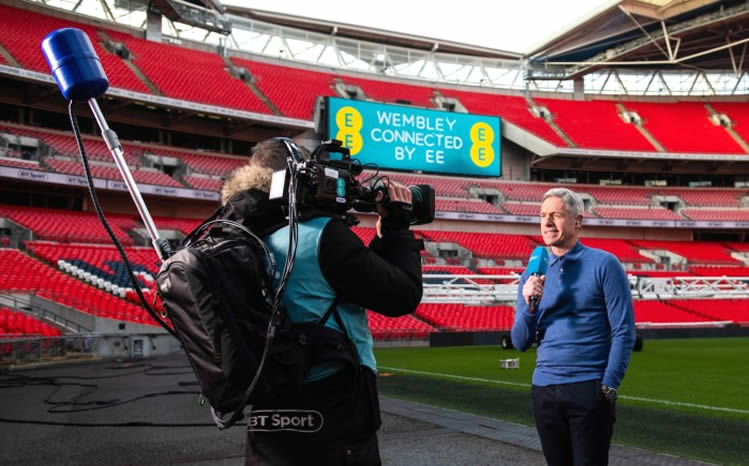 For consumers eager to know when they will get 5G, a new survey finds that it's most likely to be at a sports stadium or while viewing major sporting events in 2020.
According to research conducted by Ovum on behalf of Amdocs, 63% of network operators worldwide are planning to offer 5G-based augmented reality (AR) and/or virtual reality (VR) applications to people attending sports events at stadiums or watching events at home.
With faster broadband speeds and lower latency, 5G is expected to deliver new video experiences for consumers particularly in the areas of sports events and "esports" – that is, multiplayer video game competitions.
Inside the stadium, 5G-based AR or VR applications can create different interactive experiences for attendees, such as watching instant replays on their devices or streaming 360-degree video views. At home, 5G can improve video quality and mobile TV while also making more mobile content readily available to more devices. Indeed, 81% of operators surveyed said they plan to offer new multi-screen pay TV and subscription Internet video streaming services.
The survey also found that upcoming sports events, including the 2020 Summer Olympics and European Championship football tournament, are driving operators 5G deployment plans. More than one-third of operators surveyed said they are planning commercial 5G launches to coincide with major sports events; 26% of operators aim to launch 5G services during the Summer Olympics in Tokyo next year; and 28% plan to launch services during the Euro 2020 tournament.
Meanwhile, a whopping 91% of operators say they plan to trial 5G at sports and esports venues by the end of 2020.
The 5G Game Changer
5G technology not only offers new ways to deliver video services related to sports or other major events, it could also be a catalyst of new operator business models that leverage a tighter integration of technology and sports. Interestingly, the survey found that 37% of operators said that they want to expand their role in the sports market by owning a sports team.
In the U.K., early trials have shown how sports events, esports and other event broadcasts can be among the first sectors to benefit from 5G network speeds and lower latency. Three recently demonstrated a live 4K esports broadcast over 5G. In November last year, EE used its 5G test network at Wembley Stadium to broadcast the EE Wembley Cup Final live over 5G using remote production.