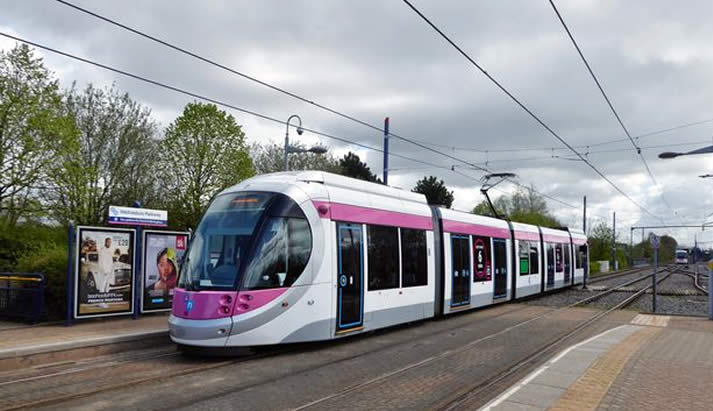 West Yorkshire Combined Authority is evaluating potential plans to bring a mass transit system to Leeds by 2033 and one of those ideas involves remote-controlled 5G trams.
According to Leeds Live, the West Yorkshire Combined Authority has been conducting extensive market testing with the help of experts from Universities in Leeds and Huddersfield, along with mass transit operators, engineers, suppliers, and manufacturers from around the world.
The findings have determined that battery-powered trams are "likely to be the most viable option" ensuring that overhead wires wouldn't be required on most routes. Alongside that form of wireless tram-based transportation, the report also found that remote-controlled trams could be a good option bearing in mind that the report anticipates the industry is likely to see a "move towards greater autonomy" over the coming decades.
It's reasonably cautious with its findings so far citing that mass transit system vehicles will still require a driver over the next decade, but clearly, the report is thinking ahead into the future because it doesn't necessarily mean the driver will be inside the vehicle.
Instead, it explains, "several technology and manufacturer contributors suggested that with 5G technology there is the opportunity over the next decade for the mass transit vehicle to be driven/controlled by a driver located in a control centre, rather than in the vehicle cab."
The thinking there is it could save on the number of drivers required while forming a kind of smart city layout, although it's cautious to point out that "significant safety certification challenges...would need to be addressed."
It comes only a week after Leeds City Council announced plans alongside BT to upgrade many council and health service buildings to provide full fibre connectivity along with 5G capabilities.
For now, this is all hypothetical thinking but West Yorkshire Combined Authority will use its findings to draw up a business case for a mass transit system before submitting it to the government. Leeds hasn't enjoyed a tram system since 1959 with past promises failing to be kept, leaving the city the largest city in Western Europe to have no light rail or metro system.
A promise by the Prime Minster in December last year stated it would solve that issue, so perhaps 5G could be the solution here. The plan is still in the tentative stages but it could be a big step towards enabling Leeds to have a mass transit system again that also happens to be state-of-the-art. We're assuming any area utilising 5G in such a way would have a particularly high quality network in place for other parts of the city too.
For now, this is one to keep an eye on for future note.
Image source: Wikimedia Commons