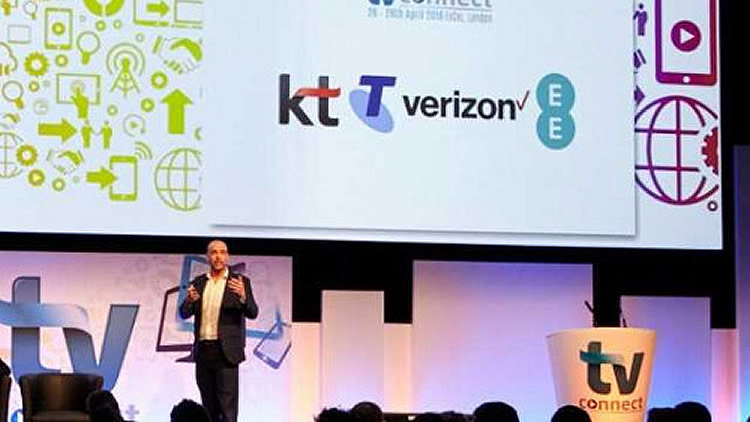 EE has teamed up with three of the world's leading mobile operators to launch the LTE-Broadcast Alliance, a new initiative that aims to develop a next-generation broadcast service. The group has been formed to facilitate the development of LTE-B and to ensure widespread adoption by 2017.
EE, Telstra, kt and Verizon announced the Alliance at London's TV Connect 2016 event late last month. The mobile leaders from UK, Australia, South Korea and North America, who collectively represent over 200 million mobile subscribers, have set out several clear objectives and aim to encourage device makers across the globe to support LTE-B services.
LTE-B is seen as a key component of mobile streaming in the future as it enables a mobile operator to more effectively meet data demands by sending a single data stream to every mobile user in a town, city or area rather than having to send individual streams. It will also improve customer experience.
The Alliance will not only focus on its applications for 5G and supporting peak-time customer video consumption but also its potential for other uses. LTE-B could power push notifications such as customer weather and safety warnings, become a service platform for the Internet of Things, contribute to value added services on next-generation mobile networks and empower media agencies to use dynamic, targeted content.
"Initially we focused our LTE-B efforts on the benefits for live and linear video, and we will launch a live service in 2017," EE Head of Video Strategy Matt Stagg said. "Now, as part of the LTE-B Alliance, we'll be focused on developing use cases for critical communications services, Internet of Things, and a 5G future. The Alliance will provide awareness of the importance of this technology, and ensure that the benefits can be realised as soon as possible."
EE trialled LTE-B during the FA Cup Final at Wembley Stadium last year. The service allowed smartphone users at the game to view HD broadcasts and replays.