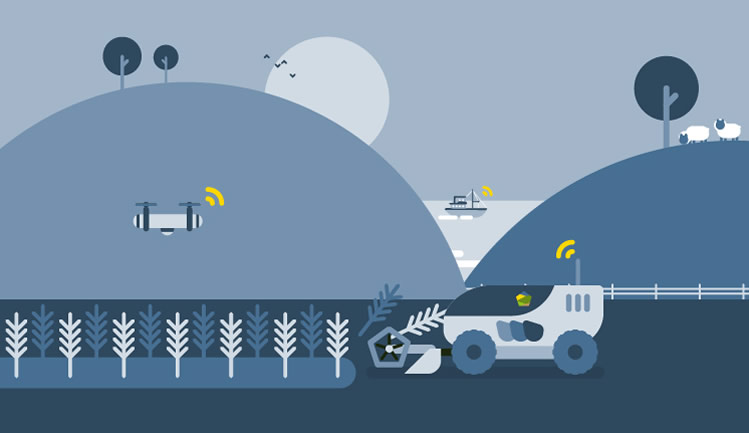 With 5G 'testbeds' established in the Orkney Islands, Shropshire and Somerset, 5GRuralFirst aims to highlight pioneering technologies and business models that can support commercially‑viable use cases in rural locations.
And by showcasing innovative deployment and operation of 5G services in hard-to-reach places, Nick Chrissos, Director of Innovation at Cisco Systems in Europe, reckons it can benefit "the entire UK economy".
Aside from Cisco, 5GRuralFirst counts a number of other partners. These include the University of Strathclyde, the BBC, the Agricultural Engineering Precision Innovation Centre (Agri-EPI Centre), Orkney Islands Council, and Scottish Futures Trust, so there are a lot of organisations working on this. Chrissos told 5G.co.uk that a total of 15 use cases will be put through their paces across the three testbeds. Each use case, he said, will "explore different aspects of 5G".
By establishing a testbed on the Orkney Islands, 5GRuralFirst can hardly be accused of taking the soft option. Chrissos points out that the group of 70 islands, of which only 20 are permanently inhabited, is the second-worst connected area of the UK. Far from being despondent, the Cisco man says it's "the perfect place to trial connectivity in remote areas".
"5G trials in Orkney will explore many of the unknowns which haven't been delved into before," explains Chrissos. "Equally, one of the aims of these trials is to better understand the impact high-speed connectivity will have on local communities and industries. These trials will help build new business cases and deployment models for bringing high-speed mobile connectivity to the islands, as well as other rural areas."
Agri-tech use cases are being explored in Somerset and Shropshire. In Somerset, the technology is tested at Agri-EPI's research hub, and the Shropshire testbed is situated at Harper Adams University. "The trials cover the impact 5G can have on practices such as dairy farming, veterinarian diagnostics and field-grazing management," says Chrissos.
Cows and salmon? Cisco reaches to the cloud
Enabling use-case experimentation, says Chrissos, is a '5G cloud core' installed in the DataVita Tier III datacentre near Glasgow. The first 5G installation of its kind in Britain, claims Chrissos, Cisco has the task of running, designing and building rural use cases on top of this cloud facility.
"Cisco will also design 5G 'network slicing' tests, a crucial component to enable the deployment of new connectivity models, giving rural businesses and communities a technological platform for innovation," adds Chrissos.
Among the use cases on trial include the connecting of 100+ cows at the 5GRuralFirst testbed in Somerset using 'smart collars'. The collars contain sensors that transmit data about each animal's movement, rumination – chewing the cud – and feeding. "Should issues or changes in a cow's health arise, the collar can transmit this information to a mobile or desktop application, so that dairy farmers can take the necessary action at the earliest possible stage," says Chrissos.
Farmed salmon is another area catching the attention of 5GRuralFirst. A key aspect of farming salmon is measuring parameters – pH, dissolved oxygen, salinity, temperature – inside and outside of the salmon cages. Should a parameter be inaccurate, it can have a detrimental knock-on effect to fish stocks.
To prevent this happening, IoT sensors will notify fish-farmers should any of these parameters be at risk of falling out of line. "This technology has previously not been available due to the lack of connectivity in the Orkney area – so the 5G trials aim to give us more data to see the true impact these sensor-based technologies can have on salmon farming in the region," says Chrissos
Spectrum sharing
To encourage 5G rural investment, Chrissos wants the UK to adopt a model of spectrum sharing, which already prevails in TV 'white space' frequencies. "This option has the opportunity to promote competition, encourage investment, innovation, and the availability and use of high-speed data transfer through the UK," he says.
Chrissos takes heart from a suggestion by UK telecoms regulator Ofcom that industry consultation should take place on a new model of spectrum management based on a dynamic access model rather than ownership.
"This business model is one that is being explored by 5GRuralFirst, and one which we are striving to understand its feasibility in the UK," continues Chrissos. "Alongside this, we're also exploring further options that would result in lower cost deployment, something which would benefit those involved in the project from start to finish."
All of which is to say that 5G could be a lot more viable in rural locations than 4G ever was, which in turn could mean that infrastructure reaches these places a lot faster.