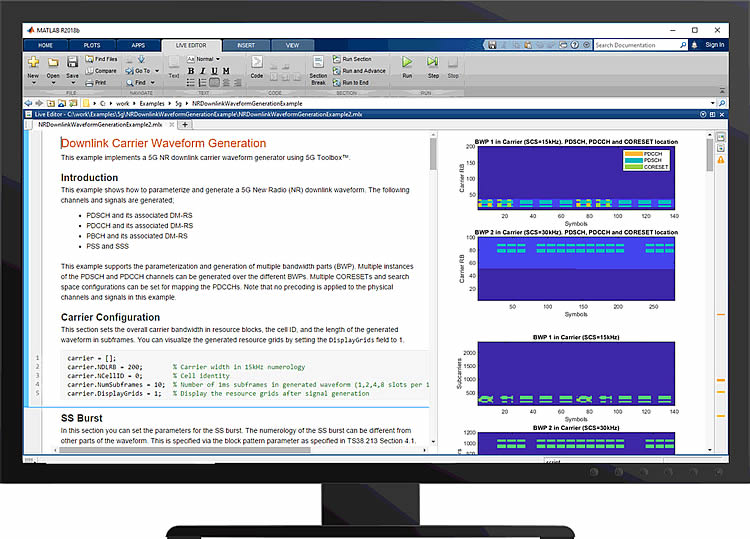 MathWorks has just unveiled 5G Toolbox, a software suite which gives you standard-compliant functions and reference examples for simulating, modelling and verifying 5G New Radio (NR) systems.
In other words it will help 5G system engineers verify that their product designs will actually comply with the 3GPP 5G NR standard, by analysing, configuring and measuring end-to-end communication links.
5G Toolbox includes link-level simulation, test waveform generation, golden reference verification and conformance testing, and using the 5G Toolbox should help engineers save time and money when developing and prototyping their designs. For a closer look, you can check out the official 5G Toolbox overview video below.
Ken Karnofsky, senior strategist – signal processing applications, MathWorks, said: "When adopting 5G, wireless engineers need to verify that their product designs can conform or co-exist with a new, complex standard that will continue to evolve. Very few companies have adequate resources or in-house expertise to understand and implement a 5G-compliant design.

"Having seen how LTE Toolbox has helped teams quickly deploy pre-5G designs in radio test beds, we anticipate 5G Toolbox will have a similar impact for the mainstream wireless market."
New sets of tools
5G Toolbox is one of many tools aimed at simplifying the process of developing 5G-compliant systems. Recently for example Ranplan also launched a tool, dubbed Ranplan Professional 5.2, which is designed to help companies efficiently plan, optimise and design 5G networks using 5G NR.
It's no surprise that we're starting to see these tools, as early 5G networks could be launching in around a year in the UK and we'd expect all UK major networks will offer 5G in some areas by the end of 2020.
MathWorks is a leading developer of mathematical computing software, with offices in the UK.