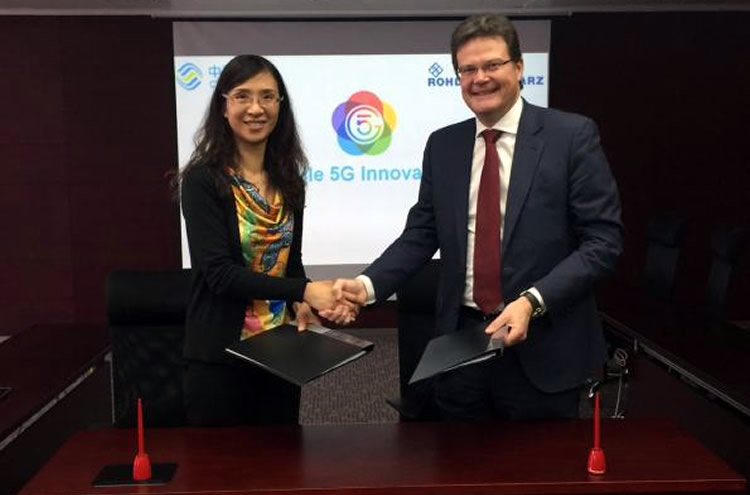 Above : Ms.Huang Yuhong, of China Mobile Research Institue, China Mobile, and Mr. Christian Leicher, President of Rohde & Schwarz.
China Mobile's 5G Innovation Centre is getting off to a strong start. We recently wrote about how industry-leader Ericsson has joined the initiative, and now Rohde & Schwarz is getting on board too.
The 5G Innovation Centre is focused on accelerating the development of 5G, and Rohde & Schwarz is well positioned to help with that. It's a world leader in all areas of radio frequency and microwave test and measurement equipment for one thing.
The company has also been massively involved in mobile radio since the first generation and is already carrying out 5G research, both on its own and as a participant in many 5G initiatives of universities, consortiums and operators around the globe.
Rohde & Schwarz and China Mobile signed a Memorandum of Understanding (MoU) on March 18th. For its role in the initiative Rohde & Schwarz aims to actively accelerate the development of a 5G standard and infrastructure, develop 5G innovations and collaborate with other project members on products and applications.
The China Mobile 5G Innovation Centre project was officially launched at the Mobile World Congress 2016 in Barcelona. The Centre as a whole is focused on conducting joint innovation on applications and products in areas such as basic communication capability, the Internet of Things, industrial internet, car networking, cloud robotics and virtual/augmented reality, through open labs, and through this build an integrated cross-industry ecosystem.
It's a big, ambitious project, but it's not alone in developing 5G solutions. Many other companies and collaborations are also focused on bringing about 5G sooner rather than later. From BT to SK Telecom, NTT DoCoMo, EE, Nokia and more, the mobile industry is fully committed to accelerating its development.