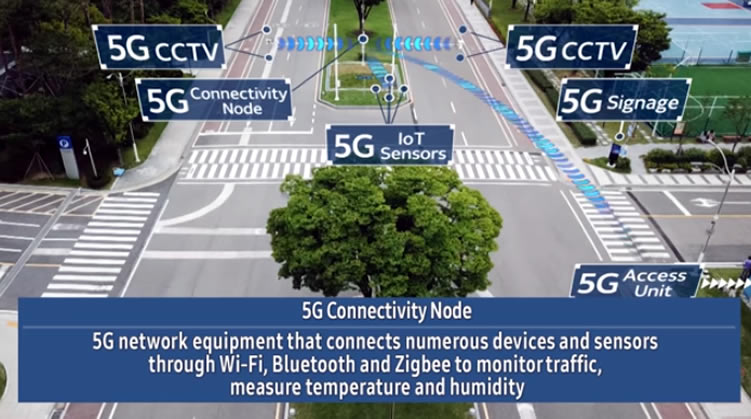 At its headquarters in Suwon, Korea, Samsung has created a '5G City' which provides a glimpse of what life might be like when 5G is rolled out.
Part of its Digital City, the 5G demonstration includes the '5G Stadium', the '5G Connectivity Node' and the '5G Kiosk'.
5G Stadium
Sports stadiums and sporting events are a popular use case for 5G technology. Samsung's stadium demonstration shows how massive MIMO (multiple input multiple output) technology can enable crowds of people to simultaneously stream high-definition (HD) video without any delays or interruptions.
Concert-goers and conference attendees are also set to benefit in this way.
5G Connectivity Node
5G, alongside Wi-Fi, Bluetooth and Zigbee, is set to increase network capacity, enabling more 'things', such as CCTV cameras, digital signage and sensors, to be connected. This should ultimately give a better overview of what is happening in the city.
Samsung's demo shows eight HD CCTV cameras, used with video analysis software to detect when cars are speeding, or pedestrians are jay-walking. In the future, artificial intelligence (AI) could also be applied to detect safety and security issues.
5G Kiosk
5G kiosks provide 'hotspots' for super-fast downloads of 1-3Gbps, which equates to a 500MB file being downloaded within five to six seconds. Samsung shows how, for example, a connected bus could drive into the hotspot zone and quickly download mapping, navigation or other large software updates, or entertainment for passengers.
Samsung's Digital City also features a 5G exhibition, spotlighting 5G technologies such as 3.5GHz and 28GHz communication equipment as well as 5G-powered use cases such as augmented reality and autonomous cars. The exhibition aims to highlight the requirements for 5G commercialisation.
Samsung estimates that each person's monthly wireless internet usage will soar to 100GB once 5G is rolled out, up from 10GB on 4G today (a figure which we suspect is already higher than most UK users are using).
Youngky Kim, President of Samsung's Networks Business, said earlier this year: "4G brought us mobile connectivity so that we can use our smartphones anytime and anywhere. 5G will extend wireless connectivity to cities and factories as a whole. Internet of Things (IoT) will become a part of our lives. Furthermore, hologram video calls, augmented reality (AR)-based GPS, and autonomous vehicles will be more widely available."
Part of its Digital City, the 5G demonstrator includes the '5G Stadium', the '5G Connectivity Node' and the '5G Kiosk'.
Useful read: How fast is 5G?