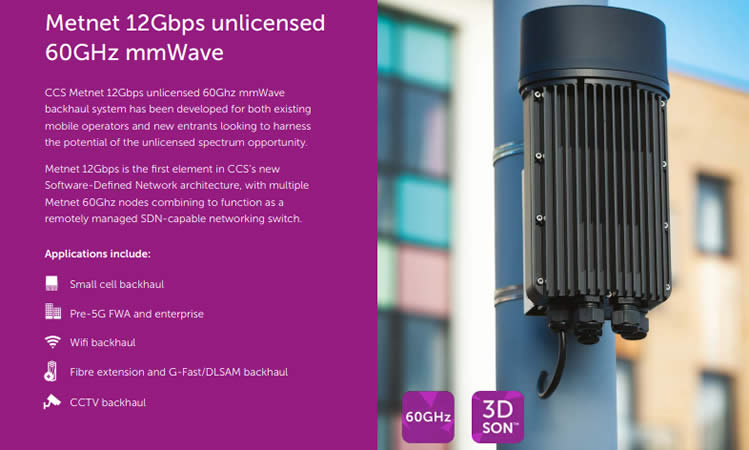 Cambridge Communication Systems (CCS) Limited's Metnet 60G unlicensed mmWave wireless solution is now live in Bath. It comprises self-organising mesh radios across the centre of Bath, and will deliver up to 12Gbps per radio.
The gigabit backhaul solution is set to enable new 5G 'smart tourism' applications, such as augmented and virtual reality (AR/VR) experiences. The BBC, Aardman and the University of Bristol's Smart Internet Lab are working on related technologies and content to support these AR/VR applications.
CCS has installed Metnet units around Bath's city centre streets to extend fibre connections and provide fast wireless connectivity – the company says the roll-out took just one day as there was no need to frequency plan or align antennas manually.
According to CCS, its Metnet technology is the only self-organising 5G mmWave mesh backhaul in the world.
Smart tourism
The deployment has been hailed as a "major milestone" in the 5G Smart Tourism project in Bath and Bristol. The programme is being led by the West of England Combined Authority and brings together 25 organisations, including BT, Zeetta and InterDigital. The initiative has received £5 million in competition funding from the Department for Digital, Culture, Media and Sport (DCMS).
The 5G Smart Tourism work is focused on developing a 5G testbed to showcase 5G capabilities – particularly the benefits that the technology can offer to the tourism industry in places such as Bath and Bristol.
A virtual reality Roman soldier showing visitors around the Roman Baths is one example of 5G-enabled tourism which the project participants have put forward.
CCS' Metnet 26GHz licensed radios were also deployed in Bristol recently. They were used to support a safety demo by Zeeta Networks' NetOS network management platform using 5G network slicing.
Cutting-edge network
CCS Executive Chairman Martin Harriman said CCS' Metnet technology is "pivotal" in enabling the 5G Smart Tourism work.
He commented: "This cutting-edge network demonstrates innovative use of the new 57-71GHz unlicensed band, and highlights the huge potential for the 14GHz of spectrum – recently opened up by Ofcom – for enabling the delivery of ubiquitous high-speed connectivity through gigabit 5G Fixed Wireless Access services.
"We look forward to continuing our support of this important testbed project, which will position this UK region at the forefront of next-generation wireless capabilities."