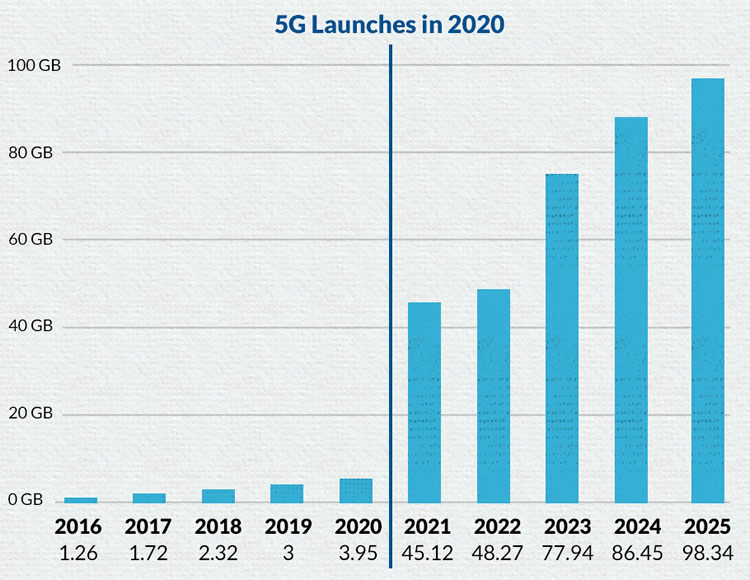 By 2025, each consumer will use an average of 98.34 GB a month, up from just 1.26 GB in 2016. This is according to new projections from giffgaff.
The main data guzzler is set to be video streaming, driven by the faster speeds 5G will enable.
Currently, phone users consume an average of 0.83 GB's worth of data per month through streaming video. By 2021 this is predicted to increase to 24.76 GB. By 2025, each user is forecast to use 73.87 GB of data on streaming video alone. By then, more people are expected to be viewing 4K high-definition video, including virtual and augmented reality applications.
5G's anticipated speeds will allow users to watch higher resolution video uninterrupted, and many content providers are now starting to create more content in 4K. 8K video is also emerging.
Super Bowl surge
The growth of video and its impact on data usage was highlighted during the recent Super Bowl in the US. Verizon reported that on Super Bowl game day, its customers used 18.8 TB of data in and around the stadium, the equivalent of a single user binge watching HD video for 435 straight days.
This level of data usage was up 70.9% on the 11 TB used at the Super Bowl last year – the same as watching HD video for 256 days in a row. At 2016's Super Bowl, Verizon customers used 7 TB of data – roughly a third of Sunday's big game.
The spike in data usage was caused by web browsing, streaming video and using social media and sports apps, the network provider said.
2018 Winter Olympics
The Winter Olympics in South Korea have kicked off, and some of its events will be available in 4K. This time, these 4K recordings will only be offered on demand and accessible for those that have the right kit for viewing, but in future live 4K/8K broadcasts are expected.
The giffgaff research also found that younger people are likely to use more data than their older counterparts.
One aspect seemingly not factored into giffgaff's projections is that video compression is a rapidly evolving area, with companies looking to use technologies such as artificial intelligence and machine learning to shrink video sizes, even in real time, to reduce bandwidth use.
That's a good thing too, because giffgaff's research also doesn't delve into whether people would actually be willing to pay for all that data.
Data is already the priciest part of a SIM Only contract and research from Ericsson has shown that some consumers expect their prices to drop when 5G arrives.
It seems very unlikely that we'd both see lower prices and vast data limits, so for people to consume as much data as they might ideally want improved video compression could prove vital. Either that, or a willingness to spend more each month.
Useful read: How fast is 5G?
Image credit: Giffgaff