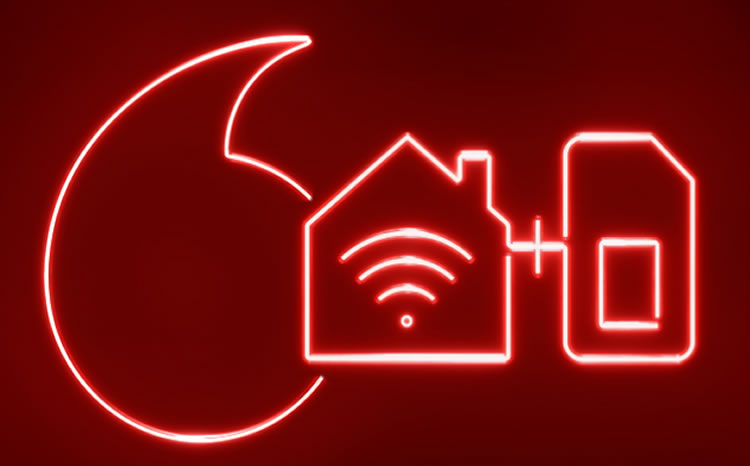 First out of the gate when it comes to a 5G mobile and broadband bundled service is Vodafone with Vodafone Together.
In a move that we're surprised more mobile networks haven't embraced just yet, Vodafone now offers an unlimited mobile data and home broadband service for £43 a month with no extra charge for 5G use.
Vodafone Together also supports 4G users but obviously we're most interested in its value for money for 5G early adopters. It's certainly an appealing proposition. Vodafone Together plans start from £31 per month for a combined 18 month SIM-only and home broadband plan with the unlimited option increasing the price to £43 per month. Vodafone reckons you'll save up to £400 compared to BT over an 18 month period.
In addition to the competitive pricing and for a limited time only, new home broadband customers also receive a free Amazon Echo Plus. That's because Vodafone is also now the world's first operator to enable customers to make and receive calls via Alexa using their mobile plan.
Other benefits
Other benefits include 24/7 live chat support online or via the My Vodafone app, as well as in-store support. There's also a 15% discount for any additional mobile plans added to the customer's account, encouraging households and families to band together. Also, for an extra £6 per month, you can choose from Spotify Premium, Amazon Prime Video, Sky Sports Mobile TV or a NowTV Entertainment Pass to serve all your entertainment needs on the move.
It's an appealing package and a smart one, demonstrating just what 5G and unlimited mobile data can offer the average user.
As Vodafone's Consumer Director, Max Taylor, explained: "With our world first Alexa calls and Vodafone OneNumber, landline calls really will become a thing of the past," and that seems like an increasingly likely proposition if recent mobile developments are anything to go by.
Vodafone Together is available now. 5G connectivity is dependent on your area, with Vodafone currently offering 5G in 15 different parts of the country. 4G is always an alternate option in the meantime while 5G rolls out.
Related: Vodafone 5G is now available in 55 places across Europe