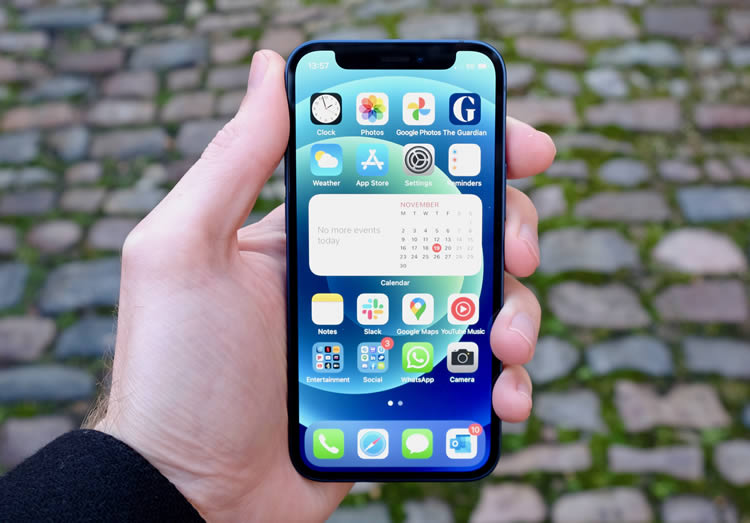 | Pros | Cons |
| --- | --- |
| True single handed design | Screen only 60Hz |
| Exellent camera | Battery life not a strength |
| Top notch power | Storage options outdated |
Verdict
The iPhone 12 Mini is the smallest 5G phone on the market, yet it's also one of the fastest and most stylish, and it also takes brilliant photos. Those who consume a lot of media on the go should steer clear, but otherwise this is one of the most appealing phones Apple has made in years.
Full Review

Specifications

Specs
Full Review
For a certain long-suffering group of iPhone users, the biggest Apple announcement of October 13th was also the smallest. The iPhone 12 Mini gives us the first truly small iPhone since the first iPhone SE in 2016.
At a starting price of £699, however, this is no budget offering. Indeed, the most important claim for the iPhone 12 Mini is that it gives you the full iPhone 12 experience in a much more compact form factor.
Let's take a closer look at that claim. Do good things really come in such small packages?
Screen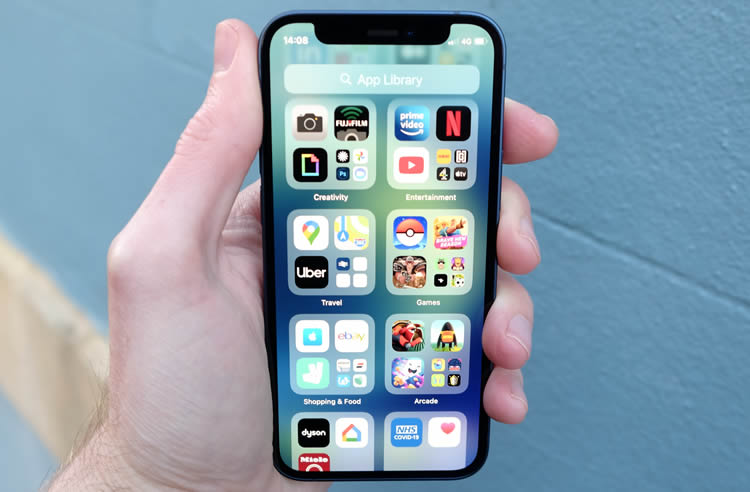 Like the rest of the iPhone 12 family, the iPhone 12 Mini packs a rich and vibrant Super Retina XDR OLED display. This punchy screen supports HDR10, and hits up to 625 nits of brightness in general conditions, with a potential peak of 1200 nits.
Those are the exact same facts and figures as the iPhone 12. What's different is the size. At 5.4-inches, the iPhone 12 Mini display is 0.7 of an inch smaller than the iPhone 12 and 0.7 of an inch bigger than the 2020 iPhone SE.
It might be petite, but with a resolution of 1080 x 2340 (aka 1080p or FHD) it's technically the sharpest screen of the entire range, with a pixel density of 476 ppi.
We've got no complaints with how the iPhone 12 Mini screen looks - except for one thing. Like the rest of the range, it only has a 60Hz refresh rate. This means that content scrolls between 50 and 100 percent lest smoothly than on the best Android phones.
It doesn't feel remotely jerky, we hasten to add. But if you've used something like the OnePlus 8T or the Samsung Galaxy Note 20 Ultra before (both have 120Hz displays), you'll notice the difference.
Design
The key to the iPhone 12 mini's diminutive size is that it squeezes that compact 5.4-inch display into an edge-to-edge design. The bezels surrounding the display are extremely minimal, except for the signature notch at the top.
Not everyone will appreciate Apple's continued use of this notch either, and it does seem to cut into the screen space even more on the Mini.
Away from the front, Apple has returned to the sharp, angular design language of the iPhone 4 and iPhone 5. Gone are the iPhone 11's curved edges in favour of a flat, right-angled rim.
This is a thin phone too at just 7.4mm thick. Add in a weight of just 135g, and you have a phone that will slip into almost any pocket without announcing its presence.
All in all, this is a rare modern phone that can be used one-handed without discomfort if you have larger hands. But even those with small hands will appreciate how manageable the Mini is to use day to day.
Throw in enhanced IP68 dust/water resistant certification and a significantly tougher ceramic glass screen, and the iPhone 12 Mini is as tough as it is compact.
Power
Despite the iPhone 12 Mini's tiny size, it makes no compromises on power. It's got the exact same processor and RAM configuration as the iPhone 12: an Apple A14 Bionic CPU and 4GB of RAM.
That also means that it has exactly the same processor as the range-topping iPhone 12 Pro Max, which is wild. The result is truly class-leading performance that puts virtually every other non-related model to shame.
Benchmark results here scale new heights, with Geekbench 5 single-core and multi-core scores that are 40 to 70% higher than some much larger and more expensive rivals.
Suffice to say, none of the games we ran on the iPhone 12 Mini could so much as make it break into a sweat. And all this, just to remind you, from a phone that comfortably fits in the palm of your hand.
Camera
Just as the iPhone 12 Mini doesn't compromise on performance, so too it packs the exact same camera set-up as the larger iPhone 12. This means it takes some of the best photos of any smartphone camera, as well as some of the best video.
Indeed, even the more premium iPhone 12 Pro contains the same 12MP wide and 12MP ultrawide lenses as the Mini. You just don't get the Pro's additional 12MP telephoto here, so you can't take proper zoomed-in shots.
The Mini's new f/1.6 wide sensor, together with OIS, ensures markedly improved low light shots compared to previous iPhones. They're bright and detailed to a quite uncanny degree, and you can even now use Night mode with the 12MP selfie camera.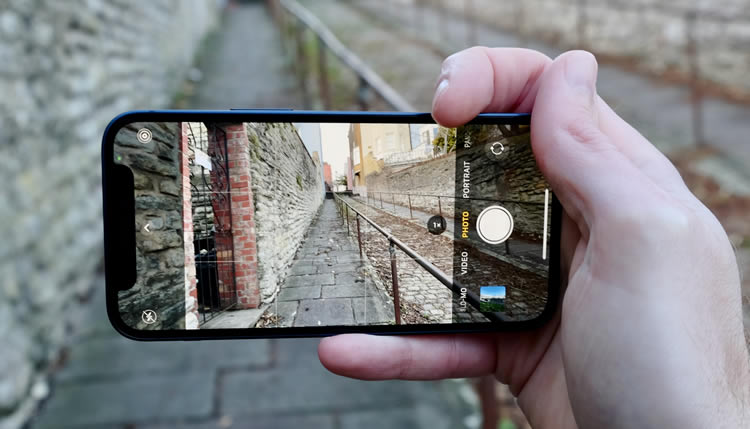 Apple has improved its image processing with the iPhone 12 family too, and the Mini benefits from the likes of Smart HDR 3 for better dynamic range. Talking of enhanced HDR, the iPhone 12 Mini can handle 4K HDR video recording with Dolby Vision at 30fps. But all footage captured here looks stunning.
Features
Apple's big push with the entire iPhone 12 range is 5G connectivity. And continuing the spirit of no-compromise, the iPhone 12 Mini packs it in too, making it the smallest mainstream 5G phone on the planet.
The other big new feature doesn't actually come in the box. MagSafe is a new magnetised connection standard that clips compatible chargers, cases and wallets to the back of the phone.
The list of compromises with the iPhone 12 Mini really is ridiculously slim. You even get a proper pair of stereo speakers, albeit shrunk down to an appropriate size. They're not the meatiest examples around, but they're plenty loud and clear enough.
The payoff for that large screen notch, meanwhile, is Face ID. Apple's face-recognising biometric authentications system continues to be the most effortless way to unlock a phone - provided you're not wearing a mask.
Battery life, memory and connectivity
So far the iPhone 12 Mini has been startlingly free of compromise. But one area where there's no avoiding a bit of a discrepancy is battery size.
Unofficial breakdowns of the Mini have revealed a 2,227mAh battery, which is really rather small. The iPhone 12 has a 2,815mAh battery, and even that's considered quite compact by modern standards.
Sure enough, the iPhone 12 Mini has inferior stamina to its big brother, despite having a smaller display to power. But it's not a dramatic handicap by any means.
Using the iPhone 12 Mini moderately for calls, texts, emails, news app reading, and the odd web search, we found that we could last through a long 14-hour day with 30 to 40% left in the tank. It's when you hit the media and games hard that the numbers will start to plummet. One hour of Netflix streaming sapped 9% of a charge, which isn't disastrous, but it's also far from the best you can get.
Of course, if you're buying a small phone, the chances are you're not intending on hitting the Netflix videos or 3D games too hard in a single sitting. As such, while we wouldn't call the iPhone 12 Mini's battery life good, exactly, it's comfortably fit for purpose.
We've mentioned the new market for MagSafe accessories with the iPhone 12 Mini, but you'll also need to supply a regular charging brick separately too. The iPhone 12 Mini (and every other iPhone 12 model) only ships with a Lightning to USB-C cable. When you do, it supports up to 20W fast charging.
As we've already mentioned, the iPhone 12 Mini is the smallest 5G phone on the market right now. Of course, 5G will take its toll on battery life relative to 4G. But being able to access next gen speeds on such a tiny handset feels fantastic.
Your storage options are 64GB, 128GB or 256GB. To be honest, 64GB feels rather stingy at a time when even cheap Android phones are coming with 128GB as standard.
Verdict
The iPhone 12 Mini is a remarkable smartphone, and arguably the best-value and most interesting phone in the four-strong iPhone range. It holds its own in terms of power, design, and photography, yet can slip into the smallest of pockets.
Having this much power in a true one-handed phone is a liberating experience, and it makes us wonder why everyone has become so obsessed with large phones.
There's an obvious answer to that of course, and the iPhone 12 Mini simply isn't the right phone for anyone who consumes a lot of media on the go. While its 5.4-inch display is great, it's a bit too pokey for long form content, and Mini's tiny battery drains quickly under sustained heavy load.
But if you've been longing for a phone that places the emphasis back on mobility and simply staying out of your way when not in use, then the iPhone 12 Mini will come across as a small miracle.
Specifications
Camera: 12MP wide, 12MP ultrawide
Operating System: iOS 14.2
Internal storage: 64/128/256GB
Expandable storage up to: 256GB
Processor make: Apple
RAM: 4GB
Pixels per inch (PPI): 476ppi
Processor: A14 Bionic
Screen size (inches): 5.4
Resolution: 1080 x 2340
Battery capacity (mAh): 2227
Colours: Black, White, Red, Green, Blue
Dimensions (mm): 131.5 x 64.2 x 7.4
Weight (g): 135