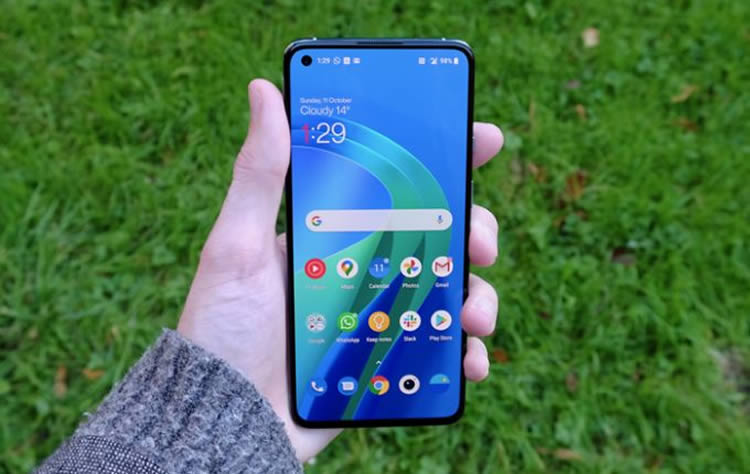 | Pros | Cons |
| --- | --- |
| 120Hz refresh rate | No telephoto camera |
| Incredibly fast charging | No wireless charging |
| Very powerful | No water resistance rating |
Verdict
The OnePlus 8T is a high-end phone with a slightly lower end price than most. While it lacks a few features it excels in most areas, so if you don't need the very best of everything you'll be very happy with this phone – and if you do you'll need to pay more.
Full Review

Specifications

Specs
Full Review
The OnePlus 8T is basically what you'd probably expect from a 'T' model – it's much like the OnePlus 8, but with upgrades in some key areas, including a higher refresh rate, a bigger battery, faster charging, and an extra camera lens.
Most of the rest of the phone is either the same or very similar – so this is no OnePlus 9, but that's okay because it builds on a phone that's already great.
Of course, it's not the only OnePlus phone on the block, and the waters are somewhat muddied by the OnePlus 8 Pro, which is older yet in most ways higher end. So in light of that is there any point in buying the OnePlus 8T? The short answer is yes – it's both cheaper and actually has some things the 8 Pro doesn't. For the long answer, read on.
Screen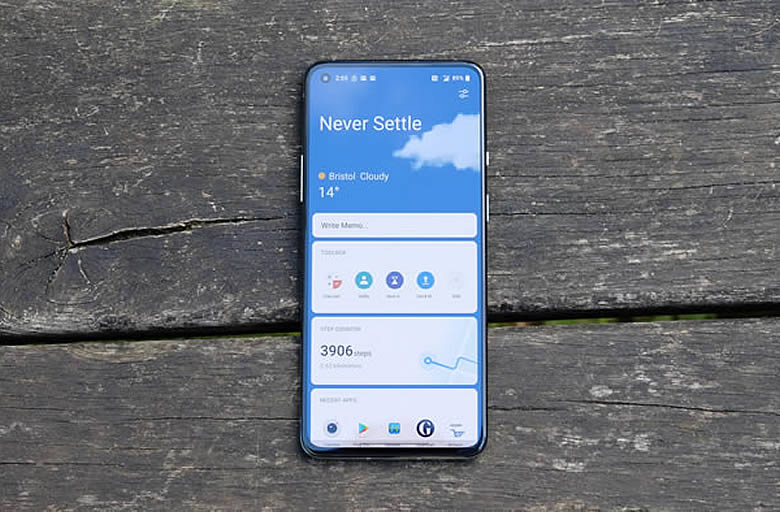 The OnePlus 8T has a 6.55-inch 1080 x 2400 Fluid AMOLED screen with Gorilla Glass 5 protection, support for HDR10+, and 402 pixels per inch.
That's an assortment of specs that's identical to the OnePlus 8, and makes for a reasonably high-end setup, let down only by the resolution, which is decent at FHD+, rather than being a great QHD+ one like you'll find on the likes of the Samsung Galaxy Note 20 Ultra, or a 4K one like the Sony Xperia 1 II offers.
However, the OnePlus 8T is also cheaper than either of these phones, and its screen is at least an upgrade on the OnePlus 8's in one significant way, namely its 120Hz refresh rate. That's up from an already-respectable 90Hz refresh rate on its predecessor, and it makes interactions feel smoother.
It's a useful upgrade that leaves this screen sitting between the one on the OnePlus 8 and the bigger, higher resolution one on the OnePlus 8 Pro.
Design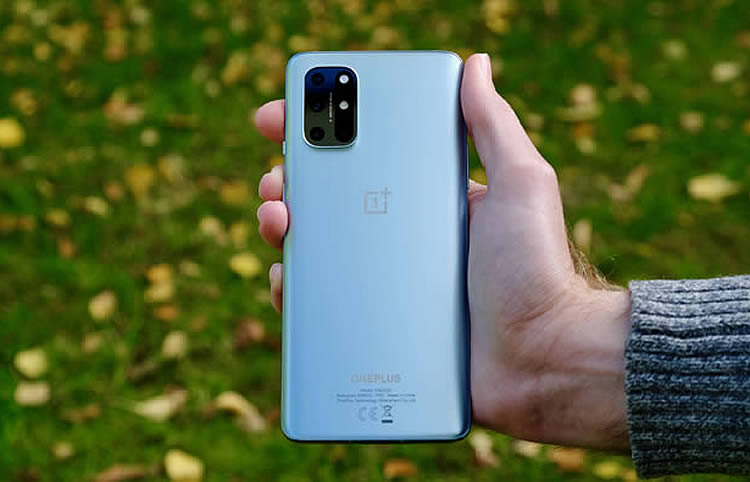 The OnePlus 8T has a glass back in Aquamarine Green or Lunar Silver, along with a metal frame, a punch-hole camera in the top left corner of the screen, and a large camera block on the top left corner of the back. It's an utterly conventional if fairly premium look, though the colour choices are at least attractive.
It's worth also noting that unlike most high-end phones there's no water resistance rating on the OnePlus 8T, so we'd be careful about getting it wet.
Still, with its almost bezel-free design is certainly looks good, even if it won't stand out from the crowd.
Power
One area where the OnePlus 8T doesn't compromise is in its power, as it packs a high-end Snapdragon 865 chipset. Sure, at the time of writing there is a better version of this chipset – the Snapdragon 865 Plus, but hardly any phones use that, with the vast majority of 2020 Android flagships using the standard 865.
It's paired here with 8GB or 12GB of RAM, the latter of which makes for a phone that can go toe to toe with just about any rival handset. Coupled with the 120Hz refresh rate, just about everything on the OnePlus 8T feels slick, smooth, and speedy.
It's worth noting that the standard OnePlus 8 has the same core specs, so performance – other than the refresh rate factor – isn't much better here, but both phones perform well.
The OnePlus 8T also runs Android 11, so it's on the latest version of Android at the time of writing. It uses the company's OxygenOS 11 overlay, but this is a great addition, which adds a few features and customisation options while keeping the core simplicity of Android intact.
Camera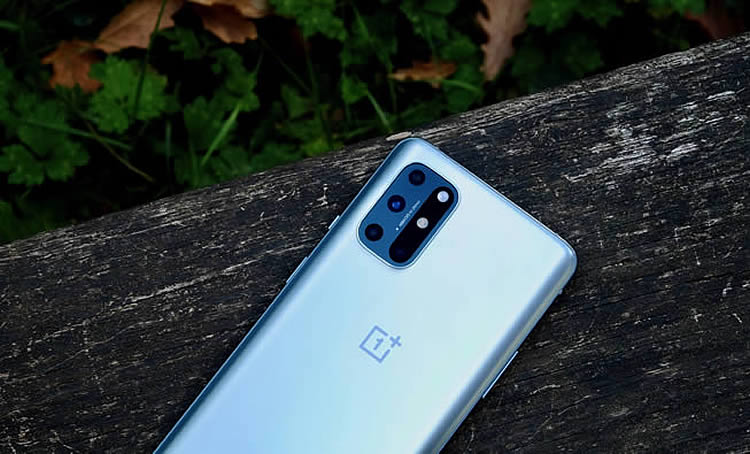 The OnePlus 8T does what many upper mid-rangers do in that it has a lot of cameras, but opts for questionable macro and monochrome lenses rather than a genuinely useful telephoto one – presumably the latter would cost more, but it's an annoying decision nonetheless.
Still, in addition to those not-so-useful sensors, the OnePlus 8T also has two very useful ones – its 48MP f/1.7 main one and its 16MP f/2.2 ultra-wide. The former of those even has optical image stabilisation, so your shots stay steady.
The main snapper works very well in almost all lighting, while the ultra-wide results aren't quite as strong but come close – and of course you'll fit more in your shot, making it the best choice for landscapes and large group photos.
And as much as we were a bit down on 5MP macro and 2MP monochrome sensors, the latter is at least a bit unusual – it's used for taking black and white photos, and it works in tandem with the main sensor, so the low megapixel count is less of an issue. However, it remains a bit niche.
For video, you can shoot in up to 4K at up to 60fps, which is fairly standard at this end of the market, but results are solid, and slow motion shooting is also supported. There's also a capable 16MP f/2.4 camera on the front.
Features
There are two main features to note that aren't covered elsewhere in this review. The first is the OnePlus 8T's alert slider, which sits on the edge of the phone and lets you flip the phone between silent, vibrate, and sound settings instantly, without leaving the screen you're on. It's surprisingly useful and something we'd like to see more phones offer.
The other feature is an in-screen fingerprint scanner. This is something lots of phones do now offer, but we still think it's just about worth noting, as to our mind it's the best place for a scanner, and it's still not a position that all – even fairly high-end – phones put it. The Google Pixel 5 for example has its scanner on the back.
Battery life, memory, and connectivity
The OnePlus 8T has a 4,500mAh battery, which is a decent, above average size. It's also up on the 4,300mAh of the OnePlus 8, and translates to over a day of life. Unless you're only a light user you won't get two days but you could feasibly get to lunchtime on day two, so there's plenty of leeway if you forget to charge it overnight.
That's especially true as the OnePlus 8T doesn't need long to charge at all. It supports 65W fast charging, which is faster than almost any other smartphone, including other OnePlus ones. It means you can get from zero to 58% battery in a mere 15 minutes, or charge it from 0% to 100% in just 39 minutes. There's no wireless charging though, which is slightly disappointing.
Memory comes in at a choice of 128GB or 256GB, both of which are good sizes, but you should think carefully about how much storage you'll need, as it's not expandable.
As for connectivity, well, we wouldn't be reviewing this if the OnePlus 8T didn't support 5G, so you're covered there. It also has Bluetooth 5.1 and NFC.
Verdict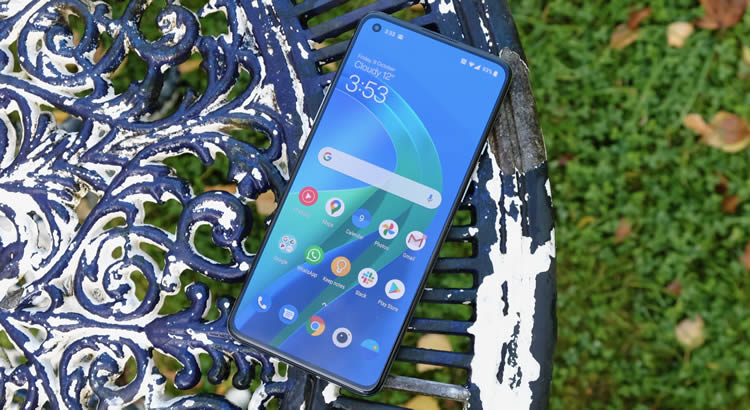 The OnePlus 8T is a great mainstream flagship that undercuts much of the competition. It's not quite the company's best phone (that's the OnePlus 8 Pro) but this actually has faster charging than that.
With a 120Hz refresh rate, 5G, high-end power, a big battery, a quad-lens camera, and plenty of storage too this is a phone that most people will be very happy with. Just be aware that there's no telephoto camera, no wireless charging, and no water resistance rating. But if they're not deal-breakers for you then the OnePlus 8T would make for an excellent purchase.
Specifications
Camera: 48MP wide, 16MP ultrawide, 5MP macro, 2MP monochrome
Operating System: Android 11
Internal storage: 128GB/256GB
Expandable storage up to: None
Processor make: Qualcomm Snapdragon 865
RAM: 8GB/12GB
Pixels per inch (PPI): 402ppi
Processor: Octa-core
Screen size (inches): 6.55
Resolution: 1080 x 2400
Battery capacity (mAh): 4,500
Colours: Aquamarine Green, Lunar Silver
Dimensions (mm): 160.7 x 74.1 x 8.4
Weight (g): 188