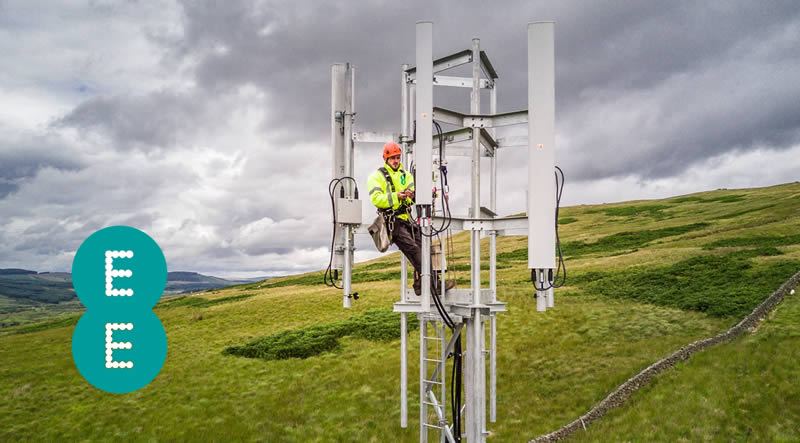 Updated: 12th September, 2018
EE is the UK leader in 4G, so it's reasonable to expect strong performance from the network in our 5G future too.
But more than just expecting it, there's plenty of evidence that this will be the case, as EE has announced plans to launch 5G in around August 2019, which likely means it would have a 5G network before any rival.
And ahead of that, EE is working hard to develop and trial 5G tech, with a live 5G trial network planned to be launched in London's Tech City in October 2018. If that weren't enough, the network has also secured a decent amount of 5G-capable spectrum at Ofcom's recent auction.
Below you'll find full details of all this and more, along with information on what EE has planned beyond its 5G launch.
Network and launch plans
Network
EE currently has the UK's largest 4G network, with over 99% population coverage and 91% of the UK geography covered. That might not sound relevant to 5G, but it could well be, as early 5G networks are likely to rely on a combination of 4G and 5G infrastructure, rather than being standalone 5G networks.
O2 has said as much, claiming that any 5G network before 2020 will be '5G lite' for that reason, and while EE has disputed that term it seems in agreement that existing infrastructure will play a role.
So in other words EE's massive 4G network could put it at an early advantage when it comes to 5G.
It's also worth noting that EE was first to market with 4G in the UK, and hasn't slowed down since, which is why its 4G network was the largest from day one and continues to be now. That all bodes well for it doing a similar thing with 5G.
EE might also pioneer new 5G technologies faster than rivals, especially when it comes to speed, having launched both double speed and 4G+ (4G LTE Advanced) on its current network, and offering consistently higher speeds than rivals in most tests. So while it will probably initially be using non-standalone 5G, there's evidence that it could be one of the first networks to push beyond any reliance on older 4G technologies.
EE's current 4G network is also lower latency than rivals according to most reports, such as OpenSignal's April 2018 mobile networks report. Latency is the measure of how long it takes for the network to respond to a request and this could be even more important than speed for many of the new features – such as autonomous vehicles – that 5G could help deliver.
Of course, a low latency on 4G doesn't mean it will offer a low latency on 5G, but it suggests this is something EE has been focused on delivering and will likely continue to be.
There are lots of other reasons to have faith in EE's 5G network potential too, from the large amount of spectrum it holds, to its plans for a launch relatively soon, to all the trials and developments it's currently working on, all of which you'll find full details of below.
Spectrum holdings
EE came out of Ofcom's first 5G spectrum auction with 40Mhz of 3.4GHz spectrum, specifically the 3540MHz – 3580MHz part of the band. It paid £302,592,000 for that.
It won more of the 3.4GHz band – which is ideal for 5G – than Three (which won just 20MHz), but the same amount as O2 and less than Vodafone, which came away with 50Mhz.
However, EE also has 255MHz of immediately useable spectrum in other bands less suited to 5G, which means it has more spectrum overall than any other UK network.
Immediately useable spectrum

3.4GHz held

3.4GHz allocation

Total spectrum held

255MHz

40Mhz

3540 – 3580MHz

295MHz

Note: 'Immediately useable spectrum' refers to spectrum in various bands that can be used now for 4G, 3G and 2G. EE holds spectrum in the 800MHz, 1.8GHz, 2.1GHz and 2.6GHz bands.
It's also worth noting that there are set to be future 5G auctions for spectrum in the 3.6GHz - 3.8GHz bands and the 700MHz band, as well as potentially others, which Ofcom is set to discuss at WRC-19, so there's time for EE to collect more spectrum, and it already has more overall than any rival.
Launch plans
We might not have to wait too long for 5G on EE, as EE's CEO said there will be a launch in 2019, though the network has added that it will evolve massively after launch.
It's a similar story with BT – which owns EE – as that network has also said it could have a live 5G network before the end of 2019.
EE seems on track to launch in 2019 too, because as of September 2018 it reiterated its aim of launching in 2019 and announced that it will be upgrading more than 500 mobile towers from 3G to five-carrier 4G in the next six months, laying the foundations for a later upgrade that would make them capable of 5G.
Of course, not everywhere will have 5G from day one. Far from it if 4G is anything to go by. For 4G, EE initially launched in 11 cities, namely Bristol, Birmingham, Cardiff, Edinburgh, Glasgow, Leeds, Liverpool, London, Manchester, Sheffield and Southampton.
There's no guarantee that EE's 5G service will start in the same selection, but this does suggest EE might opt for a fairly wide initial roll out, so you may be able to get 5G in quite a lot of places from day one.
And those places will almost certainly all be major cities, with London sure to be among them and Birmingham and Manchester (as the 2nd and 3rd biggest British cities by population) also being likely candidates.
The smaller or more remote the place you live, the longer you're likely to have to wait for 5G, but it's sure to arrive sooner or later.
Even when 5G does arrive, it might initially be quite limited in what you can do with it, as while there's lot of talk of connected cars, smart cities and the like, EE's - and indeed most networks - first priority will likely be mobile broadband, so it might not even initially be available on phones, rather you'd be using mobile broadband devices to get other electronics online when out and about.
Current trial and development activities
5G trials
EE is already carrying out 5G trials, including one which reached 2.8Gbps download speeds, which is seriously fast. And not only that, but the operator claims it's the UK's first successful end-to-end 5G network test.
That was carried out in a lab (albeit simulating the real world), but EE has even commercially achieved speeds of 750Mbps at Wembley Stadium. That may prove slow by 5G standards, but it's far faster than conventional 4G is capable of, and with EE already carrying out speed tests it's clear that the network wants to deliver a speedy service, and may be in a position to handle higher speeds than rivals, just like it can with 4G.
In fact, the network foresees mobile networks that are between 1000 and 5000 times faster than 4G networks, with cells that support peak rates of between 10 and 100Gbps.
EE also plans to launch a live 5G trial network in London's Tech City in October 2018, and it has become the first UK mobile operator to demonstrate pre–5G backhaul technology, which is a stepping stone to 5G, and the network is soon set to carry out 5G New Radio tests.
Other development activities
EE has also teamed up with three of the world's leading mobile operators to launch the LTE-Broadcast Alliance, which will facilitate the development of LTE-B – a key component of mobile streaming in the future.
That suggests EE sees streaming as a major use of 5G, and will potentially have more expertise in delivering it and meeting growing data demands than rivals.
It's also long been a member of the 5G Innovation Centre at the University of Surrey, and its potential 5G network ideas include integrating communications infrastructure into lamp posts and the bricks in buildings, for more widespread but smaller scale network infrastructure, which could be key when dealing with spectrum that only travels a short distance, as some 5G spectrum likely will.
Speaking to The Telegraph, EE's principal network architect, Professor Andy Sutton said: "Imagine a scenario where you're putting up a new building and there are a number of bricks in that building. Why don't we replace a number of those bricks with things that look like bricks, but are actually mobile transmitters?
"Communications infrastructure can also be integrated into lamp posts."
EE also now has the might of BT behind it. We've covered BT's position in detail on a separate page, but suffice to say the company is carrying out significant 5G research and development of its own, which EE is sure to benefit from.
Recently this includes plans for live 5G New Radio trials, as well as plans to use Nokia's ReefShark chipset for a smooth 5G rollout, and approval of the first 5G standard.