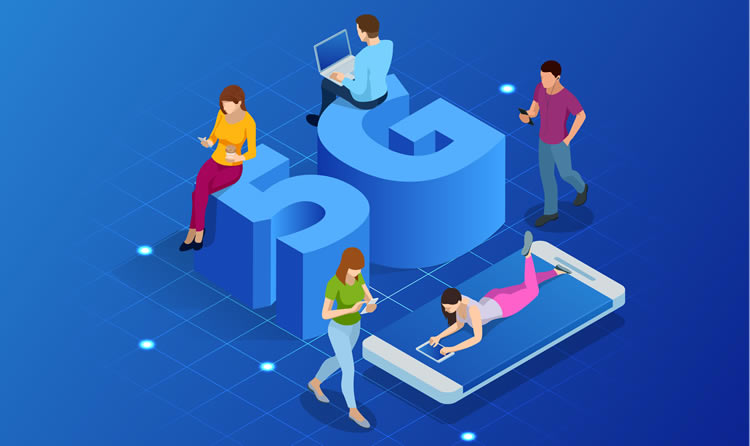 2019 will see "a trickle followed by a rush" when it comes to 5G, according to predictions from data research firm, GlobalData.
The company expects a number of commercial 5G services to roll out in 2019. However, it predicts that adoption will be slower, with most 5G services not gaining traction until late this year or early next. The research firm puts this down to limited initial coverage and poor device availability, as well as a lack of clear consumer business cases for 5G. Another factor which will limit the speed of 5G adoption, according to GlobalData, is that Apple isn't expected to join the 5G fray until 2020.
GlobalData's 2019 briefing notes: "At the outset, carriers will have limited smartphone inventory to work with, and that could put a damper on marketing campaigns."
The lack of coverage makes sense as a factor for slow initial adoption. While a number of UK networks - including EE, Three and Vodafone - plan to launch 5G services in 2019, they probably won't arrive until the second half of the year and will initially be very limited. EE for example will initially launch in parts of a number of major cities, but won't provide city-wide coverage on day one.
Plus, while many UK networks will offer 5G in 2019, many others won't, most notably O2 and likely a lot of MVNOs (Mobile Virtual Network Operators).
However, the availability of 5G smartphones might not be as big a factor, since while Apple probably won't have one, Samsung, OnePlus, LG, Huawei and others probably will launch one or more 5G phones in 2019, so they'll be available from a range of companies.
Smart homes
The research firm also predicts an increase in betting on e-sports in 2019. This will include a growing number of Pay-TV and multi-play providers offering dedicated e-sports channels.
GlobalData reckons that communications service providers will push further into the smart home space this year. The smart home space remains fragmented – companies such as Google and Amazon are getting ahead with smart home artificial intelligence (AI) capabilities, while some telcos see offering their platforms as a smart home hub as their key advantage. In 2019, GlobalData expects more much-needed clarity to emerge – particularly around the role of operators in the smart home space.
Privacy
Further, in 2019, GlobalData expects concerns around data privacy to deepen rather than going away.
"Expect further scandals and heavy debate in 2019 as tech companies attempt to balance the needs to embrace regulation with further user data monetisation innovation," GlobalData analysts say.
However, GlobalData notes that data privacy concerns also present an opportunity for operators to position themselves as a trusted data caretaker. This could be a chance for operators to differentiate and GlobalData expects new telco services and initiatives to launch around this in 2019.
Last year, GlobalData predicted new life in the consumer Internet of Things (IoT) market; growing awareness of data privacy issues; an over the top (OTT) video shake-up; increased children's content and services from operators; and mainstream development of AI voice interfaces.
Emma Mohr-McClune, Service Director at GlobalData, said: "Our predictions for 2019 once again underline the evolution of market convergence disruption."