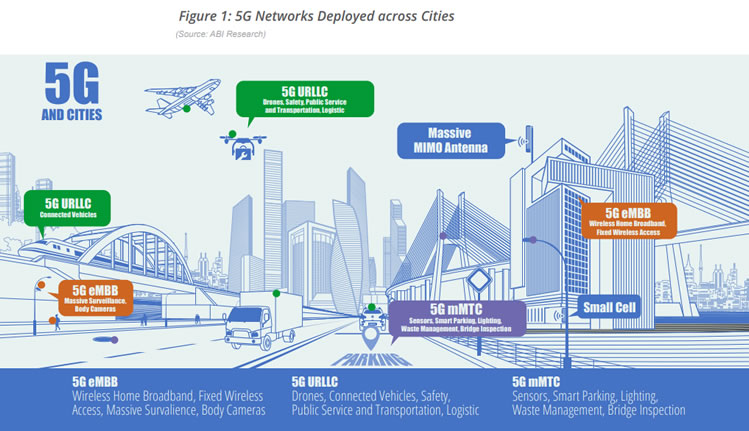 5G deployments in urban environments could spur economic growth to the tune of US$17 trillion by 2035, according to a new study by ABI Research, which was commissioned by InterDigital. The predicted growth from 5G connected cities will be driven by direct and indirect revenue contributions as well as productivity gains.
The study, "5G urban deployment: debunking the capex myth and unlocking new growth," also examined the revenue potential for 5G services over the next 10 years to 2028. ABI predicts that 5G will generate revenues in three distinct areas, as follows:
US$2.4 trillion in direct contributions, which mostly comprises end user subscriptions
US$866 billion in indirect contributions, such as devices, infrastructure, applications, advertising or other products and services.
US$3.2 trillion in productivity gains resulting from better connectivity in cities
ABI notes that previous wireless technology generations have been major drivers of economic growth. The firm estimates that 4G delivered US$4.956 trillion of value in 2018, which is about 10 years after it was standardized.
But by 2028, 5G looks set to surpass what 4G achieved in a similar timeframe. In direct revenue contributions, 5G is projected to generate US$2.4 trillion while 4G generated US$1.1 trillion in 2018. In indirect contributions, 5G is expected to achieve US$866 billion while 4G contributed US$500 billion in 2018.
Henry Tirri, CTO at InterDigital, said: "Many are trying to understand how they will monetize this next generation of wireless technology, and most importantly, how they'll deliver ROI from it. But while there may still be several questions and doubts surrounding 5G monetization, these findings clearly demonstrate the growth opportunities that 5G is set to bring about."
The full Interdigital report can be downloaded for FREE here.
Connected Cities Get Smart
As EE's, Vodafone's and Three UK's 5G commercial launches show, the UK's largest cities will be first to experience 5G connectivity this summer – namely, Birmingham, Bristol, Belfast, Cardiff, Edinburgh, Manchester, Liverpool and London.
According to ABI's study, the first 5G services will be based on enhanced mobile broadband (eMBB), but advanced 5G features for massive machine-type communications (mMTC) and ultra-reliable low latency communications (URLLC) will start to appear after 2020. The technologies needed to support advanced 5G services include small cells, private cellular networks, millimetre wave spectrum, edge computing and network slicing, just to name a few.
Since early 5G services will be concentrated in urban areas, smart city uses cases are likely to be among the first to benefit from 5G connectivity, according to ABI's study. In this way, connected cities can become smart cities.
Useful resource: 5G in the Smart City
Dimitris Mavrakis, analyst at ABI Research said: "5G has the potential to completely change our every day lives, but only if mobile service providers can roll out 5G in a way that makes economical and logical sense – that is, to start with mobile broadband connectivity deployments in urban areas to create the right use cases that will justify investments in CAPEX and OPEX."