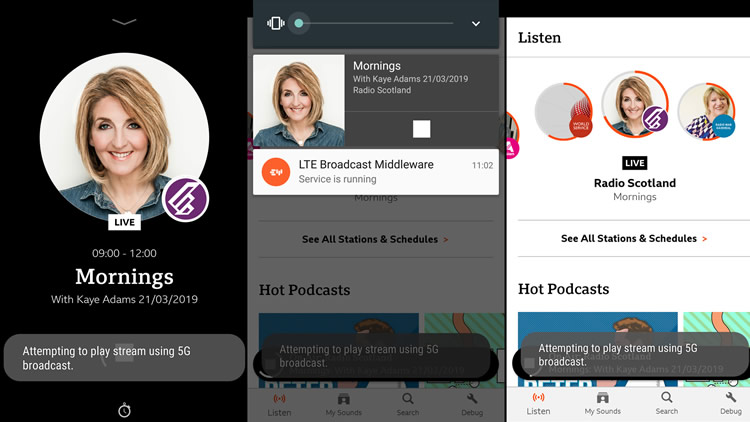 The BBC has decided to extend the duration of its 5G broadcast radio trial on the Orkney islands to the end of September this year, after receiving positive feedback from participants.
With more time for the trial, the BBC and its technology partners will be able to work on optimising the radio signal and gather more data to better understand live 5G broadcasting. Initial results revealed that more than 50% of participants were satisfied with the quality of radio reception, which suggests there is some room for improvement.
The trial was launched in February in Stronsay, Orkney, making residents there among the first in the world to receive live radio broadcasts over 5G. They can get 13 BBC radio stations via a modified version of the BBC Sounds apps. In addition, the trial is also providing mobile broadband access to participants.
So far, the response has been mostly positive, according to independent research. Initial feedback has shown that 90% of participants are satisfied with the mobile Internet service. While all participants are happy with the range of radio stations offered, over half are satisfied with the quality of reception. Participants say they like how the service has kept them up to date and more connected and find the service flexible, portable and easy to use.
Kieran Clifton, Director of Distribution and Business Development, BBC, said: "[The trial] has been a success from an engineering perspective, with high levels of quality and consistency in the experimental service. The extension gives our experts a chance to continue to improve on their work so far, and get even more insight into live 5G mobile broadcasting, how it could be deployed, and how it could help audiences in rural areas."
Rural First for 5G Broadcast Radio
The BBC's broadcast radio trial in Stronsay is part of the government-funded 5G RuralFirst testbed and trial program, which aims to explore how 5G can create new ways of bringing connectivity to rural consumers and businesses in the UK. The program encompasses a variety of projects to test 5G use cases at test sites located in Shropshire, Somerset and the Orkney islands.
The Orkney islands were selected for the BBC's broadcast radio and broadband access trial because the region has poor digital radio coverage and limited fixed and mobile broadband connectivity.
The 5G RuralFirst consortium comprises 29 organisations from industry, academia and local government. It is led by Cisco and backed by the Department for Digital, Culture, Media and Sport. Industry partners include BT, Lime Microsystems, Microsoft, Parallel Wireless and Nokia.
In addition to the broadcast radio trial in Orkney, the program's 5G trials include IoT-related use cases for monitoring farmed salmon and connected wind farms; agricultural applications, such as connected cows and autonomous tractors controlled by drones; as well as community mobile broadband and optimised tourism.