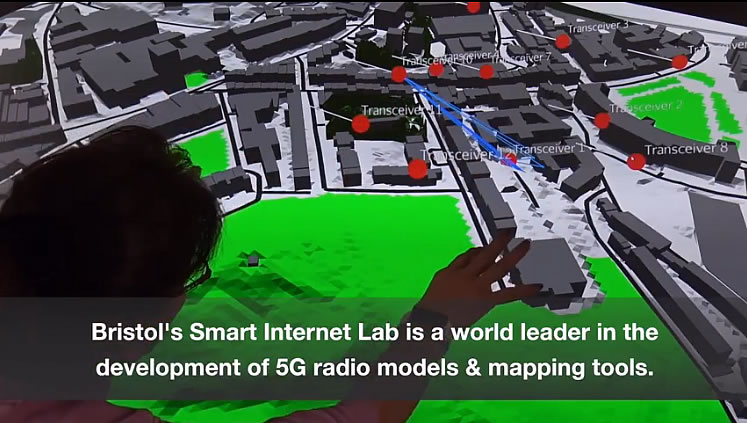 Bristol University's Smart Internet Lab has used its world-leading expertise in 5G radio models and mapping tools to create a 3D digital twin of the city.
This will be used to visualise and predict how 5G radio signals will flow around the city and to connected and autonomous vehicles. The twin was revealed to the public and government officials at last weekend's Layered Realities 5G Showcase event in Bristol.
The Lab deployed airborne laser scanners to capture an accurate 3D model of the terrain, buildings and trees. It also mapped virtual test mobile devices on the ground within the model to explore how they would communicate with the network, as well as virtual base stations.
Bristol owns one of the most advanced mmWave (millimetre wave) sounders in Europe, and emulated then measured the radio channel for 5G smart city, rail and road applications at 26GHz and 60GHz. This included modelling the radio wave channel to design the world's first gigabit link to trains.
Digital twin
All this information was integrated into the digital twin and showed how radio waves pass over some buildings, bounce off others and bend (diffract) round corners and over roof tops. It also indicated that signals are severely weakened by trees.
Bristol has used these state-of-the-art measurements to develop and validate its 5G radio models: radio propagation is complex, and accurately predicting signal levels is key to deploying successful 5G networks. Now the Lab can predict radio frequency coverage maps for each base station to show the strength of signals across the city.
The next steps will be to integrate this layered, high resolution, 3D visualisation with data from the Ordnance Survey and add street furniture. The Lab also plans to develop advanced radio models for indoors to improve indoor coverage and reliability. Its mapping tool is supporting a range of innovative UK and government-backed research projects.
Dr Fai Tila, Technical Project Manager, Communication Systems and Networks Group (part of the Lab team), commented: "By combining newly available high-resolution 3D city maps with our new ray-tracing algorithm we're able to predict 5G coverage with unprecedented accuracy."
Other Bristol projects
Bristol is one of the UK cities that's at the forefront of 5G research and development, with the city also having the honour of hosting the first 5G trial of 2018 and setting a MIMO world record, among other things.
With this new digital twin it could also be positioned to be among the first UK cities to have a live commercial 5G network, since the Lab should soon have a good idea of how best to roll one out.
5G radio models and mapping video
Watch the video to see why Bristol is the world-leader in the development of 5G radio models and mapping tools.