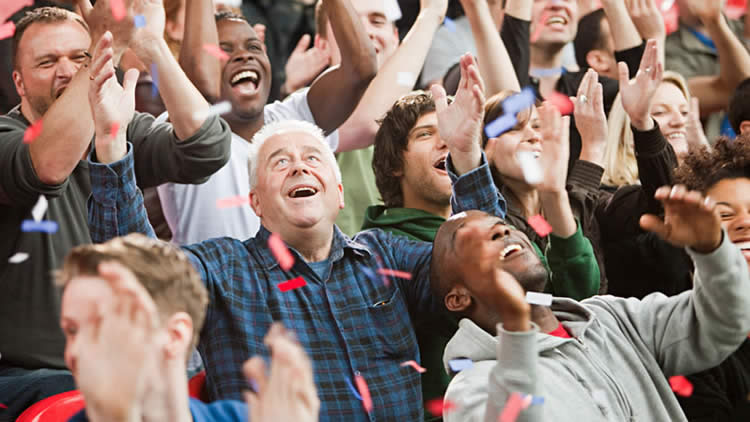 5G won't stop us shouting at the telly, or the ref or our mobile screens, while watching the match, but it will change how we watch sport and perhaps even give us more to shout about.
BT, Qualcomm Technologies and Nokia are working to bring about that transformation, specifically by using 5G to allow fans to watch replays from multiple angles (360° is the aim) plus access additional content and immediate updates, all in ultra-high definition.
5G will also enable spectators to share the unprecedented amount and quality of content – plus their opinions of course – with fellow sports fans in real time, or very close to it. Overall, the idea is to give fans a more immersive and active experience no matter where they are.
It's no surprise that research carried out earlier in the year by Nokia and Qualcomm found that consumers' desire for faster data speeds and response times are a strong case for network operators' uptake of 5G – and watching sport is a 'use case' with wide appeal. Check out the video for more.
The evolving 5G standard is fundamental to the transformation of how we enjoy sport because of its super low latency (as fast as 1 millisecond) and unparalleled efficient use of bandwidth, however, so is how 5G is integrated and interworks with what BT described as "the best capabilities of fixed and mobile networks [to] deliver seamless connectivity."
The three companies are looking at using 5G NR (for New Radio) to provide the uplink for multiple 4K video cameras around a stadium, to provide different angles on the action. This means individual cameras might focus on the flow of the match, or a particular player, the bench or any other location. Each stream of video will be fed into a mixing facility in the cloud from where content is managed and delivered to viewers. The three companies, plus technology partner ATEME, demonstrated the potential at Mobile World Congress in February.
Paul Norkus, 5G Marketing Manager, Nokia, commented, "Nokia and BT have been working together to trial this in various places in the UK. We've done showcases in our labs as well as showcases on the road. We're working on roadshow with BT where we're bringing 5G to end users through various events in the UK right now."
Useful read: What is 5G?