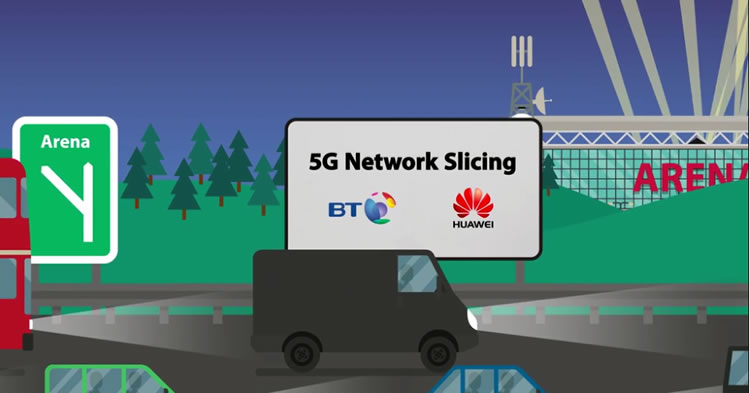 BT and Huawei will conduct research into how network slicing could be used to support 5G services.
Building on their collaboration agreement signed last December, BT and Huawei have revealed the first joint effort will be research into network slicing. The research will be conducted at BT Labs in Adastral Park near Ipswich and elsewhere in the UK.
Network slicing is the method by which 5G networks will be partitioned to deliver specific services. It allows multiple virtual networks (or 'slices') to be created on top of a common shared physical infrastructure, which are then customised to meet the specific needs of applications, services, devices, customers or operators. You can find out more in our Guide to Network Slicing.
BT has put together a nifty video (below) outlining how network slicing can be used at a live music event, so that concertgoers can take video at the event and stream it to their contacts, live video footage can be broadcast by the production team, and users can enjoy the concert in their own homes via live feeds and virtual reality (VR) headsets. It also shows how new network slices can be easily spun up and down as needed, in this example to deal with an emergency at the event.
The video gives a solid indication that BT's interest in 5G is largely focused around video streaming. BT launched its first IPTV services in 2006 and now has 1.5m subscribers. Its BT Sport channel, launched in 2013, has over 5m direct and wholesale customers and BT's been pushing hard to challenge Sky Sport's dominance in the market. While its network slicing video showcases a music concert, BT's main interest must surely be for live sports streaming.
BT's interest in this area is demonstrated by its recent agreement with Nokia to research the use of 5G to enable live VR broadcasts.
Howard Watson, CEO of Technology, Service & Operations at BT said: "Customers are increasingly demanding converged networks that deliver a mix of flexibility, reliability and optimisation. It's our role to ensure that our fixed and mobile networks deliver the best possible experience for customers regardless of the demands placed on them.
Yang Chaobin, President of 5G Product Line from Huawei said: "There are two different ways to realize the digitalization of society, the first one is to have dedicated infrastructure for different requirements, the second one is to have a common infrastructure serving different vertical industries, I believe the latter, which uses network slicing, will be critical to effective delivery of services and improved efficiency."
The two companies haven't said exactly what their research will entail, and the wording in BT's press release is interesting, stating they will look at how network slicing may be used to support 5G services. Huawei is of course working with other operators globally on 5G, and in November last year demonstrated with Deutsche Telekom what they claimed was the world's first 5G end-to-end autonomous network slicing. Whatever it is, BT and Huawei plan to showcase their network slicing research at Mobile World Congress in Barcelona, presumably in February 2018.
Image credit: Shutterstock