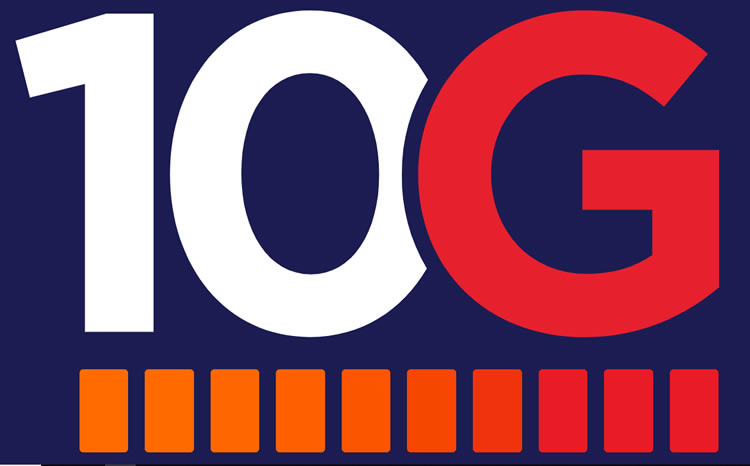 Cable industry groups NCTA – The Internet & Television Association, CableLabs and Cable Europe have this week revealed their vision for '10G', which they say is the "next great leap for broadband".
The collective, which represents some of the biggest names in the cable industry, and includes Liberty Global in the UK, defines 10G as future broadband networks which deliver speeds of at least 10 gigabits per second.
What's in a name?
The companies talk about 10G's benefits in similar terms to those we've heard around 5G – that is, faster speeds, greater capacity, lower latency and greater security, as well as a network that will enable new services and applications that benefit society.
5G speeds are not specifically defined but estimates suggest speeds of 1Gb/s (1000Mbit/s), with some placing it closer to 10Gb/s (10,000Mbit/s).
Mike Fries, CEO and Vice Chairman of Liberty Global, said: "While the world is talking about 5G, we're proud to be part of this extraordinary movement to 10G."
The 'G' in 10G stands for gigabit, whereas in 2G, 3G, 4G and 5G it stands for 'generation' – i.e. fifth generation mobile networks, so the terminology could be confusing.
The NCTA has even gone so far as to trademark the name "10G", though in practice '10G' technology could end up being used alongside 5G.
Indeed, according to Jorge Fernandes, CTIO, Rogers Communications, 10G technology will provide a critical "backbone" for 5G and unify wireless, broadband and enterprise networks.
It sounds like 10G could be hugely beneficial to the growing Internet of Things (IoT), which will see many more devices becoming 'smart' and internet connected. With that we'll need faster, more stable networks with plenty of capacity.
5G looks set to offer those things and in some cases may even be used instead of conventional broadband, but with developments like 10G, broadband could remain relevant and work hand in hand with 5G, especially if, as is planned, the roll out is capital-efficient.
Coming soon?
NCTA says 10G lab trials are underway and field trials are expected by 2020. Cable companies such as Rogers, Shaw Communications, Vodafone, Taiwan Broadband Communications, Telecom Argentina and Liberty Global are taking part.
The cable industry partners say that 10G will leverage existing network infrastructure. Their vision is that internet providers will "upgrade networks with a combination of technologies that currently exist alongside ongoing advancements of new hardware, software and techniques that are being developed and tested."
Intel will provide hardware for 10G, including network infrastructure and home gateways.