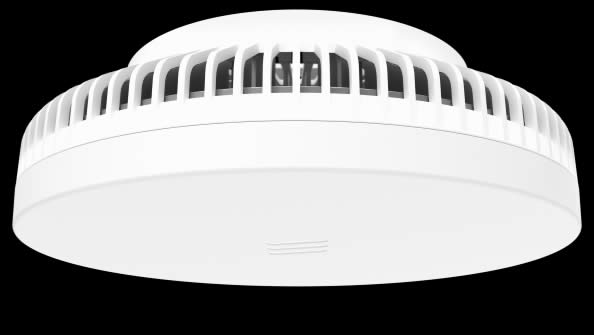 Ericsson has announced its 5G Radio Dot (shown above) for enhanced mobile broadband, to enable operators to meet rising demand for effective indoor connectivity.
The small cell radio is designed to fulfil the new and growing requirements which 5G is expected to drive, such as 4K/8K video streaming, virtual reality/augmented reality and immersive media. Outdoor radio deployments aren't always enough to support this, as modern building materials can block signals.
Solutions like the 5G Radio Dot will be key to improved indoor coverage, as their small size makes them suitable to be installed indoors, while most network infrastructure needs to be outside.
Ericsson expects that by the end of 2023, data traffic will be up 800% and there will be 1 billion 5G subscriptions. Further, analysis from ABI Research predicts that indoor mobile traffic will increase six-fold by 2020.
According to an Ericsson ConsumerLab report, 60% of mobile subscribers are unhappy with their indoor cellular connectivity. A separate report published last week found that smartphone users rank better indoor and outdoor coverage among the top expectations of 5G.
Evolution
Martin Ljungberg, Strategic Product Manager, Small Cell Solutions at Ericsson, told 5G.co.uk: "We are introducing the 5G Radio Dot for enhanced mobile broadband, which will enable operators to meet rising demand for superior indoor connectivity. This small cell solution will also support emerging 5G industrial applications such as connected factories, connected hospitals, and connected mining by bringing the [required] higher speeds and capacity, which cannot be addressed by traditional indoor systems, nor 4G technology."
He added that the latest small cell solution is a "natural evolution" of the Ericsson Radio Dot System, which has already been successfully deployed by operators for many indoor applications, such as in office buildings, shopping malls, hospitals and airports. China Unicom, for example, has installed the Radio Dot System in 500 Beijing buildings to extend 4G coverage.
Ljungberg commented that the 5G Radio Dot, "provides a simple upgrade path for existing Radio Dot System deployments, adding 5G technology capabilities. It will support the new 5G mid-bands (3-6GHz) with speeds up to 2Gbps."
Operators will be able to deploy the 5G Radio Dot alongside 4G solutions using the same cabling infrastructure, network architecture and dot locations.
Ericsson's 5G Radio Dot will undergo trials in late 2018 and will be commercially available in 2019. The company says that the system takes half the time to install compared to similar indoor solutions.
Small cells in general – both indoors and out – could be a vital part of any 5G network, and companies are already rolling them out. Hundreds are already being constructed in the City of London for example. Check out our guide to small cells for more information on them.
Image credit: Ericsson