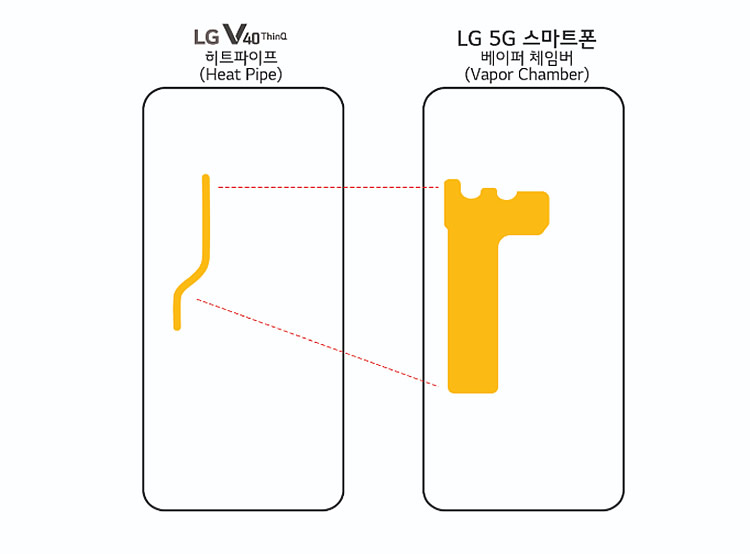 LG is set to be one of the very first companies to launch a 5G phone, and it's almost here, as the company has revealed that its 5G handset will be announced on February 24th in Barcelona, the day before MWC 2019 (the biggest phone show of the year) formally kicks off.
As well as 5G, this phone will have a Snapdragon 855 chipset, which is the current top-end smartphone processor from Qualcomm, and apparently "improves the information processing capacity by 45%."
This phone also has a vapour chamber, designed to keep it cool even when it's running at full speed. This isn't the first time LG has put a water and vapour-based cooling system inside a phone, but it says that this one has a surface area 2.7 times the size of the heat pipe in the LG V40 ThinQ, and that it contains more than twice as much water.
LG's 5G phone also has a 4,000mAh battery, which the company notes is 20% larger than the 3,300mAh one in the LG V40 ThinQ, therefore allowing you to enjoy 5G for longer. LG also adds that it has optimized the software and operating system on the handset to ensure that 5G is no more of a drain than it needs to be.
Unknown name and availability
LG's 5G phone has previously been rumoured to land in Europe, and while there's no official confirmation yet, LG does mention Europe a few times in relation to 5G while talking about the handset, so you're likely to be able to buy it in the UK.
We don't know what the phone will be called, but given all the comparisons to the LG V40 ThinQ there's a high chance that this will be the LG V45 ThinQ or LG V50 ThinQ. It may well also land alongside the LG G8, which is rumoured not to support 5G.
And while this LG handset could be the first 5G phone, it's certainly not the only one coming soon. Samsung might even beat LG to the punch, with a 5G version of the Galaxy S10 possibly being announced on February 20, and numerous other companies – including Huawei, OnePlus and others – are likely to launch 5G handsets throughout 2019.