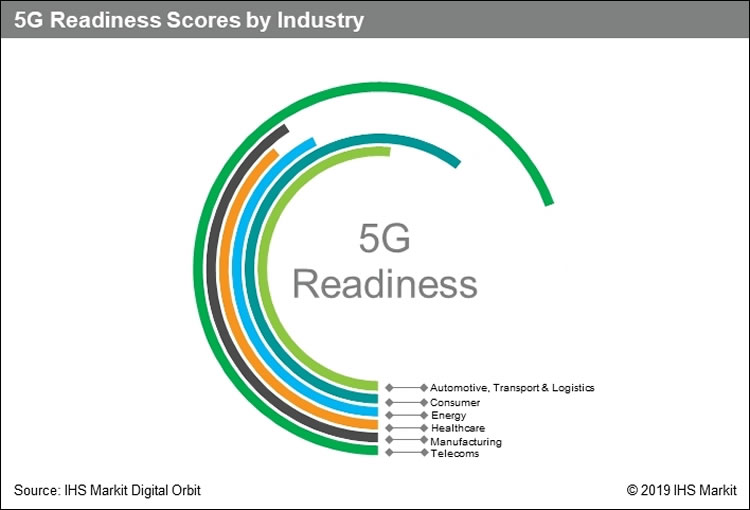 5G is as confusing as it is exciting, according to London-based research firm IHS Markit. But the lack of clarity about what 5G is and what it will do is making it difficult to manage the expectations of consumers and the mobile ecosystem.
To clear up this confusion, IHS Markit aims to de-mystify 5G in its latest white paper: "The promise and potential of 5G: Evolution or revolution?"
In the UK, the market has already witnessed a public spat about what 5G is or isn't. Last year, O2 claimed that any network launched before 2020 would be a "lite version" of 5G, based on 3GPP Release 15 specifications. The comment prompted rival EE to respond that its own launch in 2019 will indeed be "real 5G with 5G devices," and that "there's no need for confusing terms like 5G Lite." Other markets, especially the US, have seen similar 5G marketing disputes.
Part of the reason why market confusion can fester in this way is that 5G is an evolutionary technology, just like previous mobile generations (there were similar marketing wars in the early days of 4G too). The initial standard is specified in 3GPP Release 15, which will be enhanced and added to in Release 16 and beyond.
IHS Markit clarifies the technical definition of a 5G commercial deployment as networks and devices that are compliant with Release 15 specifications corresponding with New Radio phase 1.
Another element of confusion is that 5G comprises three disparate sets of use cases that can have contradictory technical requirements, according to IHS. The uses cases are enhanced mobile broadband (eMBB) and fixed wireless access (FWA), which are enhancements to today's 4G mobile broadband services; mission critical applications, which could include autonomous vehicles, remote surgery and industrial automation apps; and massive Internet of Things (IoT), which involves huge numbers of sensors to support smart city networks or smart farming.
As IHS explains, the varying technical requirements for each use case has "created a fragmented understanding of when 5G will be fully achieved." The first commercial deployments will be in the eMBB and FWA category, while the other use cases are expected to be supported later.
Revolution or Evolution? It Depends
While translating the complexities of 5G into meaningful benefits that can be easily communicated to consumers and business users is difficult, IHS also notes that "different implementations of 5G can lead to vastly different experiences for end users." Much depends on the spectrum, frequency channels, and devices that are available to operators.
IHS views 6 GHz spectrum as the "tipping point" – that is, there are "potentially wildly different experiences available for 5G at higher frequencies compared to lower frequencies."
According to IHS, "Implementations below 6 GHz point toward more of an orderly evolution, with 5G extending many of the same use cases that LTE and LTE-Advanced have started. Implementations above 6 GHz are where the truly revolutionary potential of 5G will begin."
Despite Confusion, Opportunity Abounds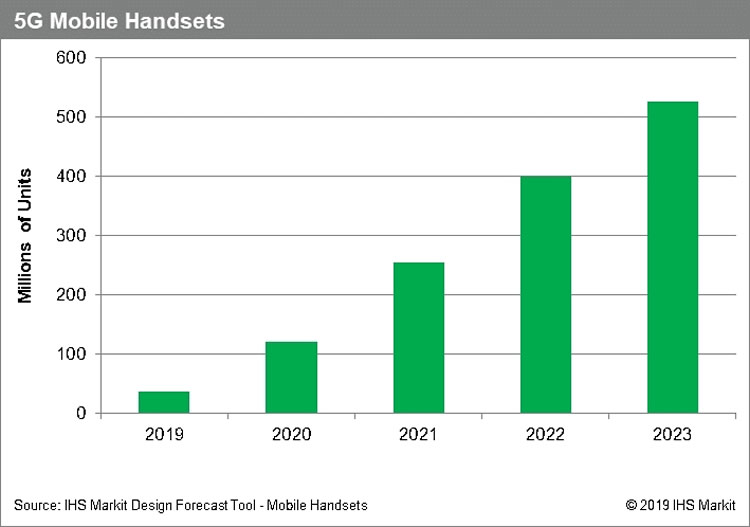 IHS Markit forecasts initial sales of first-generation 5G smartphones this year of 37 million, and 120 million 5G devices shipped worldwide in 2020, which would be the fastest rollout for a new wireless technology. By 2023, 5G smartphone shipments are expected to reach 525 million devices.
Francis Sideco, vice president, technology at IHS Markit, said: "The marketplace implicitly understands 5G represents an unprecedented growth opportunity, with the initial smartphone rollout set to generate record shipment volumes. However, fewer people understand the iterative nature of major technology rollouts such as the one we are going through now with 5G—a process involving multiple major updates that will add new capabilities in the coming years. With each of these updates having the potential to significantly disrupt the market's competitive dynamics, it's critical for companies to clearly understand the implications of each rollout or risk falling behind the competition."