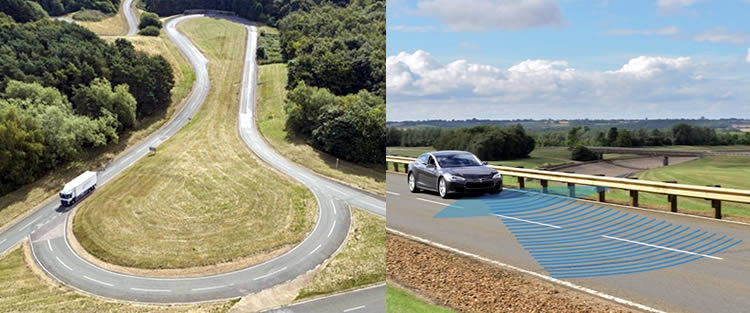 O2 is revving up its 5G engine with an announcement that it will provide the private and public network connectivity to Millbrook Proving Ground in Bedfordshire for testing connected and autonomous vehicles (CAVs) technology as part of the government-funded AutoAir project.
From June this year, O2 will deliver 5G connectivity using its 2.3 GHz and 3.4 GHz spectrum, ahead of its initial 5G rollout later this year in Belfast, Cardiff, Edinburgh and London. The Millbrook network comprises 59 sites and 89 small cells, which is operated by wireless solution provider Dense Air. A 12-month agreement with the AutoAir project will see O2 integrate these sites and small cells into its public infrastructure.
The AutoAir project is one of six government-funded 5G testbeds, which are part of the national 5G Testbeds and Trials Programme launched in 2017. To date, AutoAir has received nearly £6 million in government funds and more than £4.5 million from matched industry funding.
Useful read: What are 5G testbeds?
The project aims to validate and develop CAVs using 5G technology, as well as intelligent transport systems (ITS) for roads and railways. The test 5G small cell network will be deployed in the sub-6 GHz and millimetrewave bands on a so-called "neutral host" platform that will allow multiple service providers to use the infrastructure via network slicing. The benefit of 5G is that its low latency and high capacity can enable vehicles to send data – even 4K video – to an ITS, which could help to improve road safety and reduce traffic congestion.
Start Your 5G Engines
The AutoAir project was officially launched at the Millbrook Proving Ground in February. Early trial demonstrations have already shown the high-speed transfer of data from moving vehicles. A McLaren sports car received and sent data at 1 Gbps while driving at 160 mph around the Millbrook site. Another demo showed a network of moving vehicles sharing ultra HD 4K video in real time.
Brendan O'Reilly, O2 Chief Technology Officer, said: "5G will play a key role in how our country develops over the next few years. If implemented properly, 5G has the potential to drive economic growth, create jobs and enable a new host of technologies – including self-driving vehicles. That's why we're delighted to be supporting the trial activity at Millbrook, alongside ambitious partners who share our vision of building a truly Mobile Britain."
Eager to see the development of autonomous vehicles in the country, the UK government has supported trials as well as issued safety and responsibility guidelines. As part of its current Industrial Strategy, the government wants to see fully self-driving vehicles on UK roads by 2021.