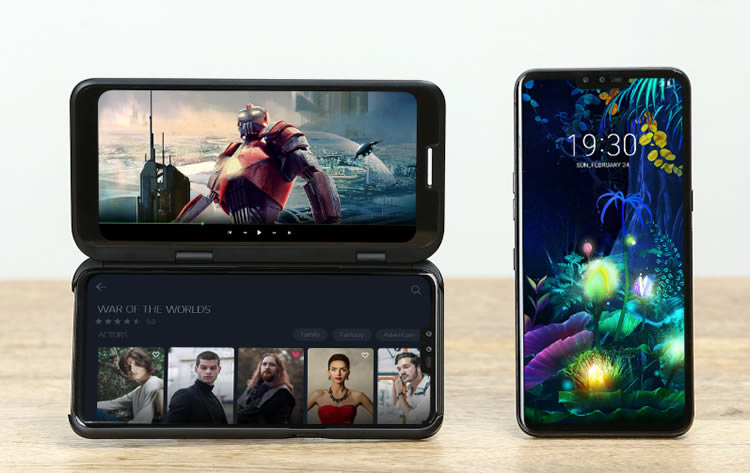 LG has announced that its first 5G phone – the LG V50 ThinQ – will go on sale in South Korea on April 19th, hot on the heels of the April 5th launch of the Samsung Galaxy S10 5G. That in itself might not interest you, but the announcement has also given us an idea of what the phone might cost in the UK.
LG is charging 1,199,000 South Korean won for the V50 ThinQ, which equates to around £805. Now, we wouldn't expect an exact price conversion, but that gives us a rough idea of how much it might sell for in the UK, and also suggests it will be more affordable than the Galaxy S10 5G, which starts at 1.39 million won (roughly £935).
As well as a suggestion of the price, this announcement has also revealed that buyers in South Korea will get the LG Dual Screen thrown in free if they buy the LG V50 ThinQ by the end of May.
This is an attachable 6.2-inch OLED second screen, which can be used independently from the main display – so you could for example watch Netflix on one screen while looking up the actors on IMDB using the other. There's no guarantee that UK buyers will also be able to get this for free, but they might.
Designed for 5G
LG claims its Dual Screen device is the ideal accessory for a 5G phone, better letting you take advantage of augmented reality and enjoying the high-resolution video you'll be able to stream.
The LG V50 ThinQ itself has a 6.4-inch 1440 x 3120 OLED screen, a top-end Snapdragon 855 chipset, a 4,000mAh battery, 6GB of RAM, a triple-lens rear camera and a dual-lens front-facing one, so even without 5G and that second screen it would be a top-tier handset.
We don't yet know exactly when you'll be able to buy it in the UK, but EE has announced that it will exclusively be offering the phone, and given that it's about to launch in South Korea we'd expect EE would have it on day one of its 5G network – a network which could launch in some places as soon as this summer.
The LG V50 ThinQ and Samsung Galaxy S10 5G are just two of the many 5G phones we're expecting to see this year though. Other upcoming handsets include the Huawei Mate X, ZTE Axon 10 Pro and Xiaomi Mi Mix 3 5G.