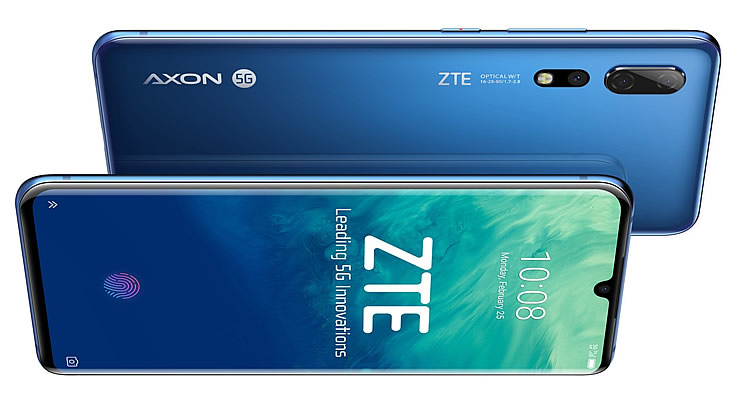 Yet another 5G phone has just been announced, this time the ZTE Axon 10 Pro, a handset which ZTE claims will be on sale in Europe during the first half of 2019. In other words then it should at most be four months away at the time of writing.
The ZTE Axon 10 Pro has a 6.47-inch 1080 x 2340 AMOLED screen with hardly any bezel and a tiny notch at the top. There's a top-end octa-core Snapdragon 855 chipset, 6GB of RAM and the Snapdragon X50 5G modem.
The phone is also infused with AI throughout, thanks to an AI Performance Engine which will automatically adjust CPU, GPU, RAM and ROM using AI algorithms, as needed. ZTE claims that this, along with the core power of the phone, will lead to a high-quality experience on 5G, with high speeds, low latency and high bandwidth.
AI is also used in the triple-lens rear camera, which includes a 48MP standard lens, a 20MP ultra-wide lens and an 8MP telephoto lens. The ZTE Axon 10 Pro additionally has a 20MP camera on the front, an in-screen fingerprint scanner, a big 4,000mAh battery and a water-resistant build. There's a healthy 128GB of storage too, and a microSD card slot.
A tricky task
In the announcement, ZTE outlined some of the technical hurdles it overcame in order to make this 5G flagship, such as the antenna design, electromagnetic compatibility, heat dissipation and power consumption.
These problems won't have been unique to ZTE but are probably part of the reason why 5G phones have been a long time coming. That, and the fact that 5G networks are only really starting to launch this year.
What we don't yet know is exactly when or even if the ZTE Axon 10 Pro will land in the UK (rather than just Europe) but we'd expect it will be available in time for the launch of some UK 5G networks, the earliest of which is likely to be EE, which plans to launch this summer.
Being a flagship, it might be pricey, but coming from a smaller name than the likes of Samsung and Huawei it could well undercut the likes of the Samsung Galaxy S10 5G, Huawei Mate X and LG V50 ThinQ. We wouldn't be surprised if it's more in line with the price of the Xiaomi Mi Mix 3 5G, a phone which is set to cost €599 (around £520).