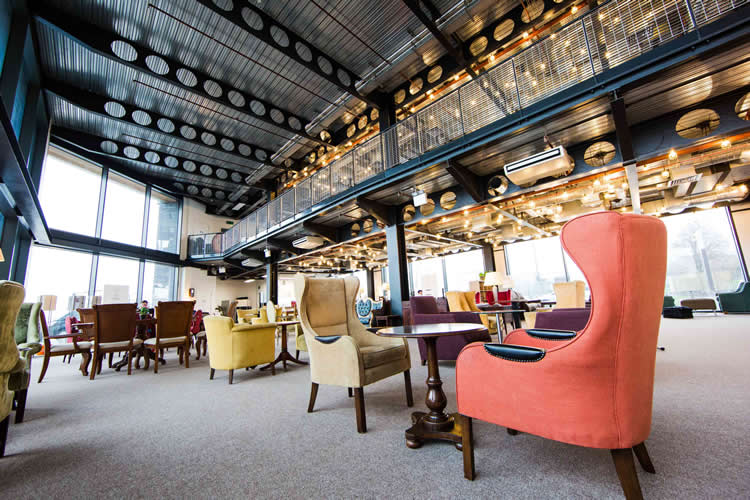 Vodafone is launching a new Innovation Hub at The Landing (shown above) in MediaCityUK, Salford.
The Landing already offers workspace for companies and has developed a reputation for fostering high-tech and digital businesses. Vodafone's new hub will give entrepreneurs and start-ups access to the latest tech resources, such as 5G, Internet of Things (IoT), high-speed fibre and more.
Gigabit cities
Vodafone says it is opening the Innovation Hub as part of its commitment to Greater Manchester as one of the UK's seven 'gigabit cities'.
Last year, Vodafone struck a deal along with wholesale fibre network infrastructure provider City Fibre to deliver superfast Gigabit broadband to 12 cities in the UK by 2025, benefiting up to five million UK homes and businesses. Under the agreement, Vodafone has a period of exclusive rights to market ultra-fast broadband services on City Fibre's fibre-to-the-premises (FTTP).
The seven cities announced so far are: Birmingham, Bristol, Cardiff, Glasgow, Liverpool, London and Manchester.
Vodafone says it plans to roll out Innovation Hubs in other cities too.
Paul Dennett, City Mayor of Salford, called MediaCityUK "an emerging smart city". He said Vodafone's input would set Salford up as an example of what new networks and interconnectivity can deliver for a city and its citizens. He highlighted potential in areas including transport, energy and health.
Related: What is Gigabit LTE?
A living lab
The Innovation Hub will offer the opportunity for entrepreneurs to develop, test and commercialise their products.
Jon Corner, Chief Digital Officer for City of Salford and CEO at The Landing, said the Innovation Hub will turn the venue into a 'living lab'. He said it will help to demonstrate that 5G is about more than just new handsets and faster speeds, noting that it will also have an impact on how networks are organised, and the way we share data and consume content.
Further, Corner said, 5G will enable businesses – such as the ones based at The Landing – to use immersive technologies and artificial intelligence (AI) to create completely new applications that change the way we interact on a day-to-day basis.
Anne Sheehan, Enterprise Director at Vodafone UK, commented: "I am delighted that Vodafone, in collaboration with the Mayor of Greater Manchester and MediaCityUK, will open the Digital Innovation Hub located in the heart of this connected city. The hub at The Landing will give UK businesses, start-ups and tech innovators access to 5G, IoT, high-speed fibre and our best technical resources and we plan to roll out these innovation hubs throughout UK cities."
Useful read: What are 5G Testbeds?