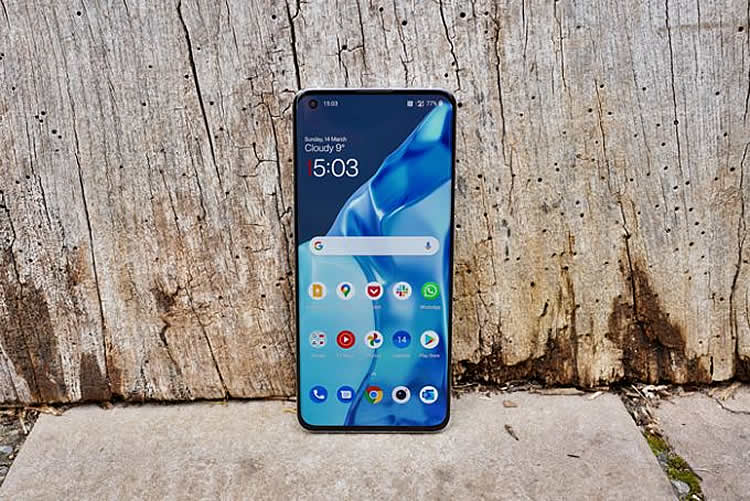 | Pros | Cons |
| --- | --- |
| Excellent 120Hz screen | Average battery life |
| Endless power | Uninspiring design |
| Strong Hasselblad-branded camera | Lesser camera zoom than some rivals |
Verdict
The OnePlus 9 Pro is a phone that has it all – including, finally, a great camera. It's packed full of power, has a brilliant screen, a premium build, and slick software. Its camera still isn't quite the best around, battery life is competitive rather than class-leading, and the design is slightly dull, but in all other ways this is a top handset, and one that undercuts most similarly accomplished phones.
Full Review

Specifications

Specs
Full Review
The OnePlus 9 Pro is the top OnePlus handset for the first half of 2021. It's designed to compete with the likes of the Samsung Galaxy S21 Ultra and iPhone 12 Pro Max while coming in at a slightly lower price.
And more so than any other OnePlus phone, this aims to get close to being the perfect, no-compromise handset, as while for years the company has packed in some of the best screens and processors, now OnePlus has also invested heavily into the camera.
So does the OnePlus 9 Pro excel in all areas, leaving the OnePlus 8T in its dust, or does it look better on paper than in practice? Read on below to find out that and more.
Screen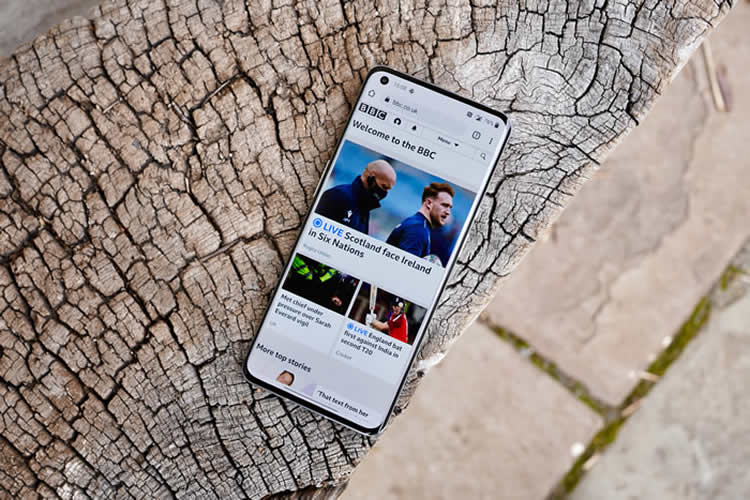 It's getting harder and harder to differentiate between screens at the top-end, as most premium smartphones now have excellent displays, but the OnePlus 9 Pro's is definitely up there with the very best.
It's a 6.7-inch 1440 x 3216 AMOLED screen with 525 pixels per inch, so it's big and sharp, and it also has a 120Hz refresh rate, which aside from a few gaming phones is the highest you'll find, and helps it feel incredibly smooth under the finger.
That's an adaptive refresh rate though, so it can scale down to conserve battery life when the extra refreshes aren't needed. And speaking of rate, the touch sampling rate can also reach up to 360Hz in select games, which makes inputs even more instantaneous than on most phones.
The display also supports HDR10+, so HDR content looks its best, and with a 1,300 nits maximum brightness it can pump up the brightness enough for any situation.
With slightly curved edges too, and natural looking colours, this is a truly top screen, one which no other phone is likely to substantially improve on for quite a long time.
Design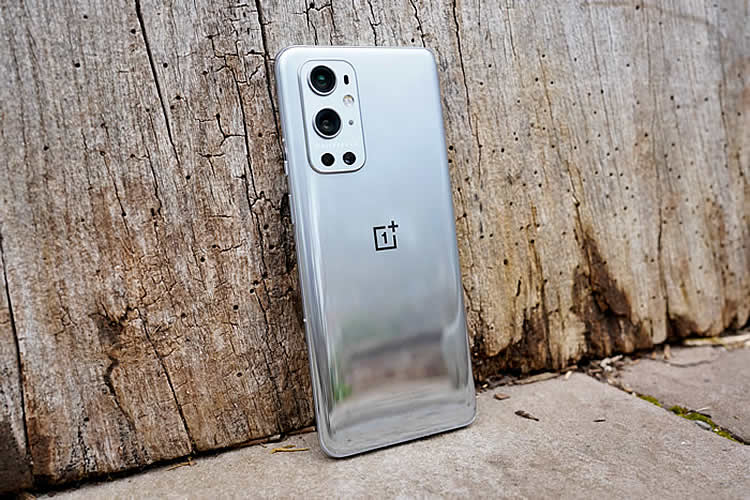 The OnePlus 9 Pro looks attractive and expensive, but for the most part it does little to visually stand out from the crowd. This however is a complaint that could be levelled at many handsets, so it's not a major issue, especially since lots of buyers will hide it in a case anyway.
It has a fairly plain glass back in Morning Mist, Pine Green or Stellar Black shades, with a large camera block in the top left corner. To our eyes the camera block is actually more stylish than some, with silver-ringed lenses and a shiny Hasselblad logo, but it's the only real design flair you'll find on the rear.
The back slightly curves down towards the metal frame, making it comfortable to hold, and the screen on the front also sports a gentle curve, with no real bezels at the edges and only a tiny one at the top and bottom, while the front-facing camera is housed in a punch-hole.
This is standard stuff, but it's effective, and the OnePlus 9 Pro comes in at 163.2 x 73.6 x 8.7mm and 197g, so it's sizeable, but not unmanageable. It's also IP68 certified, meaning it's dust and water resistant (the latter to depths of up to 1.5 metres for up to 30 minutes).
Power
One thing you'll really struggle to find fault in is the power and performance of this phone, as it has a Snapdragon 888 chipset (which is top of the range and arguably the best one available for smartphones at the time of writing) coupled with either 8GB or 12GB of RAM.
This makes for an extraordinarily powerful phone, one which potentially even has the Samsung Galaxy S21 range beat – at least in the UK, where those phones ship with Samsung's Exynos 2100 chipset.
In any case, nothing will slow the OnePlus 9 Pro down, and while we might start seeing slightly more powerful phones land later in the year, such as the iPhone 13 range, there's unlikely to be anything that can really show it up before at least 2022.
The OnePlus 9 Pro also has a vapour chamber to keep it cool when pushed to the limit, and coupled with its aforementioned 360Hz touch sampling rate (in select games), this all makes it a top phone for mobile gaming.
Camera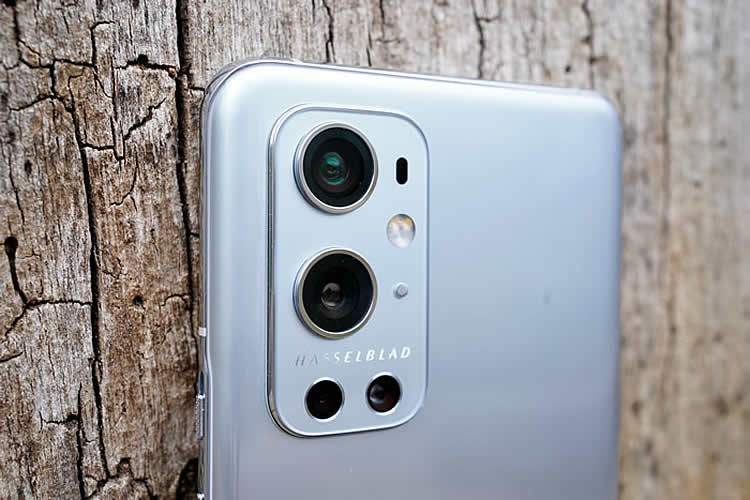 While OnePlus has always made excellent phones, the company has also generally struggled to compete when it comes to their cameras, but not so with the OnePlus 9 Pro.
This was the most highly-publicised aspect of the handset. A quad-lens beast developed in collaboration with Hasselblad. So does it live up to the hype? Well, maybe not quite, but it's undoubtedly the best snapper OnePlus has yet put in a phone.
The OnePlus 9 Pro has a 48MP f/1.8 main camera with optical image stabilisation (OIS), an 8MP f/2.4 telephoto snapper (with OIS and 3.3x optical zoom), a 50MP f/2.2 ultra-wide camera, and a 2MP f/2.4 monochrome one.
That last sensor is used for improved black and white photos, while the ultra-wide one has a freeform lens that reduces distortion at the edge of the frame – something you won't typically find offered by a smartphone.
As for the main camera, colours are impressively accurate, scenes are detailed, and performance at night is solid, if not quite a match for the best. The camera app has also had an overhaul thanks to the Hasselblad collaboration, making it more intuitive than ever.
Video meanwhile comes in at up to an impressive 8K at 30fps, and there's a decent 16MP f/2.4 camera on the front.
If you want the very best camera phone we'd still point you towards something like the Samsung Galaxy S21 Ultra or one of the iPhone 12 range, but the OnePlus 9 Pro's is more than good enough, even at this high price.
Features
The OnePlus 9 Pro runs Android 11, like most 2021 flagships, but it's overlaid with the company's OxygenOS 11. Most manufacturers add their own overlay or skin to Android, which affects the appearance and some of the features, and some of these are a lot better than others.
Preference is largely subjective of course, but we've always been fond of OxygenOS. It's slick and intuitive, without much bloat, and generally fairly close to stock Android, but with some useful extras like a Zen Mode for when you think you're using your phone too much.
The OnePlus 9 Pro also has an in-screen fingerprint scanner, which is a standard feature at the high end, but still worth mentioning. What's not standard (at least outside OnePlus phones) is its alert slider, which lets you switch between sound on, just vibration, or silent. It's a quick and handy way to do this without interacting with the touchscreen.
And you also get stereo speakers here. These come with Dolby Atmos support (which is increasingly becoming standard at the high end) and they perform well.
Battery life, memory, and connectivity
There's a 4,500mAh battery inside the OnePlus 9 Pro, which is a decent size but not enormous. Since everyone uses their phones differently it's hard to talk with precision about how long it might last you, but as with the majority of handsets you'll generally get a day out of it, but are very unlikely to get two.
With both 65W fast charging and 50W wireless charging though you can get it juiced back up very quickly. We're talking a full charge in just 29 minutes at 65W. The phone also comes with a 65W charger in the box, which is worth noting because both Apple and Samsung have stopped including chargers with their premium phones.
So you're getting more convenience and value here, but potentially at the expense of the environment, since many people will already have perfectly good chargers (though maybe not 65W ones).
Memory comes in at a choice of 128GB or 256GB, which is a very sturdy amount, but there's no microSD card slot.
Connectivity includes 5G of course, like you'd expect from a flagship, plus there's also Bluetooth 5.2 and NFC.
Verdict
The OnePlus 9 Pro is an excellent all-round handset, and while the top OnePlus phones are no longer much cheaper than rivals, they're still slightly so, and this does an excellent job of justifying its price.
It's perhaps not the most inspiring phone beyond the Hasselblad partnership – the fruits of which will likely be even more evident on the next model, but it nonetheless excels in almost every area, particularly in terms of the screen and power.
If you want a phone that can just about rival the Samsung Galaxy S21 Ultra and iPhone 12 Pro Max at a slightly lower price, then the OnePlus 9 Pro is it.
Specifications
Camera: 48MP, 50MP, 8MP and 2MP (16MP front-facing)
Operating System: Android 11
Internal storage: 128GB/256GB
Expandable storage up to: None
Processor make: Qualcomm Snapdragon 888
Processor: Octa-core
RAM: 8GB/12GB
Pixels per inch (PPI): 525ppi
Screen size (inches): 6.7
Resolution: 1440 x 3216
Battery capacity (mAh): 4,500
Colours: Morning Mist, Pine Green, Stellar Black
Dimensions (mm): 163.2 x 73.6 x 8.7
Weight (g): 197