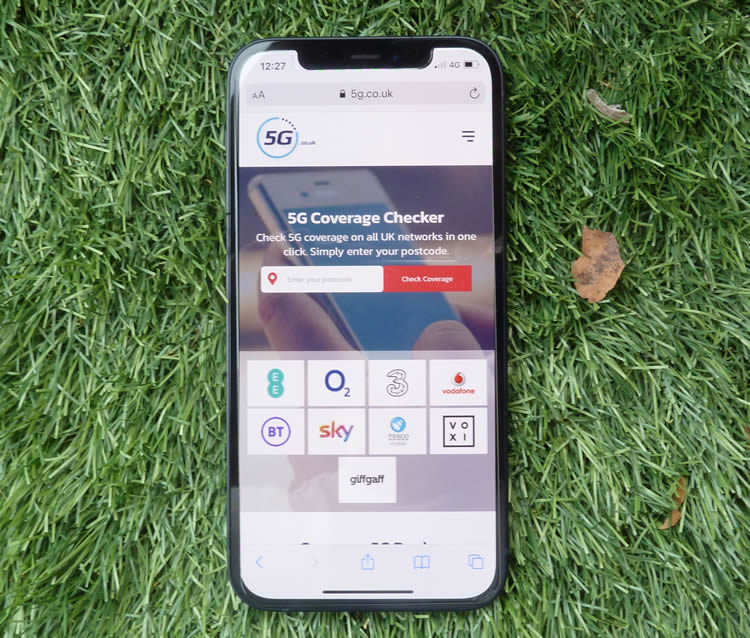 | Pros | Cons |
| --- | --- |
| OLED screen is a big upgrade | Screen is only 60Hz |
| Tough, highly water-resistant build | No telephoto camera |
| Incredibly powerful chipset | Smallest storage size is limiting |
Verdict
The iPhone 12 is Apple's first 5G phone and with top-tier specs it offers everything you need to make the most of that tech. There are arguably slightly better 5G phones, but for Apple fans this comes highly recommended.
Full Review

Specifications

Specs
Full Review
The iPhone 12 is a big deal both for Apple and anyone with an interest in 5G, as – along with the iPhone 12 Pro, iPhone 12 Mini, and iPhone 12 Pro Max – it's Apple's first 5G phone.
That's a big – and overdue – upgrade, but it's far from the only thing that makes the iPhone 12 notable.
Below, we'll look at all the other aspects of the iPhone 12, highlighting where it's successful and where there's room for improvement, and answering the all-important question of whether it's worth buying.
Screen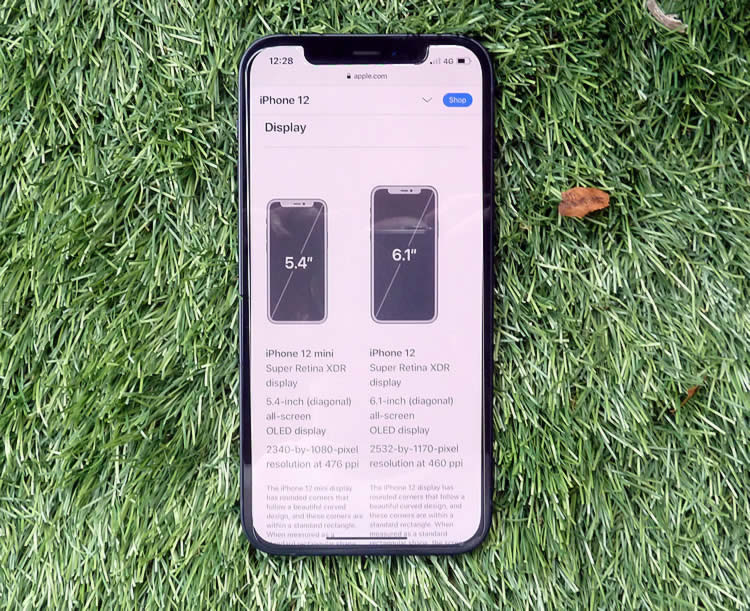 The iPhone 12 has a 6.1-inch 1170 x 2532 screen with 460 pixels per inch. Now, that's not as high resolution as some 5G phones. The Samsung Galaxy Note 20 Ultra for example comes in at 1440 x 3088, but it is in line with other iPhone models. In fact, it matches the iPhone 12 Pro, and exceeds the iPhone 11.
It's also the first non-Pro iPhone to have an OLED screen, which is a big upgrade on the LCD of its predecessors. It's a move that improves the contrast and allows for pure, deep blacks.
The iPhone 12 also has a hefty maximum brightness of 1,200 nits (though this is only reached when viewing HDR content).
It's a great all-round screen then, and the slightly lower pixel count compared to some rivals doesn't really hold it back. What does slightly though is being limited to a 60Hz refresh rate – many rivals, including the likes of the Samsung Galaxy S20 Ultra, have a 120Hz refresh rate, and even the much cheaper OnePlus Nord packs a 90Hz one.
The higher the refresh rate the smoother interactions can feel, so on a premium phone like this we expect better really, but then Apple has never been known for competing when it comes to raw specs.
Design
The design of the iPhone 12 will be familiar to anyone who's seen an iPhone made in the last few years, but it's not totally identical to its predecessors.
Like the iPhone 11 range it has a large notch on the front (something that we're hoping will be absent on the iPhone 13), along with a metal frame (in this case made of aluminium), a glass back and a square camera block.
The main change is in the shape of the edges, which are much flatter here than previously. It's a subtle update but one that marks this out as a newer phone.
Still, it's mostly familiar, but also undeniably looks good – iconic even. And Apple has made real changes to the durability of the handset, as for example it has protected the screen with a tech called 'Ceramic Shield', which it claims offers 4x better drop performance than the protection on previous models – as well as offering more protection from drops than you get with other phones.
That's coupled with improved water resistance, which Apple claims means you can submerge the iPhone 12 up to 6 metres deep in water for up to 30 minutes.
These sorts of improvements aren't the flagship features that people shout about, but they're quietly among the most interesting upgrades on the phone – and things that really help it stand out not just from other iPhones but handsets from other companies.
Power
Each new generation of iPhone always gets a performance upgrade, and the iPhone 12 is no exception. It has an Apple A14 Bionic chipset, which is likely the most powerful smartphone chipset available – though it's hard to assess that definitively.
It definitely offers more power than anyone is likely to need though, with slick, smooth performance, coupled with a focus on power efficiency.
Apple hasn't confirmed how much RAM the iPhone 12 has, but reports suggest there's just 4GB – that's not much at all, but doesn't appear to hold it back.
Of course, the iPhone 12 also runs iOS 14, complete with access to the Apple App Store. If you're familiar with iPhones you know what to expect here – it's a slick, polished experience with an enormous quantity of high-quality apps available. The walled garden approach won't appeal to some Android fans, but it's exactly what some Apple fans come for.
Camera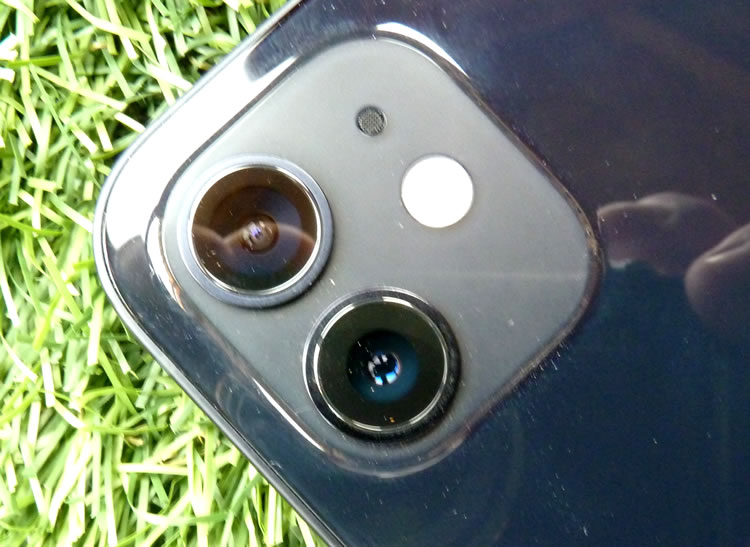 Note: The black version is a dust magnet as can be seen above.
The iPhone 12 isn't as camera-packed as some phones, but the two rear facing cameras it does have are both very good.
There's a 12MP f/1.6 main snapper with optical image stabilisation, and a 12MP f/2.4 ultra-wide one. What there notably and disappointingly isn't is a telephoto camera, but performance is good, even in low light, which benefits from the option to use Night mode with either lens.
The iPhone 12 is also adept at enhancing images using tools like Smart HDR 3, which is designed to automatically improve shadows, contours, and highlights, and generally bring out details in images.
Elsewhere, you can take advantage of a capable 12MP f/2.2 camera on the front, while on the video front the iPhone 12 can record in up to 4K at 60fps, and can also record in Dolby Vision HDR. This is essentially an enhanced form of HDR, which may be of interest to smartphone film makers.
Features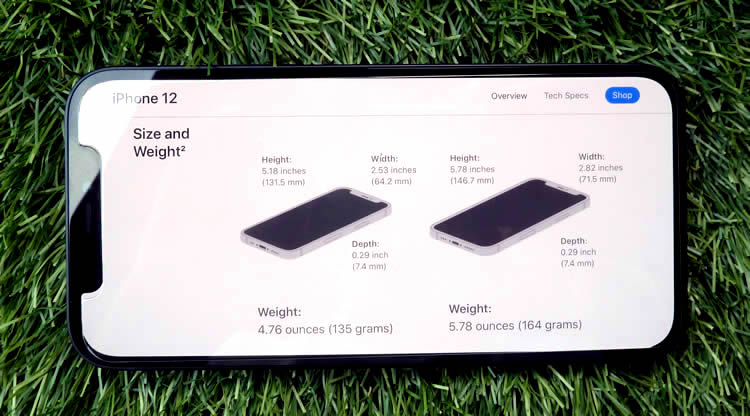 Other than 5G, the main new feature for the iPhone 12 is arguably MagSafe. This is a tech that allows you to magnetically attach accessories to the back of the iPhone 12. That currently includes cases and wallets, as well as a wireless charger, but down the line there could be all sorts of magnetic iPhone accessories.
Beyond that, like most modern iPhones the iPhone 12 uses facial recognition powered by Apple's Face ID system – it's one of the best and most secure facial recognition systems on a smartphone, but there's no fingerprint scanner.
Battery life, memory, and connectivity
Apple doesn't reveal the size of the batteries in its phones, but reports suggest the iPhone 12 has a 2,815mAh one, which is on the small side. In any case, what Apple does say is that you can expect up to 17 hours of video playback (or 11 hours for streamed video), or up to 65 hours of audio playback.
Those are respectable but unexceptional stats that are almost identical to the iPhone 11's, and translate to about a day of life – that's about the smartphone standard, and certainly the standard for Apple's phones, which tend to perform reasonably well but rarely compete with the longest lasting phones.
When it comes time to charge you can do so at up to 20W (delivering a 50% charge in 30 minutes), or go wireless.
You can get the iPhone 12 with a choice of 64GB, 128GB or 256GB of storage. As ever with Apple phones there's no microSD card slot, which would make us weary of the 64GB model, as that much storage won't go far once you start loading up on apps, games, or media.
Connectivity meanwhile includes 5G as noted, along with Bluetooth 5.0 and NFC.
Verdict
The iPhone 12 in some ways feels like more of the same, but in others it's a big and impressive upgrade on what came before.
5G is the real highlight here, and as one of the first 5G iPhones this – and the rest of the iPhone 12 range – are really the only models we can wholeheartedly recommend buying at this point. Sure, we might be biased, but 5G future-proofs the phones, while older models will rapidly date.
Of course, plenty of non-Apple phones also have 5G, and some of them are arguably better, but with its upgraded OLED screen, powerful processor, durable design and decent all-round specs and features, if you're an iPhone fan you won't go wrong here.
That said, if you want the very best Apple phone possible then consider the iPhone 12 Pro or iPhone 12 Pro Max – the latter of which isn't out yet at the time of writing, but will be soon (November 13).
Specifications
Dimensions (mm): 146.7 x 71.5 x 7.4
Weight (g): 164
Battery: Up to 17 hours of video playback
Colours: Black, White, Red, Green, Blue
Screen size (inches): 6.1
Resolution: 1170 x 2532
Pixels per inch (PPI): 460
Processor: Hexa-core
Processor make: Apple A14 Bionic
RAM: TBC
Internal storage: 64GB/128GB/256GB
Expandable storage up to: N/A
Camera: 12MP and 12MP (12MP front-facing)
Operating System: iOS 14