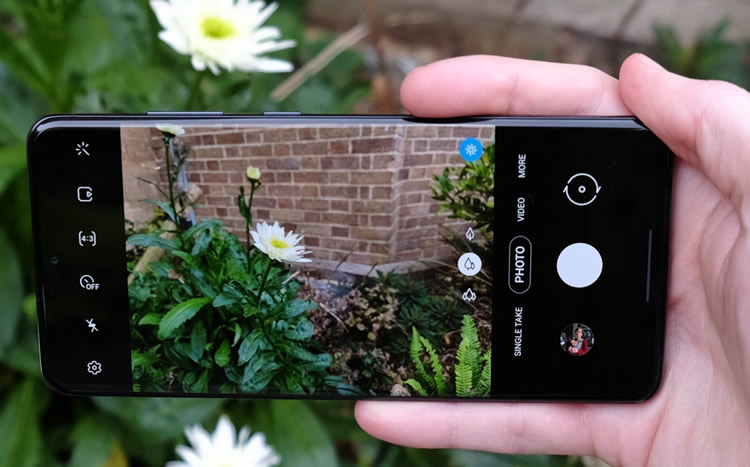 | Pros | Cons |
| --- | --- |
| Very flexible camera | Very expensive |
| Huge, smooth screen | 100X zoom is a gimmick |
| Balanced design | Lacks simultaneous 120Hz and QHD+ |
Verdict
The Samsung Galaxy S20 Ultra is the biggest and best phone Samsung currently makes. You'll pay a big price for its cutting edge features, however, and not all of them have been executed flawlessly.
Full Review

Specifications

Specs
Full Review
Intro
The Samsung Galaxy S20 Ultra 5G was one of the first super-flagship phones of 2020. This new elite class of smartphone, which includes among its number the Oppo Find X2 Pro and the Huawei P40 Pro+ 5G, provides cutting edge components, huge displays, and extremely advanced camera tech for a price well into four figures.
With an RRP of £1,199, the Samsung Galaxy S20 Ultra 5G is far from cheap. But it packs all the best components Samsung can muster in a chunky yet surprisingly restrained design.
Features like a 100X zoom camera, a 6.9-inch 120Hz display, and a huge 5,000mAh battery, mean that it remains one of the biggest hitters on the market. But has Samsung bitten off more than it can chew this time around?
See S20 Ultra 5G deals compared
Screen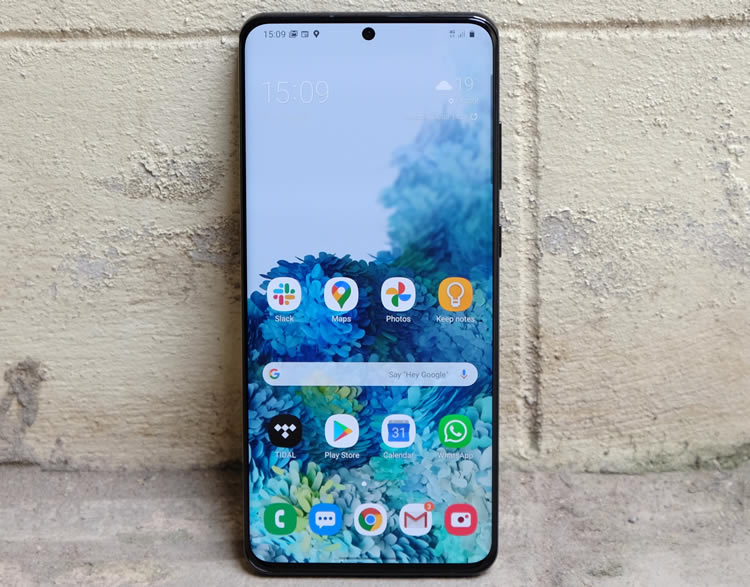 The Samsung Galaxy S20 Ultra 5G is a big phone in every way, not least in terms of its display. Samsung has equipped its flagship with a mammoth 6.9-inch screen that fills your vision and your hands.
We've grown accustomed to Samsung phones packing the best screens in the business - Samsung makes the vast majority of mobile OLED displays on the market, and even supplies most of its rivals. Sure enough, the Galaxy S20 Ultra 5G screen looks stunning.
Its colours pop with typical Samsung flair, and the resolution goes right up to QHD+ 1440 x 3200, so it can get plenty sharp if you choose to. We spent most of our time with the phone at a lower FHD+ resolution, however.
That's because this is the only way to take advantage of the Galaxy S20 Ultra 5G screen's 120Hz refresh rate. Samsung has forced us to choose one or the other: QHD+ or 120Hz. We prefer the the added fluidity of 120Hz, but we wish we could have both.
Battery life is likely to be the issue here. But the OnePlus 8 Pro at least gives you the choice of running both simultaneously.
Design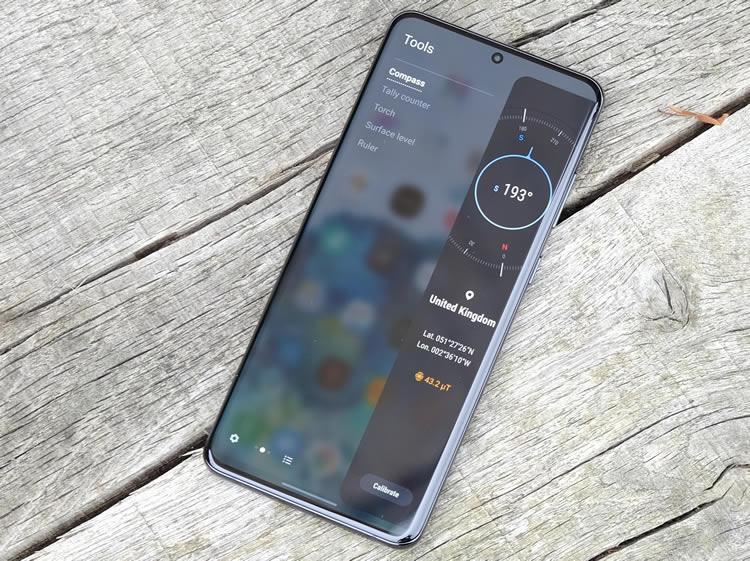 We've already mentioned that the Samsung Galaxy S20 Ultra 5G is big, and that carries through from its display to its design.
It's slightly taller, wider, and thicker (8.8mm) than the OnePlus 8 Pro, and significantly heavier at 222 grams. While its glass and metal body feels hefty, though, it also feels nicely balanced in the hand.
The phone's display edges don't curve off extravagantly like previous Galaxy phones, which makes it easier to hold. It also leads to a purer picture, and you get none of the false presses that phones with curved displays (like the aforementioned OnePlus 8 Pro) often suffer from.
One minor quibble with the S20 Ultra 5G's design lies with its chunky camera module. As this unusually prominent component sits to one side, when you lay the phone down on a flat surface it tends to wobble rather disconcertingly.
Samsung's choice to place the hole punch notch centrally will be a matter of preference for most. It sits in an area where it doesn't tend to get in the way of notifications, though it becomes a little more conspicuous with landscape media content.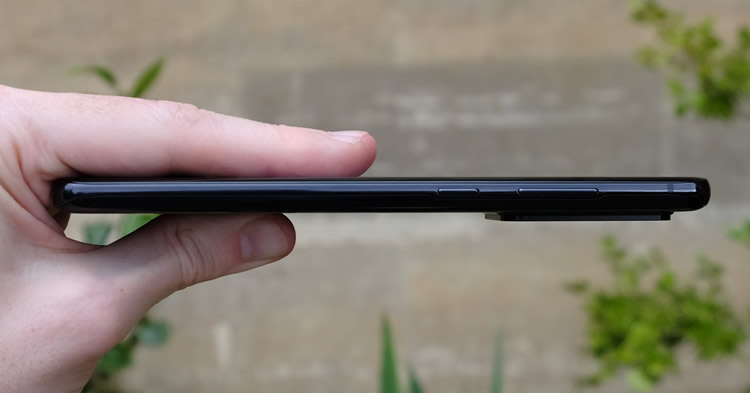 Power
While it would be a stretch to say that the Samsung Galaxy S20 Ultra 5G struggles with power, it's fair to say that it's not the absolute top level performer you might expect for the money.
The global model that ships in the UK comes with Samsung's own Exynos 990 CPU. This is a highly capable processor, but it's quite simply not as fast as the Snapdragon 865 that ships in the US model - not to mention a whole bunch of rival phones like the OnePlus 8 Pro and the Sony Xperia 1 II.
That said, you almost certainly won't notice any performance shortfall in general use, or even through 3D games. This is a fast, fluid performer that feels every inch the flagship phone that it is, doubtlessly helped by a whopping 12GB or 16GB of RAM.
It's just that when you're spending £1,199, you might reasonably expect the very best performance available. We also noticed that the Galaxy S20 Ultra tends to run rather hot during intensive tasks, such as when running games or taking lots of pictures.
Camera
Perhaps the defining feature of the Samsung Galaxy S20 Ultra 5G is its sizeable camera array. Like the rest of the phone, it's a bit of a beast.
The main sensor offers a staggering 108-megapixels, though intensive pixel binning techniques mean it actually outputs 12-megapixels by default. Equally notable is a 48-megapixel periscope telephoto lens which is capable of 4x optical zoom and 10x hybrid zoom. Both levels turn out sharp, usable shots, and this is arguably where the Galaxy S20 Ultra camera is at its most impressive.
By utilising that 108-megapixel main sensor and some aggressive cropping techniques, you can zoom to 30x and even 100x. Samsung probably shouldn't have boasted about the 100x facility on the camera module though. These shots are invariably a noisy mess, and incredibly hard to frame properly without a tripod.
There's also a 12-megapixel ultrawide lens here for those zoomed-out landscape shots, which match the tone of the main sensor reasonably well. A DepthVision time-of-flight sensor assists the others with judging depth.
The camera experience here is good, though it doesn't quite feel like the polished, reliable, finished experience you'd expect at the price. We noticed some odd visual glitches in dusky conditions with the S20 Ultra, and the camera tends to leave some close-up elements out of focus, which is seemingly a side effect of having such a large sensor.
All in all, we found shots taken on the Samsung Galaxy S20 Ultra 5G to be bright, punchy and easy on the eye, though it can flatten and smudge skin tones a little. It's particularly good when it comes to high dynamic range, and it manages to tame very bright conditions and even direct sunlight. The Night mode is passable, though well short of the likes of the Pixel 4 and the Huawei P40 Pro.
Ultimately, while it's a good camera, it's not the very best camera offering on the market. The iPhone 11 Pro and the Huawei P40 Pro are more assured all-round performers, the Sony Xperia 1 II is faster and more pro-friendly, and you can get similarly decent results in most conditions with the OnePlus 8 Pro for £400 less.
Features
Samsung has gone with a slightly different fingerprint sensor technology for its more recent flagship phones, which yields mixed results.
The Galaxy S20 Ultra 5G uses ultrasonic rather than optical sensor technology underneath its display. On the plus side, this is said to be a more accurate and secure standard than the optical reader of, say, the OnePlus 8 Pro. But in our experience it's also a couple of beats slower, which makes it feel like a much cheaper and less capable phone than it is.
You don't get a headphone jack with the S20 Ultra 5G, which might seem like a bit of a waste given its size. But you do get a pair of stereo speakers.
In terms of software you get Samsung's One UI 2 interface over the top of Android 10. Samsung has peeled back its customisation efforts a lot over the years, and it's currently a fast and appealing interface.
You'll still encounter some slightly heavy handed Samsung elements though, like having all of Google's stock apps squeezed into a separate folder, and the inclusion of Samsung Daily rather than Google Feed to the left of your home screen.
Other things like the chunky width and spacing of the app icons can be adjusted to your taste, and you can also opt to switch to a much more intuitive gesture-based navigation system if you wish.
Battery life, memory and connectivity
Samsung has filled the Galaxy S20 Ultra 5G's large body with a suitably large 5,000mAh battery. But it needs every ampere to run that huge, bright 120Hz/QHD display.
Factor in 5G connectivity and the phone's ability to shoot 4K and even 8K video, and if you use it to anything like its full capacity you'll burn through a charge in less than a day.
In moderate and slightly heavier usage conditions, though, we found that we could get through a full day with 30 to 40% left in the tank. That's par for the course with a modern super-flagship.
When it comes to recharge, Samsung bundles in a 45W fast wired charger. You can also charge wirelessly up to 15W, and there's even the provision for 9W reversible charging for those wireless earbuds and smartwatches.
Storage options are fairly standard for an elite-level flagship phone: 128GB, 256GB or 512GB as standard, with a microSD card slot for expansion purposes.
See Galaxy S20 Ultra 5G deals compared
Verdict
The Samsung Galaxy S20 Ultra 5G is Samsung's highest-performing phone on the market, with a series of eye-catching specifications and a hefty price to match.
In general usage it's a fast, capable phone with a hugely appealing (and just plain huge) 6.9-inch 120Hz display. We wish we could run that fast refresh rate at the full QHD resolution it's capable of, though.
The hefty 108-megapixel camera module is capable of turning out sharp, bright shots in a variety of conditions. But the whole 100x zoom function is the kind of gimmick that probably shouldn't have been included, much less etched on the back of the phone.
Elsewhere, performance from the global model's Exynos 990 CPU is strong. But again, it doesn't quite match up to its rivals when you get down to the raw numbers.
Overall, the Samsung Galaxy S20 Ultra 5G is a really good, luxurious-feeling flagship phone with a few quirks and foibles. The trouble is, at the elevated price of £1,200 such minor points are liable to be amplified - especially with phones like the OnePlus 8 Pro available for much less money.
Specifications
Dimensions (mm): 166.9 x 76 x 8.8

Weight (g): 222

Battery capacity (mAh): 5000

Colours: Cosmic Grey, Cosmic Black

Screen size (inches): 6.9

Resolution: 1440 x 3200

Pixels per inch (PPI): 511

Processor: Octa-core

Processor make: Exynos 990

RAM: 12GB/16GB

Internal storage: 128GB/256GB/512GB

Expandable storage up to: 1TB

Camera: 108MP, 48MP, 12MP and ToF (40MP front-facing)

Operating System: Android 10