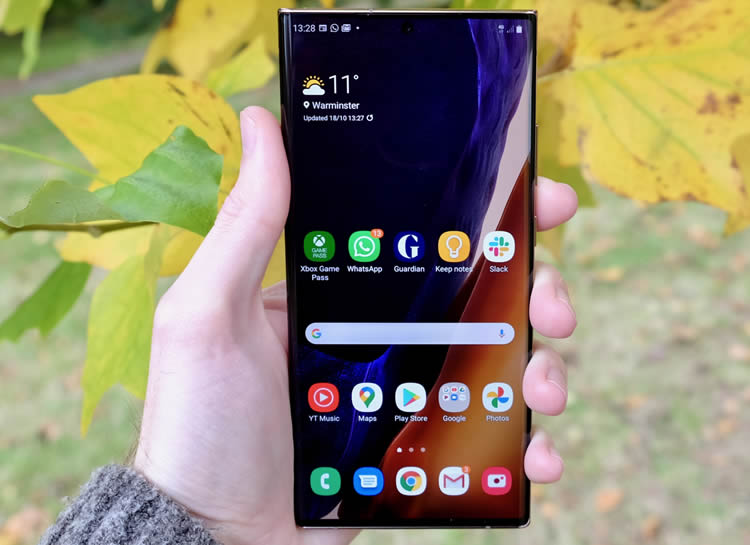 | Pros | Cons |
| --- | --- |
| Great camera | UK model's processor not as fast as others |
| Brilliant screen | Battery life underwhelming |
| Powerful and improved S Pen | Battery life underwhelming |
Verdict
The Samsung Galaxy Note 20 Ultra 5G is a big, beautiful phablet with a powerful S Pen tool, a glorious display, and a great camera. But the global model's second tier performance and so-so battery life aren't what we'd expect of the pricey Note range.
Full Review

Specifications

Specs
Full Review
Earlier this year Samsung released the Samsung Galaxy S20 Ultra 5G, a huge, expensive, 5G-ready phone with an eye-catching extreme-zoom camera. It's with a certain sense of deja vu, then, that we come to the Samsung Galaxy S20 Ultra 5G: a huge, expensive, 5G-ready phone with an eye-catching extreme-zoom camera.
This being the Note series, you automatically get the added benefit of a sophisticated S Pen stylus. But has Samsung learned enough of the lessons from its formidable yet flawed early–2020 ultra-flagship?
With a price tag of £1,179, the Samsung Galaxy Note 20 Ultra 5G now has a certain iPhone 12 Pro Max for company. So what has it got to offer?
See Galaxy Note 20 Ultra 5G deals
Screen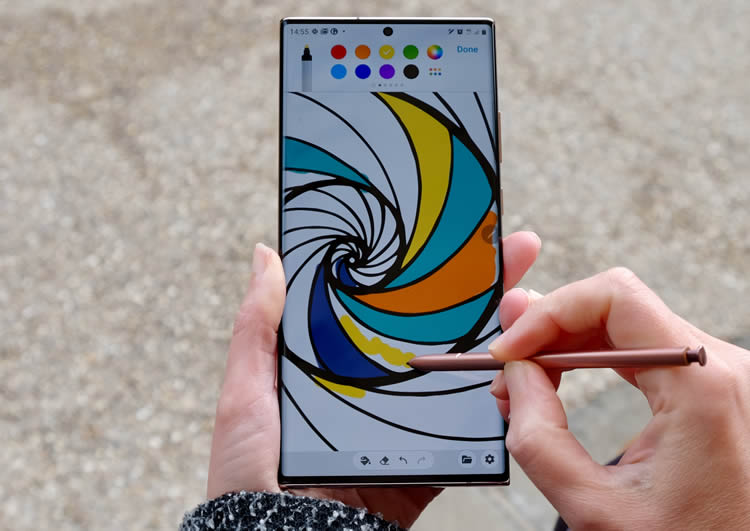 If there's one thing you can rely on Samsung for, it's to produce a top level smartphone display. That's precisely what the Samsung Galaxy Note 20 Ultra 5G provides.
This is a huge 6.9-inch Dynamic AMOLED display with a resolution that can be pushed right up to 3038 x 1440 (WQHD+). It also gets incredibly bright, and boasts such punchy colours by default that we found ourselves switching the screen mode from Vivid to Natural just to give our eyes a rest.
Unlike the Galaxy S20 Ultra, The Galaxy Note 20 Ultra doesn't output at 120Hz all the time. Rather, Samsung has given it the ability to automatically crank the refresh rate up or down depending on what you're doing, thus conserving battery life. It works flawlessly, and we never managed to catch it napping.
One thing Samsung still hasn't managed to nail is a simultaneous high refresh rate and QHD resolution. If you want buttery smooth scrolling, you have to make do with good old FHD+/1080p (2316 x 1080).
Not that this is massively problematic. Images and videos still look great, and we'd prefer the smoothness of 120Hz over slightly sharper edges in general navigation. But it's worth pointing out that the OnePlus 8 Pro manages to give you both at once for £400 less.
Design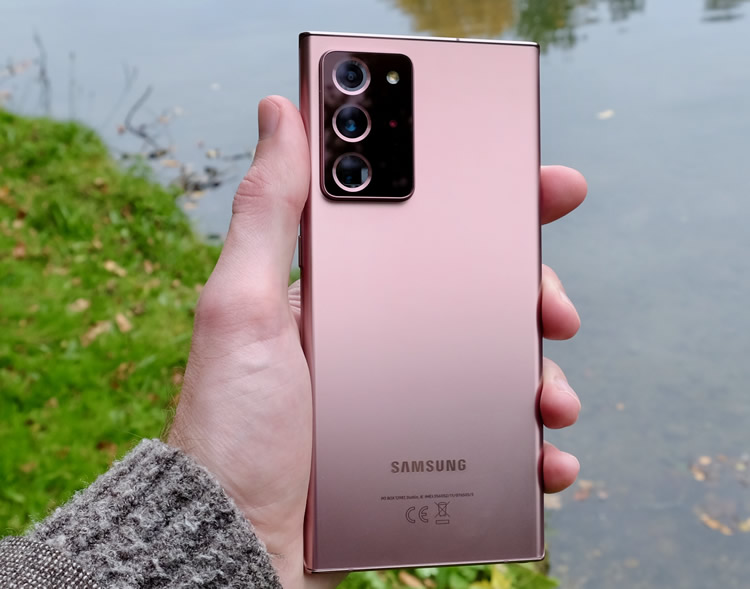 Samsung's Galaxy Note phones have always been big. This line helped inspire the informal 'phablet' moniker that sprung up to describe devices that bridge the gap between a phone and a tablet.
Unsurprisingly, the Samsung Galaxy Note 20 Ultra 5G is another hefty bit of kit. But given that Note lineage, and the presence of the S Pen stylus, we're more willing to excuse the size than we were with the Galaxy S20 Ultra.
It also helps that the Galaxy Note 20 Ultra is a little lighter (14g) than its cousin, as well as being a little shorter and thinner. But make no mistake, this feels like a very big device, and you won't be using it one-handed or slipping it into a tight trouser pocket.
It's a good job it's so pretty to look at, really. We were a little underwhelmed with the Galaxy S20 Ultra's sober design, but the Galaxy Note 20 Ultra is an absolute stunner.
The deep Mystic Copper shade, in particular, is one of the most handsome smartphone colours we've ever seen, and it suits the phone's sharp corners and flat ends beautifully. While the rim has a certain diffused shine to it, the finish on the back is more matte, with a finish that has the slightest of grippy textures to it.
You'll need to work around an aggressively prominent camera module, however, which made us paranoid every time we set the phone down or caught it on a piece of clothing. It's quite the protuberance.
There's no headphone jack here, despite all that space. But you do get a decent set of stereo speakers by way of compensation.
Power
The Samsung Galaxy Note 20 Ultra 5G is plenty fast enough to run anything you set it to: games, multitasking, 8K video shooting, you name it. It's important that you keep that in mind while we talk about our disappointment with the phone's performance.
Just as with the Galaxy S20 Ultra before it, Samsung continues to pack the global model of the Galaxy Note 20 Ultra (which is what we in the UK get) with its own Exynos 990 chip. And it's simply not as capable as the Qualcomm chip that's been packed into the US model, not to mention virtually all of its Android rivals.
Indeed, that difference has only been exacerbated by the provision of the even faster Snapdragon 865+ chip revision in the US Galaxy Note 20 Ultra.
Again, the Samsung Galaxy Note 20 Ultra 5G is not a slow phone by any stretch of the imagination. It's plenty fast enough. But for the money you're paying, and given the Note line's target audience of enthusiasts and power users, 'fast enough' just doesn't quite seem enough.
Especially when the use of this slower chip seems to have other drawbacks, such as a general tendency to run hot under load and some underwhelming battery life. But we'll come to that last point in a bit.
Camera
The Samsung Galaxy Note 20 Ultra's camera set-up takes a broadly similar approach to the Galaxy S20 Ultra 5G, but with a couple of smart tweaks.
Once again it's led by an eye-catching 108MP wide sensor, which uses pixel-binning to produce sharp, bright 12MP shots. That's backed by a 12MP periscope telephoto sensor for 5x optical zoom and 50x hybrid zoom.
That latter component is, on paper, a step down from the 48MP 10x equivalent on the Galaxy S20 Ultra, which could also produce 100x zoomed shots. But that was a total gimmick, producing unusably shaky and grainy shots. Sure enough, even the 50x shots on the Note 20 Ultra are barely worth bothering with.
Where the Galaxy Note 20 Ultra's zoom lens comes into its own is between the 5–10x zoom range, and even beyond to 20x. Here shots are usefully zoomed-in whilst retaining an appreciable amount of detail.
In general shooting, the Samsung Galaxy Note 20 Ultra takes excellent shots. You get the typical Samsung tendency to ramp up the colours, and to oversharpen and overexpose somewhat, but there aren't many environments where you won't get bright, crisp results. That includes in low-light conditions, where Samsung's Night mode cleans up a great deal of murk.
There's a decent ultrawide lens here that generally matches up well with the main sensor tonally, though it won't pack the same level of detail.
The Galaxy S20 Ultra camera wasn't particularly hot when it came to focus speeds, and Samsung has wisely addressed that by packing the Galaxy Note 20 Ultra with a laser autofocus system. It locks on to subjects much better than before, though still not as quickly or solidly as the Sony Xperia 1 II.
This is a seriously well-equipped video camera too, capable of producing super steady and sharp footage at a variety of zoom lengths, and with the potential for 8K capture.
The 10MP selfie camera is pretty good, though it has the tendency to smooth out skin tones for mannequin-like results.
Features
The stand out feature of every Galaxy Note phone is the S Pen stylus that gives the line its name, and it's better than ever in the Galaxy Note 20 Ultra 5G. Samsung has improved the responsiveness to make writing with the S Pen feel even more like the real thing.
It slots neatly into the bottom left edge of the phone, and releases via a satisfyingly sprung button in the end of the S Pen itself. When released from its bay, the S Pen is a tactile joy to use.
It's about three quarters the length of a regular pen and about a third of the thickness. You won't want to be writing a novel with it, but a rubberised tip produces just the right level of resistance - smooth yet grippy enough for precision.
Samsung's S Pen software has come on leaps and bounds over the years too. Being able to scrawl on a blank lock screen as soon as you take the S Pen out is great for jotting down that vital piece of info.
Samsung Note, meanwhile, is a true power tool. There's something faintly magical about being able to scribble a note in your worst handwriting, and have it instantly and accurately converted to digital text.
While Samsung's S Pen is an unqualified success, Samsung's One UI 2.5 is a bit of a mixed bag. This custom skin for Android 10 is smooth and fast enough, and packed full of customisation options. But it's also a bit too busy and laden down with superfluous features.
The Samsung Daily news and virtual noticeboard feature found to the left of the home screen springs to mind, as do the three pages of notification menu shortcuts and a whole heap of Samsung apps. Of course, the beauty of Android - and of Samsung's approach to Android, to be fair - is that you can reduce all of this clutter.
Battery life, memory and connectivity
The word to use in relation to the Samsung Galaxy Note 20 Ultra 5G's battery life is 'underwhelming'. Those expecting giant battery capacity to accompany the giant dimensions will need to temper their expectations.
At 4,500mAh battery, the battery is significantly smaller than the Samsung Galaxy S20 Ultra's 5,000mAh unit. And that phone didn't exactly wow us with its stamina.
The key power hog in both cases is a large, smooth, super-bright AMOLED display, allied to Samsung's less efficient CPU (Snapdragon models seem to fare better). The Galaxy Note 20 Ultra 5G's smart screen refresh rate function evens things out somewhat, but you shouldn't expect miracles.
Much like the Galaxy S20 Ultra, we could get through a day of light usage (around three hours of screen on time) with 40% or so left in the tank. The Galaxy Note 20 Ultra is a phone built for intensive use, though, and such scenarios can leave you dangerously low before bed time.
One 12-hour day that included some heavy camera usage (100 or so shots) and a few YouTube videos in amongst its 4 hours 30 of screen on time left us with just 5% in the tank.
Samsung has dropped support for 45w fast charging here, which is a shame, but there is support for 25w wired and 15w wireless.
One thing you won't be running out of is storage, thanks to a choice of either 256GB or 512GB, not to mention expansion of up to 1TB. As the name suggests, you also get full 5G support.
See Galaxy Note 20 Ultra 5G deals
Verdict
The Samsung Galaxy Note 20 Ultra is a big, beautiful power-user's dream with a class-leading 120Hz display and a brilliant productivity tool in the S Pen. Its camera, meanwhile, is one of the most flexible and downright capable in any smartphone.
But neither its battery life nor its performance are particularly exceptional, in the Global/UK model at least. Given the price tag and the heritage of the Note line, we expected better.
The Samsung Galaxy Note 20 Ultra is a better premium phone than the Samsung Galaxy S20 Ultra before it, but not by as much as we might have hoped.
Specifications
Camera: 108MP, 12MP and 12MP (10MP front-facing)

Operating System: Android 10, One UI 2.5

Internal storage: 256GB/512GB

Expandable storage up to: 1TB

Processor make: Exynos 990

RAM: 12GB

Pixels per inch (PPI): 496ppi

Processor: Octa-core

Screen size (inches): 6.9

Resolution: 1440 x 3038

Battery capacity (mAh): 4500

Colours: Mystic Bronze, Mystic Black, Mystic White

Dimensions (mm): 164.8 x 77.2 x 8.1

Weight (g): 208