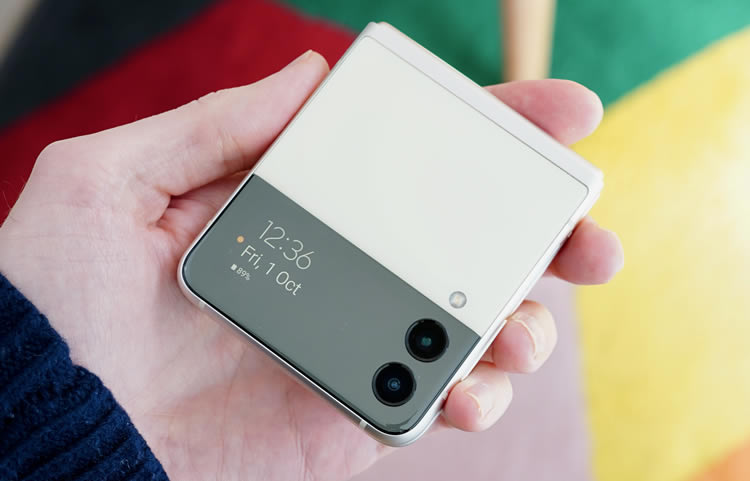 | Pros | Cons |
| --- | --- |
| Great price | Disappointing battery |
| Good main screen | No change to the cameras |
| High-end power | Tiny secondary screen |
Verdict
The Samsung Galaxy Z Flip 3 combines a foldable screen with a just-about-affordable price, high-end specs, and a level of polish you'd expect from a flagship. The battery and cameras could be better, but this is otherwise one of the most appealing foldables yet.
Full Review

Specifications

Specs
Full Review
The Samsung Galaxy Z Flip 3 is Samsung's latest clamshell foldable phone, and while it's arguably not as exciting as the Samsung Galaxy Z Fold 3, it's also a whole lot cheaper.
In fact, with a starting price of £949 SIM-free, this is priced in line with a normal flagship phone, and unlike some other affordable foldable phones it doesn't make big compromises when it comes to the specs either.
So is this a foldable phone that's worth buying, or are you better off sticking with a flat phone (or shelling out for a pricier model)? Read on to find out.
Screen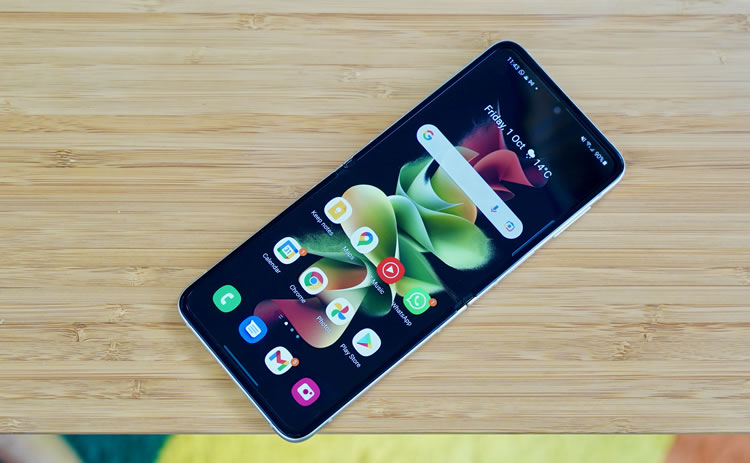 The Samsung Galaxy Z Flip 3 has a 6.7-inch 1080 x 2640 AMOLED main screen with a 120Hz refresh rate and HDR10+ support, along with a high peak brightness of 1,200 nits. It comes in at a crisp 426 pixels per inch and it's in many ways similar to the screen on the Samsung Galaxy S21 Plus.
Of course, this screen folds. So you can fold it shut to make the handset much smaller. Do that and you'll still be able to make use of a 1.9-inch 260 x 512 cover screen. This screen isn't big enough to do much with, but it just about does the job for viewing notifications and the like, much like the screen on a smartwatch does.
With the main screen meanwhile you're getting a great display. It's not quite as sharp as some flagship phones like the Samsung Galaxy S21 Ultra, but it's high resolution enough really, and the 120Hz refresh rate ensures scrolling through menus and the like feels smooth.
It's a good size too, though no larger than many flat phones. If you want a foldable that opens out to the size of a tablet then you'll need to look to Samsung's Galaxy Z Fold range.
Design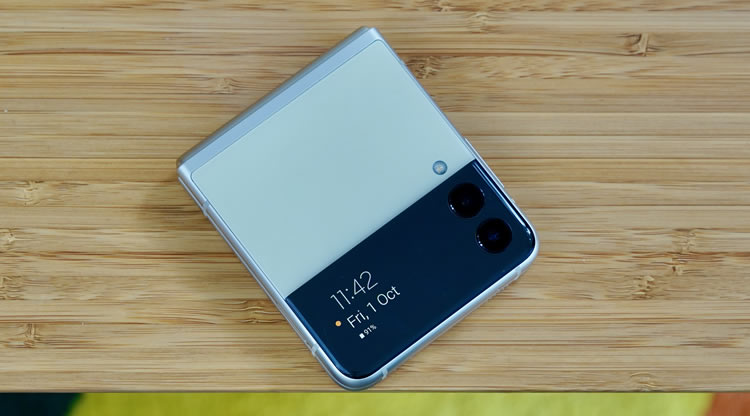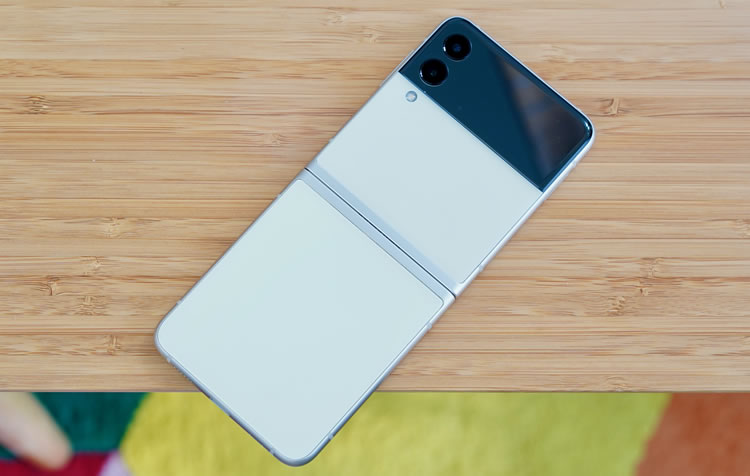 The Samsung Galaxy Z Flip 3 has a design unlike almost any other phone, aside from the Samsung Galaxy Z Flip 5G and the Motorola Razr 5G.
These phones are all clamshell foldables, so they look largely like a normal smartphone when unfolded, and close down to half the size (although become very thick in the process).
In the case of the Samsung Galaxy Z Flip 3, it's 17.1mm at its thickest point when folded shut, but the overall size is still very compact compared to a typical smartphone.
That ability to make it more compact is one of the selling points of the Samsung Galaxy Z Flip 3, giving you in a sense the benefits of both a small phone and a big one (since it opens out to a 6.7-inch display).
It looks good too, and suitably premium, with a glass back (clad in tough Gorilla Glass Victus), and an aluminium frame. Unlike previous foldable phones from Samsung this also has water resistance, so you can safely get it wet – though there's still no dust resistance.
Power
There's a Snapdragon 888 chipset in the Samsung Galaxy Z Flip 3, which is the most powerful Android chipset in wide use at the time of writing. That's paired with 8GB of RAM, so it's fair to say this is a powerful handset, rivalling the likes of the OnePlus 9.
Some phones have more RAM, but you're unlikely to notice much difference in real world use. For most things, this is seriously speedy.
Camera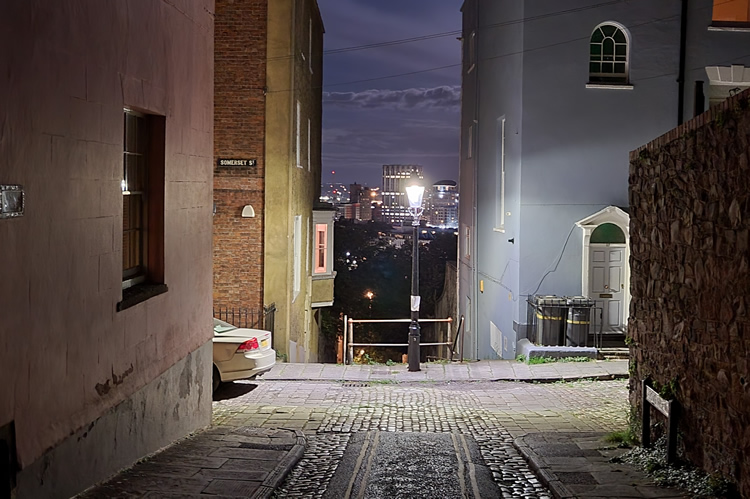 The camera system on the Samsung Galaxy Z Flip 3 is one of its few real disappointments, as it only has two rear ones (which are on the front when the phone is shut). You get a 12MP f/1.8 main snapper with optical image stabilisation (OIS), and a 12MP f/2.2 ultra-wide one. Both perform quite well, but they're much the same as the Galaxy Z Flip 5G had.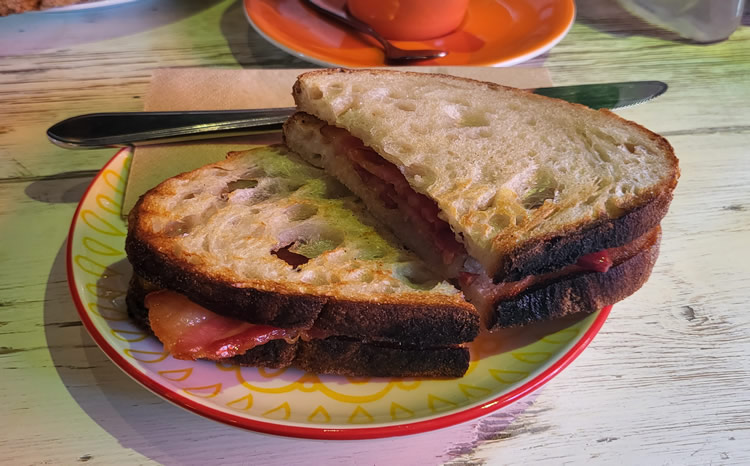 So you're not really getting an upgrade here, and there's no telephoto camera, which is a shame. Camera performance also isn't quite a match for the very best smartphones, but it's not too far off. So the cameras here are a long way from bad, they're just a bit disappointing.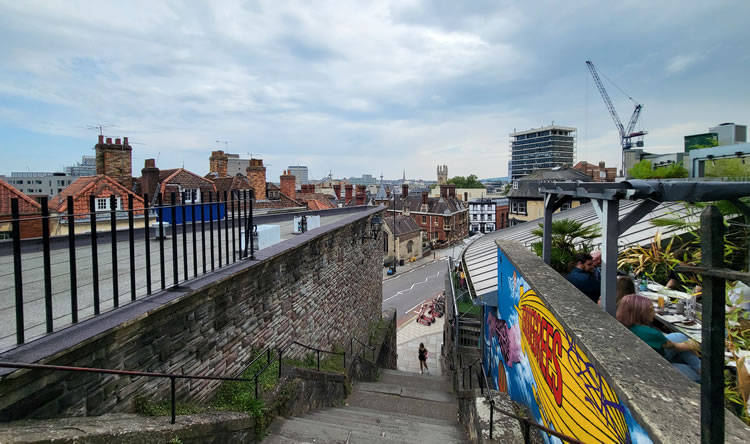 There's also a 10MP f/2.4 camera on the front, which again is the same as the previous model. This performs just fine, but doesn't excel. That said, you can also use the secondary display to frame selfies while using the main cameras, so there's actually not much need to use the front-facing camera anyway. On that front then, this is a good phone for selfie fans.
Features
The Samsung Galaxy Z Flip 3 doesn't have many notable features that we haven't mentioned elsewhere, but it's worth noting that it doesn't have an in-screen fingerprint scanner. Instead, there's one on the side of the phone.
It runs Android 11, which is the latest available version at the time of writing but very soon won't be, with Android 12 about to launch. The Samsung Galaxy Z Flip 3 is sure to be updated to that, but may take a while to do so.
Battery life, memory, and connectivity
With just a 3,300mAh battery this isn't a phone for those who hate charging. The Samsung Galaxy Z Flip 3 should just about get you through a day between charges with moderate use, but not reliably, so you might often find yourself topping it up in the evening.
That's disappointing, as is the charging power, which tops out at just 15W, or 10W for wireless charging. There's also no charger in the box, so you'll have to supply your own.
Things are a bit better on the storage front, with a choice of 128GB or 256GB, however there's no microSD card slot. That's not surprising as these are becoming a rarity on phones, but it does mean you're stuck with what you choose.
Connectivity options include 5G of course, as well as Bluetooth 5.1 and NFC.
Verdict
The Samsung Galaxy Z Flip 3 has a lot going for it, with the biggest thing being its price. At under £1,000 for either storage capacity, the Samsung Galaxy Z Flip 3 costs slightly less than the likes of the iPhone 13 Pro Max or Samsung Galaxy S21 Ultra, yet it comes with a foldable screen.
It doesn't quite match those phones in most other ways, but its screen quality and power both come close, while its cameras should also be good enough for most buyers.
The battery life is a disappointment, and you can certainly get more for less if you don't need a foldable screen, but this is arguably the most accessible and appealing foldable phone yet for the average buyer, and that makes it well worth considering.
Specifications
Camera: 12MP and 12MP (10MP front-facing)
Operating System: Android 11
Internal storage: 128GB/256GB
Expandable storage up to: None
Processor make: Qualcomm Snapdragon 888
Processor: Octa-core
RAM: 8GB
Screen size (inches): 6.7 / 1.9
Pixels per inch (PPI): 426 (main display)
Resolution: 1080 x 2640 / 260 x 512
Battery capacity (mAh): 3,300
Colours: Phantom Black, Green, Lavender, Cream, White, Pink, Gray
Dimensions (mm): Folded: 86.4 x 72.2 x 15.9-17.1 / Unfolded: 166 x 72.2 x 6.9
Weight (g): 183