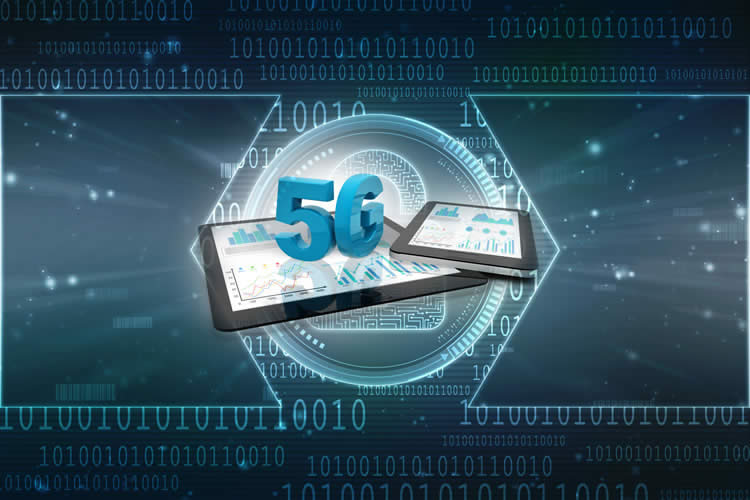 The current global TV and video market served by cable, satellite, IPTV and terrestrial broadcast service providers is thought to be worth more than $500 billion. However, 5G network technology could significantly eat into that established market over the coming years, and could also fundamentally change the way live broadcasts operate.
What is 5G TV?
5G TV references the forthcoming ability to watch standard TV broadcasts over a 5G mobile network connection rather than traditional cable, satellite or even purely fixed broadband methods. The increase in performance, portability and efficiency this will bring about has the potential to revolutionise the entire TV broadcasting industry.
Why is 5G well suited to TV broadcasts?
It's widely held that 5G will be able to support download speeds of at least 1Gbps, and quite possibly closer to 10Gbps. Such raw speed, in conjunction with other networking enhancements and technologies, would provide the ideal environment for TV broadcasts to a range of screen types.
In addition to performance, 5G brings the obvious benefit of mobility. TV content will be able to beam readily to mobile devices without the need for a Wi-Fi connection.
This will also be useful with the imminent increase in more immersive Virtual Reality (VR) or 360 video content, which will require 5G's combination of speed, low latency, and mobility.
But 5G will also benefit the other end of the TV broadcasting process, especially when it comes to live broadcasts. Using 5G technology on location rather than traditional broadcast trucks will be much cheaper and more convenient for broadcasters.
Are there any potential issues?
In a 2017 report, Sue Rudd, Director, Service Provider Analysis for Strategy Analytics sounded a note of caution with regard to 5G TV's potential adoption. "Data rates get the headlines, but other network technologies will also make or break the business case for 5G TV services," she says. "The efficiency of the end-to-end network will determine whether 5G TV is possible."
Ultimately, any future 5G network will need to be stable, robust and consistent if it's to support mainstream TV broadcast services in this way. Speed is only part of the issue.
In particular, 5G will need to be able to support a high density of users within any individual 'cell' if it's to prove suitable for the task. Thankfully, all signs point to that being the case, with a significant increase in data bandwidth and the smarter allocation of such bandwidth at the very heart of the 5G experience.
5G compatibility will also determine when we see 5G TV broadcasts become a commercial reality. While the first 5G phones have been announced for later in 2019, they will likely need to be common place before broadcasters fully commit to the switch from traditional mediums.
Is the technology there for 5G TV?
Various technological standards across various industries seem to be aligning to pave the way for 5G TV.
Mobile network operators such as Verizon, Deutsche Telekom, SK Telecom, AT&T and BT have all demonstrated technology that suggests 5G TV services are both feasible and likely. Indeed, such tests have been under way for several years now.
Way back in June 2016 Ericsson and US operator Sprint demonstrated the ability to live-stream a 4K UHD video feed over a live 5G wireless signal using 400 MHz of spectrum.
Other companies have shown how 5G networks might be able to handle the density issue mentioned in the previous point. At Mobile World Congress 2017 in Barcelona, Deutsche Telekom teamed up with Huawei to demonstrate all cloud based 5G E2E network slicing. This technology enables the provision of multiple industry services over one physical network.
MIMO and beamforming technology will optimise the new, broader 5G spectrum and enable multiple users within a confined area to stream high quality TV signals simultaneously.
In terms of specific 5G TV broadcasting standards, October 2017 saw mobile network specification body 3GPP issuing Release 14, which provided "improved support for television services to both mobile devices and stationary TV sets over eMBMS (enhanced multimedia broadcast and multicast system over LTE) and unicast". Essentially, this enables mobile operators to deliver superior and standardised television services over their networks to a large number of mobile users.
It could also potentially enable the broadcasting of high quality TV content to domestic TV receivers as a replacement for traditional broadcast services. 3GPP's release 16, which is expected towards the end of 2019, should further expand on 5G's broadcasting potential.
For now, the likes of the EU-funded 5G XCast and the 5G Today projects have been working with the current enhanced TV standards, creating proof of concept prototypes and demonstrations for a flexible 5G broadcast framework.
5G and sports TV
The unique advantages of 5G could well be put to full use in the realm of sports broadcasting.
According to research firm Ovum, 63% of network operators worldwide are planning to offer 5G-based augmented reality (AR) and/or virtual reality (VR) applications to people attending sports events at stadiums or watching events at home some time in 2020. 5G-based AR applications will be able to create interactive experiences for attendees, such as watching instant replays on their smart devices or streaming 360-degree video views.
Indeed, it's been found that forthcoming sports events like the 2020 Summer Olympics and European football championships are actively driving 5G deployment plans. More than a third of the operators surveyed said that they're planning to coincide their commercial 5G launches with such major sports events, while a whopping 91% will trial 5G services at sports and esports venues.
The 2018 Winter Olympics in Pyeongchang, South Korea, already featured a pilot 5G network broadcast. UK operator EE also conducted a high profile 5G test at the EE Wembley Cup Final in November 2018, with the network's 3.4GHz spectrum connected to a 10Gbps backhaul link.
In related news, BT Sport has said that it expects to start broadcasting National League, women's football and FA Cup games over 5G in 2019.
The advantage of such an approach is that broadcasters will no longer have to send out resource-intensive broadcast trucks, thus enabling them to issue more simultaneous live broadcasts. It could also mean that highlights programmes (like Match of the Day) will be able to broadcast earlier in the evening.
Chief engineer at BT Sport Andy Beale explained:

"The cameras will no longer be limited by cables, or tethered, so they can move around anywhere. So you could start the show in the dressing room, then move straight out to watch the teams warming up. Suddenly it unlocks a lot more interesting options that you couldn't have had previously."
What the experts say
Rohde & Schwarz EVP and head of broadcast & media division Jürgen Nies said: "The introduction of 5G could open up a worldwide market with millions of smartphones and tablets acting as potential TV receivers able to combine live TV services, media libraries, social networks and many other media services."

Michael Goodman, Director, TV and Media Strategies for Strategy Analytics said: "Television is already being transformed by new digital services like Netflix and Amazon. The arrival of 5G TV wireless services could herald another wave of TV disruption through the 2020s and beyond."
Wireless technology consultant Peter Rysavy told Forbes: "When I analyse demand for wireless broadband, I look at both Internet and TV cord replacement. TV content delivered to households can drive values much higher."
When will we see 5G TV?
The first 5G networks and FWA services should commence rolling out in the second half of 2019, while various 5G-powered broadcast tests are already underway. However, full 5G TV broadcasting won't form part of the initial 5G network offering, with the design of a 5G-native eMBMS broadcast mode postponed until after 2019.
That won't prevent live event broadcasters from making use of 5G's remote production potential in the mean time, however. The days of large satellite trucks trailing miles of cables could well be numbered, with the arrival of 5G network connectivity in stadia and event spaces marking the beginning of the end.