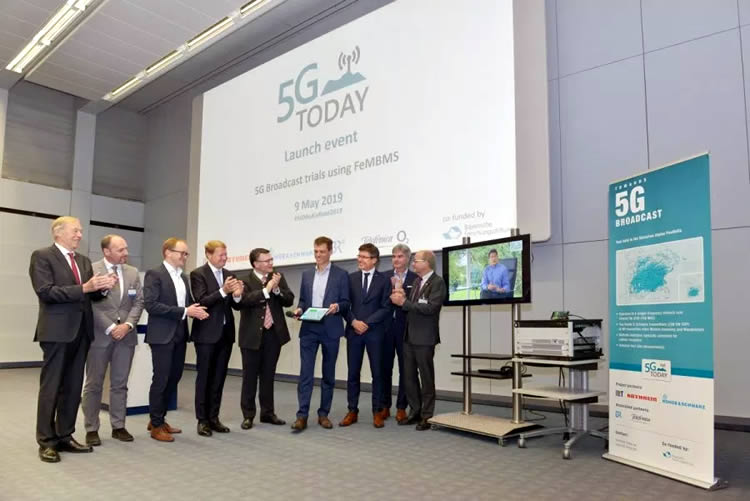 Rohde & Schwarz announced that the 5G TODAY project has launched its 5G broadcasting field trial in the Bavarian region of Germany, which is hailed as an industry first.
5G TODAY aims to explore efficient broadcasting methods over 5G networks that will enable the delivery of affordable content services to consumers on a variety of mobile devices without burdening mobile network capacity. Project members include Telefonica Germany, the Bavarian Broadcasting Corporation (BR), the Broadcast Technology Institute IRT, Kathrein and Rohde & Schwarz.
Specifically, the project is testing Further evolved Multimedia Broadcast Multicast Service (FeMBMS), which is also known as LTE Broadcast. FeMBMS broadcast mode allows distribution of content across large coverage areas with a radius of up to 60 kilometres.
5G Broadcasting in the Field
The field trial runs until October this year and follows lab tests that were conducted last year.
The trial network comprises two transmission towers equipped with Rohde & Schwarz's High Power High Tower (HPHT) transmitters for the 5G radio transmission. The two transmitters are operated as a Single Frequency Network in a channel in the 750MHz-760MHz band.
Peter Riedel, COO of Rohde & Schwarz, said: "With this forward-looking concept, broadcasters can enjoy the same advantages in the distribution of video content over 5G networks as they do in classic broadcasting, such as high video quality, short latency times and long range."
Telefonica is supporting the project by making 700MHz frequencies available. Gerald Huber, senior manager 5G projects at Telefónica Germany, noted that it is important to "learn more about long-range propagation in the 700 MHz band and the application of very large radio cells."
Bavaria and Beyond
The findings from the trial in Germany will have implications for 5G research projects in other parts of Europe and the UK. The BBC, for example, is working on leveraging 5G for radio broadcasting as part of the 5G RuralFirst test bed project. The BBC is also involved in the EU's 5G XCast project, which is focused on understanding the requirements for delivering new content formats, from AR and VR to 8K video, over 5G networks.
In the UK, mobile operators have been testing the waters for 5G broadcasting. Three recently demonstrated a 4K live broadcast of an esports event over a 5G network, while EE also tested 5G broadcasting in remote production for the Wembley Cup Final in November last year.