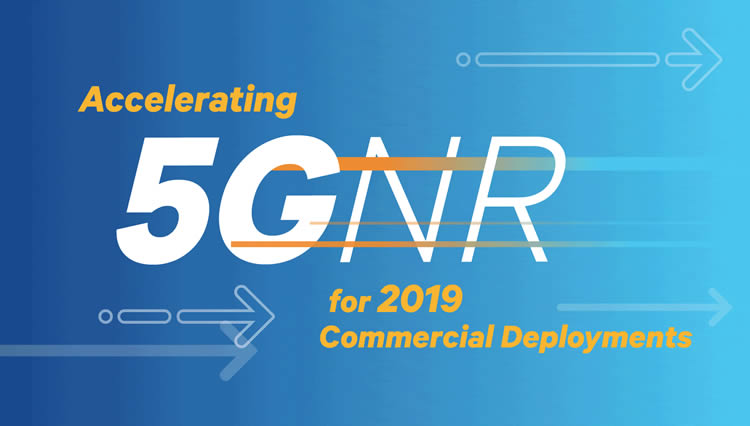 Nokia and Qualcomm Technologies have together laid an important brick on the path to a commercial 5G network roll-out in 2019. The two mobile tech giants recently completed interoperability testing using the latest 5G New Radio specification, which was finalised in December.
These over-the-air tests were carried out at Nokia's 5G centre of excellence in Oulu, Finland. They involved a commercially-available Nokia AirScale base station and Qualcomm Technologies 5G NR UE prototypes, which operated in the approved 3.5Ghz and 28Ghz spectrums.
Jane Rygaard, Head of 5G Marketing for Nokia, told 5G.co.uk: "Open collaboration and interoperability is essential in the development of 5G. The interoperability testing we've been doing with Qualcomm Technologies has been essential to ensure the network infrastructure side from Nokia and the device side from Qualcomm, in order to understand the 5G NR specification needs that our customers will implement".
The next step will be for the two companies to initiate 5G New Radio field trial collaborations with a series of mobile network operators throughout 2018. BT/EE, Deutsche Telekom, Elisa, KT, LGU+, NTT DOCOMO, Optus, SKT, Telia and Vodafone Group are all said to be committed to working together on such trials.
We asked Nokia about the level of involvement the aforementioned operators have had in these 5G NR trials to date. Nokia told us that these operators were "endorsing the trial, as they have a vested interest in knowing that 5G NR network is fully interoperable with devices (and chipsets) provided by Qualcomm."
Qualcomm's involvement in these tests is key as the biggest supplier of mobile chipsets in the world. The American chip maker announced the development of the world's first commercial 5G modem in October, alongside a reference 5G smartphone design. Whatever the first batch of 5G-ready smartphones looks like, it's highly likely that they'll be powered by Qualcomm silicon.
That said, while Qualcomm recently announced that it was working with 18 smartphone makers to produce this first wave of 5G devices, Apple and Samsung were both noticeable by their absence from the list.
Nokia, meanwhile, will be a familiar name to anyone who owned a mobile phone in the pre-smartphone era of the late '90s and early '00s. In recent years, the Finnish company has shifted towards the supply of large-scale telecommunications infrastructures.
In particular, Nokia became a major player in the development of 5G wireless technologies when it bought Alcatel-Lucent in 2016 for €15.6 billion. The French telecoms company had invested heavily in 5G R&D prior to Nokia's purchase, and this expertise was seen as a key reason for the acquisition.
Nokia recently announced the ReefShark chipset, which promises to reduce the size, cost and energy consumption of 5G cell sites.
Useful read: What is 5G New Radio
Image credit: Qualcomm