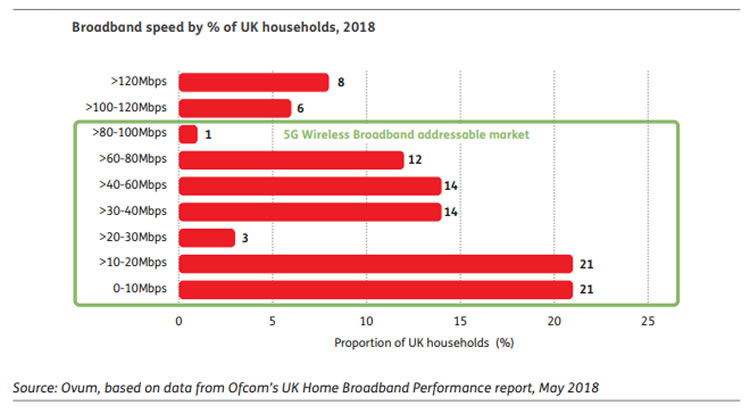 5G isn't just about phones, it could be a truly viable alternative to fibre broadband at home and for businesses. In fact, it could be twice as fast in many instances.
That's according to a new report from Ovum, commissioned by Three, which found that the average broadband speed delivered to UK households is currently 46.2Mbps, while 5G Fixed Wireless Access (FWA) is likely to average speeds of 80-100Mbps.
Currently even in urban areas (where infrastructure should be good), around 85% of people are receiving speeds below 80Mbps, so they could all benefit by switching to 5G FWA.
And the benefits aren't limited to speed. 5G FWA is also almost 50% cheaper to deploy than laying fibre would be according to the report, and could save customers an estimated £240 per year, as it doesn't require fixed-line rental.
Slick, simple and coming soon
It should also be quick and simple to get up and running in homes, as it's theoretically just plug-and-play once you have 5G in your area, meaning no waiting for an engineer to visit and no drilling holes in walls. Being plug-and-play means you can also easily take your 5G service with you when you move home.
Plus, there's the potential for more flexible contracts – broadband typically locks you in for at least 12 months, but mobile networks often let you change or cancel your plan every 30 days.
So 5G home broadband could be hugely beneficial to almost everyone, but especially to those who can't yet get the fastest fibre broadband in their homes. And you might not even have to wait long for it, as Three plans to launch a 5G wireless home broadband service in the second half of 2019, though of course its availability will initially be limited.
One potential problem with 5G broadband – other than needing to wait for 5G in your area - is that mobile networks are known for having data limits, which most home broadband doesn't. But Three is one of the few networks to currently offer plans with unlimited data, so if any network is going to do 5G broadband right, it's probably Three. We should find out for sure soon.