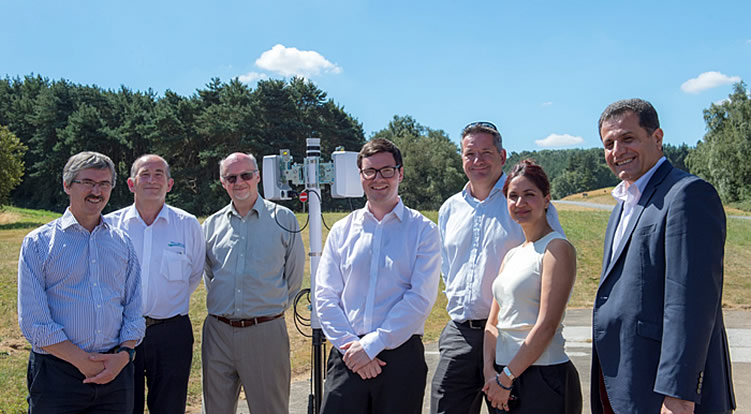 Advanced 5G test networks are being deployed at Millbrook Proving Ground in Bedford to begin the testing and validation of connected and autonomous vehicle (CAV) technologies.
The work is part of the AutoAir project, led by Airspan Networks. The initiative was awarded £4.1 million by the government in March this year, as one of six trials and testbeds to receive funding. Since then, the team has been designing the programme, and it is now moving into implementation.
AutoAir uses a neutral host model that enables multiple operators to share a single network provided by a third-party infrastructure provider. This approach aims to enable denser, targeted network coverage while minimising capital and operational expenditure. Other companies involved in AutoAir include RM, Blu Wireless, Quortus and McLaren.
Focus
The project will focus on solving challenges such as complicated cell-tower hand-offs and issues related to bandwidth and autonomous vehicles networks. It will also evaluate how 5G connectivity solutions could be transferrable to road and rail systems.
Over the next few months, AutoAir will continue to roll out pervasive 4G and 5G connectivity at the Millbrook site, using a dense network of base stations. This network is set to deliver Gbps low-latency connectivity. It will support the first UK example of accurate location and connectivity trials for autonomous vehicles in the UK, the partners say.
Since it is already used for traditional vehicle technology testing, the Milbrook site is seen as the ideal environment for trialling next-generation car technology. Researchers will be carrying out controlled and semi-controlled testing of advanced driver-assistance systems (ADAS) and autonomous vehicles.
A digital model of the Millbrook proving ground is also being created so that vehicle manufacturers and CAV developers can use a virtual representation of the environment to develop their technologies.
Peter Stoker, Chief Engineer – Connected and Autonomous Vehicles, at Millbrook, said: "The start of this network deployment sends a fantastic message to developers and innovators in the transport and automotive industries. The technology that will enable them to accelerate their programmes is being made available, now. We are proud to be at the forefront of these developments; 5G, together with our advanced capabilities as part of the CAV testbed, will make a real difference in expediting thorough and, above all, safe testing and validation."
The road to 5G
Attending the launch event at Millbrook, Margot James, Minister for Digital & Creative Industries, said that the AutoAir project highlights the potential 5G offers to transport systems and users. She reiterated the government's aim for the UK to be a leader in 5G and highlighted the recently published Telecoms Infrastructure Review as a roadmap for how this will be achieved.
Useful read: What are 5G Testbeds?