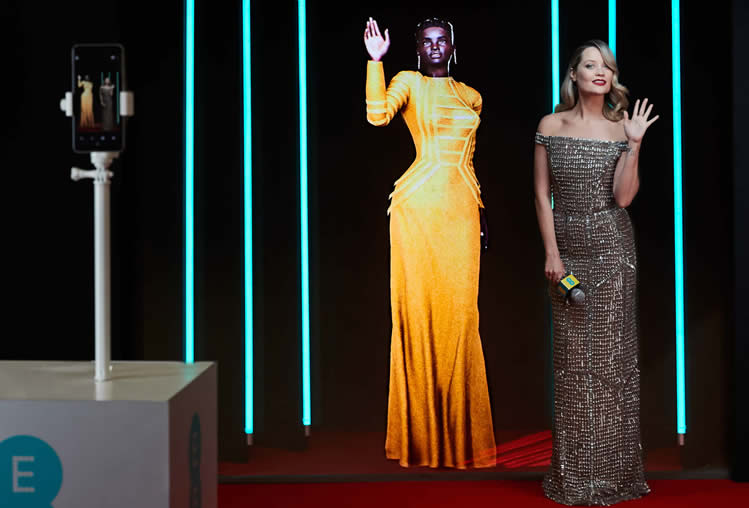 EE is glamming up its 5G technology for the red carpet at this year's British Academy of Film and Television Arts (BAFTA) awards on February 10. EE, which sponsors the BAFTA awards, will use 5G, artificial intelligence (AI) and holographic technology in a trial that is aimed at helping consumers shop for the fashions worn by celebrities on the night.
The trial will introduce what EE calls the world's first AI stylist, who is the digital supermodel, Shudu. Holographic technology will bring Shudu to life for viewers. Fans at home will be able to chat with Shudu via @ee Instagram Stories.
As celebrities arrive on the red carpet, they will be invited to pose with Shudu, who will capture their pictures with a Google Pixel 3 smartphone and share them with viewers at home via an online chatbot.
Leveraging AI technology from London-based visual search startup Snap Tech, Shudu can learn different styles of clothing based on cut, shape and fabric patterns. She can recognise each outfit she sees and then search online for affordable matches, and tailor her suggestions based on a user's preferences.
Pete Jeavons, Director of Brand Marketing at EE, said: "Our award-winning network has always let you do more of what you love in more places. This year we've gone further than ever to challenge what people might think is possible by using 5G and AI to bring digital supermodel Shudu to life on the BAFTA red carpet."
The trial at the BAFTAs will also show how businesses in the fashion industry and retailers can leverage 5G technology to create new experiences for consumers.
Preparing for Commercial Launch
The 5G-powered AI trial at the BAFTA awards is EE's latest test of the new network's capabilities before a commercial launch, which the operator has said is planned for later this year. EE has so far launched 10 trial sites across London and broadcast the EE Wembley Cup Final live over 5G in November last year.
The first cities where EE plans to launch 5G are London, Cardiff, Belfast, Edinburgh, Birmingham and Manchester. After these initial launches, EE will start 5G services in Glasgow, Newcastle, Liverpool, Leeds, Hull, Sheffield, Nottingham, Leicester, Coventry and Bristol.
EE isn't the first UK operator to experiment with holographic technology over 5G. Last year, Vodafone completed the first live holographic call over 5G.