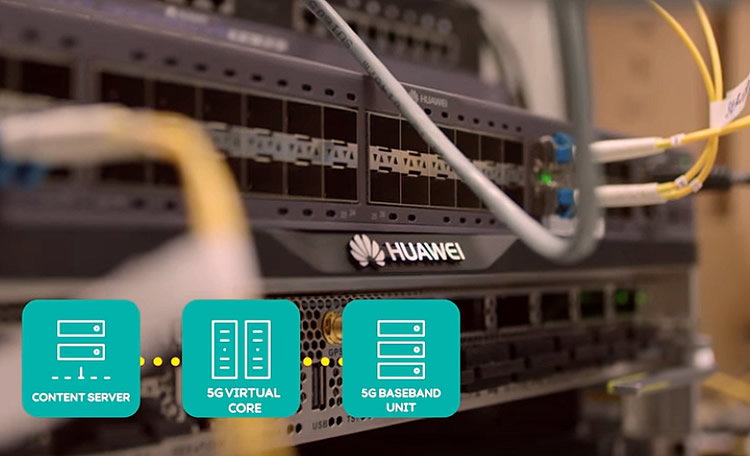 Consistent 2.8Gbps download speeds have been achieved in EE's UK test lab using off-the-shelf hardware and fully virtualised 5G core technologies.
5G networks will break the gigabit-per-second speed barrier, and their design is now proven and validated. So says mobile operator EE, which is hailing its latest demo as the UK's first successful end-to-end 5G network test.
An EE spokesperson told 5G.co.uk: "We have built a complete 5G network in our lab, simulating the real world, right from the internet, through the core, through the RAN, to a 5G device. We've proven the 5G architecture in our lab, ahead of deploying that in our live network."
Demonstrating an end-to-end 5G network architecture broadcasting in 5G New Radio (5G NR) with 64x64 massive MIMO on the antenna array, EE claimed that its achievement went way further than consistent 2.8Gbps download rates. The demo 5G network at EE's UK mobile labs also boasted a fully virtualised 5G packet core. Network functions virtualisation (NFV) and network slicing are seen as crucial to making 5G networks flexible and efficient.
The demo 5G network was achieved by the EE and BT engineering teams working in strategic partnership with Huawei at EE's UK mobile lab in Hertfordshire, though EE wouldn't specify the exact location.
EE's virtualisation of 5G's core network technologies used programmable software from Huawei on commercially available hardware from Hewlett Packard. A proof-of-concept Huawei 5G baseband unit was used to link the fully virtualised 5G core network to 100MHz of 3.5GHz test spectrum, with EE keen to stress that the 2.8Gbps speed was delivered end-to-end, and not just across the air.
However, although 2.8Gbps is much higher than the current average download rate on 4G networks, 5G networks ought to eventually permit much higher speeds. Even the LTE-Advanced Pro (LTE-A Pro) standard, a stop-gap specification between 4G and 5G that's often known as 4.5G or Pre5G, specifies data speeds in excess of 3Gbps and 2 milliseconds (ms) latency. EE's demo 5G network achieved a sub-5ms latency.
The EE spokesperson added: "We're aiming to launch a commercially available 5G service around 2020, and the technology will evolve from there – just as 4G has evolved massively since launch here in 2012."
Image credit: Shutterstock