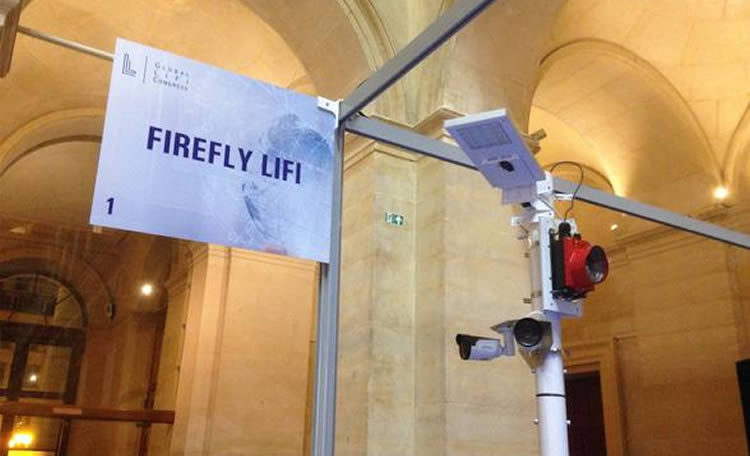 FireFly LiFi is demonstrating how Li-Fi connectivity can go further, with its SecureLink products.
FireFly recently presented a live demonstration of its first longer distance Li-Fi bridge – the solution can be used indoors and outdoors and is designed for building-to-building or lightpole-to-lightpole backhaul of 5G LTE small cells, security cameras, Wi-Fi and Li-Fi.
Short for Light Fidelity, Li-Fi technology uses visible light from LED bulbs to transmit data, compared to Wi-Fi which uses radio waves. Li-Fi is an emerging area of connectivity and research from Markets & Markets suggests that the Li-Fi industry will soon be worth over $6 billion (£4.41 billion) a year, representing a compound annual growth rate (CAGR) of 82% since 2013.
FireFly claims its SecureLink solutions offer data rates of over 1 Gbps -- 25 times faster than its nearest competitor. Another key focus for FireFly's SecureLink suite is, as the name suggests, security. The company highlights that it doesn't use the 802.11 Wi-Fi protocol which many other Li-Fi solutions operate on.
"We avoid the 802.11 Wi-Fi cybersecurity issues which have made Wi-Fi so vulnerable that people have been instructed not to access Wi-Fi in some environments," FireFly said in a company statement.
FireFly says the technology has applications in areas such as offices, conference rooms, airports, nuclear and public utilities, smart cities and even underwater. The company also has patents in the automotive and transportation sectors.
Why LiFi?
Commercial applications are increasing but Li-Fi is considered a complementary technology to Wi-Fi, 4G or 5G, rather than a replacement, because although it can be up to 100 times faster, its range has limitations. Li-Fi can't travel through walls, for instance, although it can bounce off them and get around corners.
These properties can have benefits in some scenarios. Li-Fi isn't affected by electromagnetic interference, for example, meaning it can be safer for use in places such as hospitals, aeroplanes and utilities.
In addition, because it won't go through walls, Li-Fi can be a good option when communications need to be extremely secure and limited to one room.
Another interesting aspect of Li-Fi is that the spectrum, for now, is free, unlike radio spectrum which is licensed, and expensive, as recent spectrum auctions have shown.
According to FireFly LiFi, the visible light spectrum is 10,000 times larger than the whole radio frequency spectrum.
Useful read: What is Li-Fi?