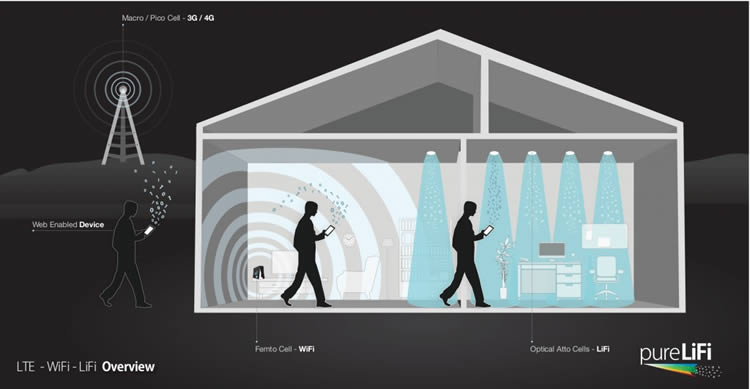 Updated: 16th October, 2018
Li-Fi, or Light Fidelity, could prove revolutionary, delivering data speeds far, far higher than any we're getting right now as well as being more efficient and more secure than typical wireless technologies.
It's a little like Wi-Fi, but has reached speeds 100 times faster in testing, making it far more suited to the demands of the future of data. Here's what you need to know.
What is Li-Fi?
Li-Fi is a Visible Light Communications (VLC) system. Like Wi-Fi it's a bidirectional wireless communication technology. But, where Wi-Fi uses radio waves to transmit data, Li-Fi uses visible light from LED lightbulbs fitted with a special chip.
How does it work?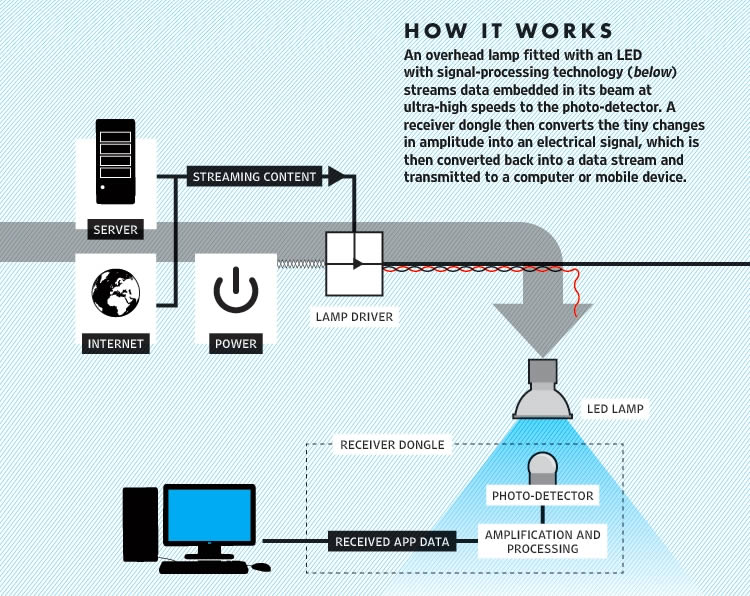 Data is transmitted over Li-Fi by modulating the intensity of a light- essentially dimming the light or turning it on and off at a very high speed (see above). The changes are so fast that they're imperceptible to the human eye, so it isn't intrusive.
This light is then received by a photo-sensitive detector and demodulated in electronic form. It's then converted back into a data stream, making it usable for video, audio and other internet tasks.
What's good about it?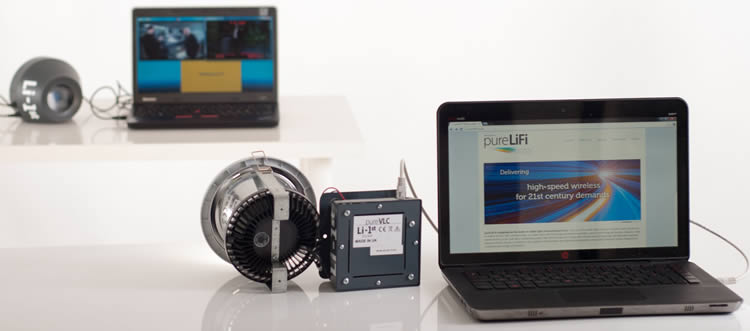 Li-Fi has reached speeds of 224Gbps in tests, which is far faster than a typical Wi-Fi connection offers. In fact, it's roughly 100 times faster. That's useful now but as data demands grow it could become near essential.
That 224Gbps speed is under lab conditions; in the real world it will be a lot slower, but could still offer speeds over 1Gbps.
There is far more spectrum available for use with Li-Fi than Wi-Fi, as the visible light spectrum is 10,000 times larger than the entire radio frequency spectrum and is unregulated so the technology doesn't need to be licensed. This makes it hugely important for 5G as that also requires a large amount of radio spectrum. By offloading as many tasks to Li-Fi as possible, more radio spectrum can be freed up for use with 5G.
As Li-Fi uses light it can't travel through walls, which makes it far more secure than other wireless data technology. Furthermore, it doesn't cause electromagnetic interference so can be used in sensitive areas such as hospitals and aircraft cabins.
It's also efficient and cheaper than Wi-Fi as it requires fewer components than radio technology, and green because it reuses existing light infrastructure.
If you imagine a future in which everyone uses LED bulbs and Li-Fi is built into them all – desk lights, industrial lighting, streetlights, vehicle lights – you can see how it could easily be widely available in ways that WiFi can't match. Devices could be designed to seamlessly switch between 5G, WiFi and Li-Fi depending on what's available.
What are the downsides?
The main downside to Li-Fi is that it can't travel through walls, so it's inevitably going to be a very short range technology. However, while it can't travel through walls it can bounce off them and therefore go around corners.
Another limitation of the technology is that the Li-Fi LEDs need to be kept on in order to transmit data, although this could be at a dimmed rate lower than human visibility.
Where are we now?
The term Li-Fi was coined in 2011 by Professor Harald Haas, Chair of Mobile Communications at The University of Edinburgh. In 2012 he co-founded a spinout company pureLiFi (originally known as VLC Ltd). He's the company's Chief Scientific Officer, the Director of the university's Li-Fi Research and Development Center and an IEEE Fellow.
pureLiFi released the world's first commercially available LiFi technology in September 2013, the Li-1st, as a cost effective way to develop light communications solutions using off the shelf LEDs. In February 2015, pureLiFi announced the Li-Flame, claimed to be the first LiFi product that allowed for mobile wireless communications. The LiFi-X system, the world's first LiFi dongle, came a year later and was significantly smaller than the previous product with downlink and uplink speeds of 42Mbps.
In September 2016, pureLifi and French lighting company Lucibel launched the world's first industrialised LiFi solution, having been deployed in multiple locations including Microsoft's Paris HQ.
The LiFi-XC system followed in October 2017, comprising an access point and station to provide a plug-and-play system that works with USB devices and can be integrated into future laptops, tablets or smart appliances. It provides a fully networked solution that can handover between Li-Fi-enabled LED lights without interrupting the user experience. Communications speeds are up to 43Mbps.
Since then Li-Fi has really gathered steam and pureLiFi now has over 100 deployments in industrial and commercial buildings in over 20 countries worldwide. Companies including Airbus, Babcock and BT Defence are trialling the technology. In summer 2018, O2 demonstrated pureLiFi's technology at the Tour de France and in the UK O2 began trials at its Slough HQ. It's not just for the private sector though, and also in August a Scottish secondary school became the first in the world to pilot Li-Fi technology in the classroom, under a project conducted by pureLiFi and The University of Edinburgh.
Summer 2018 also saw some important steps towards broadening the availability of pureLiFi towards mass market adoption. In June, the company began offering Li-Fi starter kits to academic researchers and also opened a channel programme for IT resellers to add Li-Fi to their portfolio. In July the IEEE announced the formation of the 802.11bb Task Force to develop and ratify a global standard for Li-Fi with a target completion date of May 2021, although early versions of the standard will enable others to develop Li-Fi products. pureLiFi's Vice President of Standardisation Nikola Serafimovski chaired the IEEE 802.11 task group on light communications, which had already been working with manufacturers, operators and end users on a LAN light-communications standard.
pureLiFi isn't the only player in the field although it is ahead of the game. In the US, VLNComm, funded by the US Department of Energy and National Science Foundation, demonstrated a Li-Fi lighting panel in early 2018. In mid-2018 Germany's Fraunhofer Institute completed a three year project into industrial Li-Fi in partnership with BMW, OSRAM and others. OSRAM isn't the only lighting manufacturer taking an interest: in late 2016, Philips Lighting quietly bought French VLC firm Luciom and its eight employees, and in March 2018 French real estate investment company Icade began piloting Philips' Li-Fi technology.
What's next?
Commercial products are already on the market and proving popular, even though the data transfer rates aren't close to the theoretical potential and they are aimed at the business market rather than consumers. Due to its limitations (primarily the fact that it can't pass through walls), Li-Fi is never likely to replace Wi-Fi, 4G or 5G, but it could become a key complementary technology, handling data in areas where its limitations aren't a problem and lessening the load on radio frequency spectrum in the process. Global Market Insights forecasts that the Li-Fi market will be worth US$75.5 billion by 2023 indicating the huge potential of the technology.